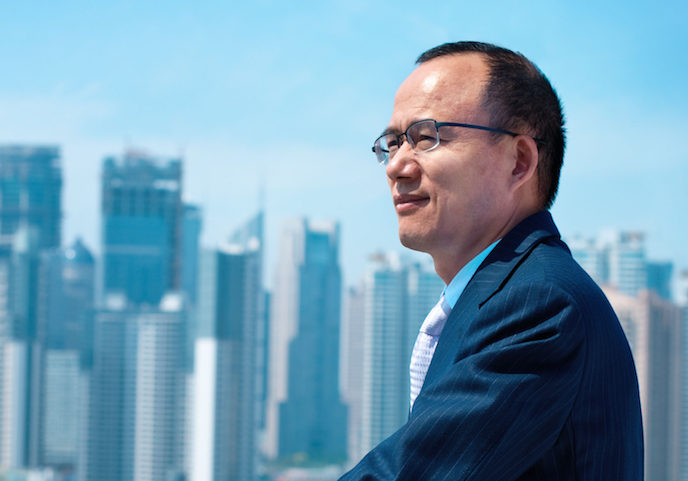 Executives leave their high octane, lucrative posts for many reasons. But among China's most senior executives, the real cause of their departure often has nothing to do with their publicly announced motivation.
Last week, Baidu's chief scientist Andrew Ng left the Chinese search engine giant to – officially – seek new challenges in the use of artificial intelligence. But more detailed analysis of the event by Chinese media later revealed that the relationship between Ng and Baidu's chief Robin Li were on the rocks months before the departure. Ng and Baidu carefully crafted how the news would be disseminated and perceived by the public in order to minimize negative impact.
So when it was announced yesterday that Fosun Group's CEO and vice chairman Liang Xinjun had resigned from his posts, it was described as a joint decision driven by personal health reasons. Fosun's chairman Guo Guangchang (pictured) and Liang himself both sent emotional, tearful internal letters to staff (and conveniently leaked to the media), saying "perhaps some of our colleagues need to take a break and rest."
But what really happened may be a different story. As a Chinese saying goes, one mountain cannot contain two tigers. Or more to the point, Liang appears to have been ousted as Guo tightens his control over the Shanghai-based conglomerate worth RMB430 billion (US$62.5 billion).
The fact that another executive within Fosun's top leadership circle, Ding Guoqi, ranked fifth in the executive team, announced his resignation on the same day adds credence to that assumption.
Liang and Ding are rumored to be close allies. The timing of their departures indicates that they may have been forced out as a result of a power struggle, not because the two seasoned executives suddenly needed time to rest or spend more time with family.
Liang temporarily took charge of Fosun in December 2015, when Guo was detained by the Shanghai government as part of an anti-corruption investigation. During that highly uncertain time, Liang was the person who steadied the ship and reportedly helped organize a "rescue" for Guo.
Even though Guo was able to "come out" in just five days and was welcomed back with a standing ovation by staff, the relationship between Liang and Guo has been sensitive ever since, according to Chinese media reports. It could be that Guo felt threatened by Liang, who has sort of a "clean slate" compared to Guo.
Government investigations in China for corruption or other illegal activities are highly secretive and uncertain, and being taken away for an investigation once is a taint many can never wash away. For example, billionaire investor Xiao Jianhua who heads another Chinese conglomerate, was taken away by police for investigation on unknown accusations in February. There has been no news on his investigations for over one month.
Therefore, since Guo's investigation, the usually media-shy Guo has been on a number of popular shows on national TV, unprecedented for "China's Warren Buffett", to regain credibility and confidence from staff, partners and the public.
In one show aired earlier this month on the country's national TV station, Guo was seen celebrating his 50th birthday with Chinese business luminaries, including Alibaba's Jack Ma and Dalian Wanda's Wang Jianlin. Guo also said that he does not want to retire any time soon and wants to lead Fosun for another 20 years.
So within Fosun, a house cleaning may have been inevitable to show that Guo is still firmly in charge, and there should be no question about his authority.