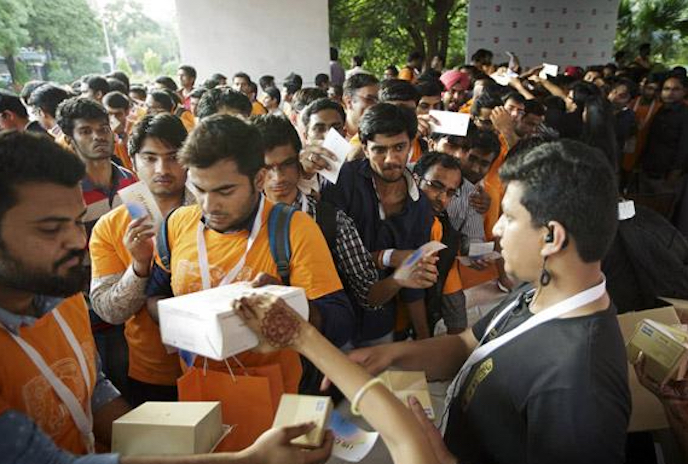 A huge population, vast consumer market and rapid smartphones adoption is making India a hotbed for startup internet companies. These factors are also making "Incredible India" one of the hottest destination for Chinese internet giants looking to enter the market and snap up market share.
China's interest in India is two-fold. As mobile penetration levels at home showing signs of plateauing, Chinese companies are seeking growth opportunities abroad. Chinese companies also feel at home in India because the Indian market resembles the Chinese market in many ways.
But what do Indian entrepreneurs think about Chinese companies making such big inroads into their homeland? And what kind of impact are Chinese companies having in India? China Tech Insights talks with Kunal Shah, the founder and CEO of FreeCharge, to get the Indian perspective on the story.
Founded in 2010, FreeCharge is one of the major digital payments platforms in India, and was bought by leading online marketplace Snapdeal in 2015. Besides leading his company in the highly competitive payment solutions market, Kunal Shah is also an advisor to Sequoia Capital. At the Chindia TMT Dialogue Conference, Kunal Shah shared with us his observations and insights on the two markets.

Q: There is a saying that India now is the China of five years ago. What do you think of that?
A: I think we are probably ten to twelve years behind but there's good chance we might accelerate more quickly through the internet system. It may not take as much time as it took with China, because we don't need to wait for the same things. For example, Indian consumers are adopting smartphones faster than Chinese consumers did. We are getting data faster than China did. So I think we are seeing greater acceleration from a consumer perspective, but as for per capita income and other things, including ecosystems and infrastructure, we may be ten to twelve years behind.

Q: There are also some in the industry who believe that India is now copying from China like China did with Silicon Valley. Do you agree? If yes, why do you think this is happening?
A: The Indian startup system has been looking towards Western models for a while. But the patterns of user behavior and market conditions in India have a great deal more in common with China.
Chinese business models are a lot more relevant for India than U.S. business models. I think it's fair to say that business models are copied often, but I think approaches are different. In the end, the business may look similar, but might not start in the same manner. For example, it has been common to see e-commerce companies become payment companies, but what you are seeing in India is payment companies becoming e-commerce companies. You will see patterns largely similar, but not completely cloned. I think there is also a disadvantage when you are copying a business model, you will always have twenty people doing the exact same thing.

Q:If you can be more specific, in what ways do you think the Chinese and Indian markets are similar?
A: I think the consumer behavior of the two markets is very similar: cost-conscious, family values, certain ways of transacting, widespread mistrust in the society and so on and so forth. I would say China is closer to what India is versus the U.S., which is just a very different society. Many Chinese companies have already seen natural traction in India, like UC who has seen multiple millions of users jumping on the platform and many other companies are seeing user growth even without promoting, because of similarity in user behavior.
What I have noticed is that there is a unique trend where consumer sentiments are similar, therefore copying a business model from China is becoming more and more relevant. What will be the trend going forward? India will still have its own original ideas, because it is not completely a clone of China and there are many differences as well.

Q: What do you think are the biggest challenges or obstacles in India that are impeding the development of India's internet industry?
A: The biggest challenge still remains to be per capita income in comparison with all the other factors. We have great support from the government and we have talent; we can build good products in India; and the execution of enterprises and the investment environment are both good.
However, core per capita income is quite important to build large businesses, it is still something that's happening and it takes its own time. Consumer internet companies can really impact per capita income, they can convert behavior from offline to online, but can not necessarily trigger larger per capita income behaviour.

Q: We know that there are many Chinese internet giants and startups venturing into the Indian market. As a domestic player, what's your attitude towards this trend?
A: I think India is a unique place that has a large market still to be captured, and we will continue to see U.S. companies as well as Chinese companies coming and competing in India. It's a very interesting opportunity because this creates a very fertile environment for Indian startups; a possibility of potential co-existence among Chinese and US companies.
They all come for this market because this is the last big market left to be conquered. I think from a startup founder's perspective there is no better time to be in India. Competency also creates availability of capital, talent and interest from the government. All these factors only contribute in a positive manner. Besides, India has a unique opportunity to learn from the lessons of the Chinese market.

Q: Besides e-commerce and the smartphone sector, are there other fields attracting interest from Chinese entrepreneurs?
A: I am seeing the content business, news, entertainment, stuff like that coming from China and doing well. I am also seeing payment solutions, live video streaming, all inspired by China.

Q: Is live streaming working in India?
A: It's not there yet. Now in India we are seeing the early stages of what happened in China. In terms of live streaming data has been very expensive and it is just now becoming cheaper.
We are also seeing gaming pick up. Finally, more casual games, not the competitive games. Chinese companies have invested a lot in gaming companies and are localizing to make games more attractive to Indian tastes.
Besides that, the daily deals category including food deliveries also comes from China and Chinese investors are interested in these sectors in the Indian market. There are many companies that look like Meituan in India. A lot of investors in India choose to invest in these companies in the early stages when they understand companies will be similar to their past successes over here.

Q: Are you willing to take investment from Chinese companies or VCs? What are you looking for besides funding?
A: Sure I will. Definitely expertise. There is enough capital in India, but you need capital that can help you understand how you can grow your company faster, you want to make sure your company can accelerate really fast because of knowledge gained from another market. For those reasons I think Chinese capital is rather attractive.

(This article is originally published at China Tech Insights. Follow China Tech Insights on Twitter @CNTechInsights.)