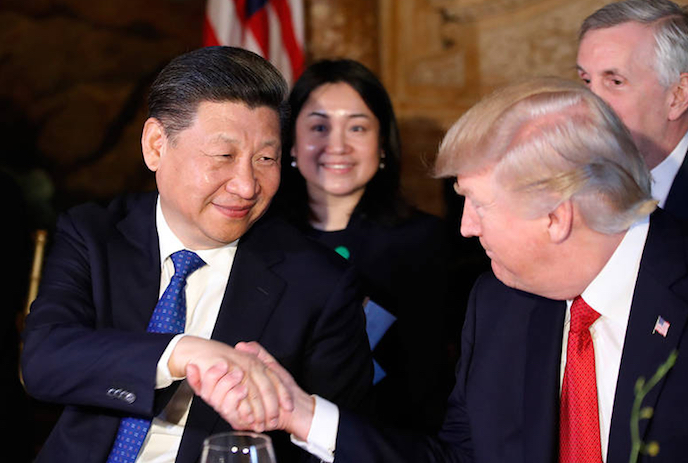 Optimism over the underlying momentum of the China economy in 2017 has continued to improve, following official figures showing that GDP output grew by 6.9% over the first quarter of 2017. This represents stronger growth than what was expected and does point towards the China economy making a turnaround after consecutive years of declining growth in the years beforehand.
What has been impressive over the rebound in China has been the ongoing signs of domestic economic strength, and by this I mean consistency in domestic consumption with retail sales and a recent trade balance release being just a few pieces of economic data that has surprised to the upside.
Could The Yuan Be Oversold?
While the Yuan is still somewhat under pressure and weak if looking at it from a historical point of view, I would go as far as to now say that the Chinese currency is oversold at these levels.
This is my view from an economic basis anyway, and I don't believe there is any justification for a currency belonging to an economy that is growing at levels close to 7% to be valued at such historically low levels.
Away from domestic economic performances, the positive that comes with such a depressed currency is that it is more fairly weighed against a basket case of different currencies.
For example, the Yuan is not the only currency that is depressed against the U.S. dollar with this being very much the same for other emerging market currencies along with even developed currencies such as the British pound.
Will The Trump Trade Fade?
Moving forward and when it comes to determining the next possible direction for the Yuan, it is important for investors to monitor further clues that the "Trump Trade" is indeed set to continue fading.
I am seeing indications that the purchasing momentum seen in U.S. stock markets since the election is coming to a pause, mainly due to anxiety that five months following the election outcome that nobody really knows how Trump will be able to implement his campaign promises.
Clarity on tax reforms and other pledges are going to be required for this rally to be justified, otherwise there is an ongoing risk of investors taking serious profits on the U.S. stock markets.
Although a period of "risk-off" is not good news for the emerging markets, what might help these currencies is if the U.S. dollar receives a squashing. President Trump and his administration has spoken more than once about dissatisfaction with ongoing strength in the dollor, therefore if the dollar is able to weaken over a prolonged period this would help a whole host of global currencies recover losses against the dollar in recent times.
Strong Moves For Gold And Yen
There are definitely signs of some investor unrest when it comes to justifying the famous "Trump Trade" and it just requires a simple glance at the recovery in demand for the Japanese Yen and Gold to understand that investors are hedging their options just in case the financial markets enter a storm later down the line.
Of course, one of the major catalysts behind the rally in Gold has been the recent emergence of new geo-political tensions. The unexpected news just over one week ago that U.S. President Donald Trump ordered airstrikes in Syria has resulted in investors pricing in new geopolitical risks into their portfolio.
They are not just stopping with reacting to the recent events in Syria; they are also considering the possibility of tensions brewing between Washington and Moscow, while also reacting to the latest mentions from President Trump around North Korea.
Is a new round of geopolitical tensions the only reason why investors are hedging on Gold? Absolutely not, just as the gains in gold can likewise not only be attributed to President Trump's movements. There has been an ongoing air of concern in the atmosphere throughout the financial landscape for months, with many including myself not being able to justify the recent valuations in major stock markets. There are a whole different host of reasons towards why gold has attracted the attention of trader's and lets also not forget that the French Elections are in just two weeks' time.
No Real Surprises With The Turkish Lira
This one has slipped under the radar somewhat with geo-political tensions dominating attention and the Easter Holiday weekend resulting in thin trading volumes, but the Lira weakness story is showing no signs of letting up in reaction to Erdogan winning the Turkish Referendum. It was always expected to be a close vote, but Erdogan has been deemed victorious in the end and his victory will probably see him success at granting himself more powers. It is unsure what impact this will have on investor confidence.
Purchasing sentiment towards the Lira is already at frighteningly low levels following Turkey being plagued by political uncertainty for a significant amount of time. While some aspect of uncertainty will be wiped away with Erdogan now thought to be in charge for perhaps another decade, the news that the death penalty could be installed is sure to encourage some political reaction.
Aside from politics, the name of the game remains very much the same with the Lira and Turkey's ongoing issues with slimmer economic growth coupled by heavy levels of inflation challenging the cost of living.
The author of this article is Jameel Ahmad, vice president of corporate development and market research at ForexTime.