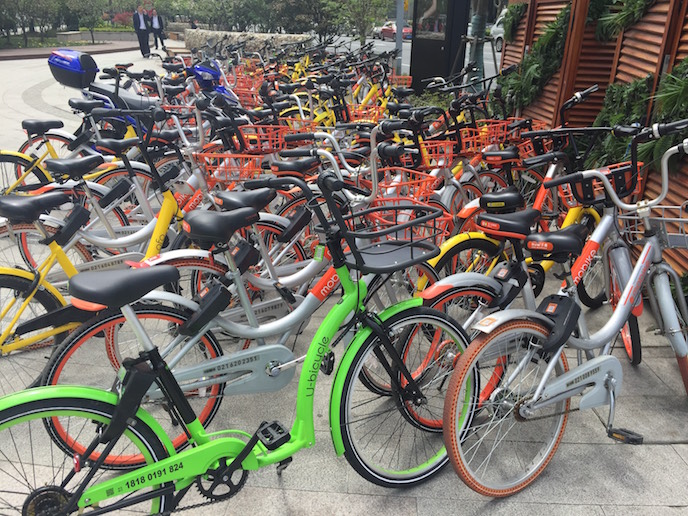 China's mushrooming bike sharing companies have aggregated RMB6 billion (US$872 million) or more in user deposits, according to industry observers. These deposits, growing everyday and currently existing in a regulatory vacuum, may be partially used for high-yielding investments and in turn present massive financial risks to consumers.
Beijing-based bike sharing company ofo said that the deposits it has taken from users, roughly RMB2.5 billion (US$363 million) by analyst estimates, remains intact on the company's accounts. Ofo founder Dai Wei said that the company is waiting for regulatory guidance on how to define and handle these cash assets.
As bike sharing is a completely new phenomenon, there are currently no regulations overseeing its management. These deposits, paid by users when they borrow a bike for a short period of time, are different from rental deposits. In a rental arrangement, one deposit corresponds to one person's right to use certain assets, such as an apartment or a car. But since bike users need to ride bicycles frequently, they tend to leave the deposit with bike sharing companies for a long time.
On top of that, ofo has one million bicycles but 25 million users. Mobike has nearly one million bikes and nearly 10 million users. It means each bike could have multiple accounts that have paid deposits, essentially multiplying the financial assets these companies aggregate compared to their self-owned physical assets.
In addition, there is currently no clarity as to how bike sharing companies are using the deposits. Some use banks as custodians to ensure the safety of the funds, while others are reportedly investing in supposedly low-risk wealth management products, which carry financial risks of their own.
Users have complained that bike sharing companies can take deposits instantly, but take days and even weeks to return the deposits. This model is clearly unfair to users and could potentially benefit bike sharing companies financially.
Deposit taking is the fashion in China these days. The country's largest online travel firm Ctrip collects "deposit" in an almost outrageous manner. I have paid for hotel bookings with Ctrip, only to be notified at the hotel that I must pay again to the hotel, because what I paid on Ctrip was to "guarantee" my booking.
It takes Ctrip weeks to return the "guarantee" money back to me. With 250 million registered users, Ctrip could have hundreds of billions RMM in "guarantee" money on its accounts at any time. There, of course, is no clarity on how Ctrip manage these massive amount of funds.
Some other so-called sharing companies in China have used even worse tactics to take and keep customers' money. Last week, I used the services of Ankerbox, a power bank renting start-up that received RMB100 million (US$14 million) series A led by IDG capital a couple of weeks ago, in Shanghai. I was required to pay a RMB100 deposit to borrow one power bank, and was promised that the deposit will be returned within 24 hours.
A week later, the deposit was still not returned, and according to my Alipay account, I have RMB100 worth of credit with Ankerbox. With no ways to contact the company, I have essentially paid RMB100 to use a phone power bank for two hours. This is not innovation – It is fraud.