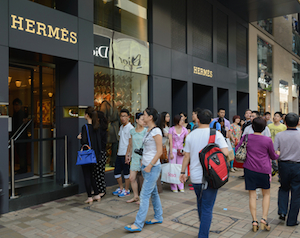 China's transformation into a services-led economy continues. During the first quarter, the service sector accounted for 62% of growth and represented 56% of total GDP, compared to just 42% back in 2006. Is the trend sustainable, and does it matter in terms of China's economic future?
China reported stronger-than-expected headline GDP of 6.9% year-on-year for the first quarter, underpinned by strong growth in the service sector, which continued to outperform, growing at a 7.7% clip and contributing 62% of the headline growth.
The National Bureau of Statistics highlighted the strong performance of two emerging sectors. IT, software and communications expanded 19.1%, while leasing and commercial services rose 10.2% during the first three months. The size of these two sectors combined is comparable to that of real estate services sector, which accounted for about 7% of total GDP.
China hasn't issued such a detailed report on its economic growth rates since 2014. Hence, by reporting details on these sectors now, the government may be highlighting the structural transformation of the Chinese economy.
ANZ China Service Activity Index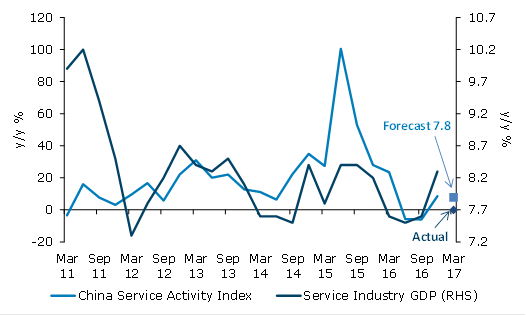 The growing significance of the service industry in China can be gauged from its share in the economy. In 2006, the service industry accounted for 41.3% of GDP, while the secondary-industry sector, which includes industries that produce a finished, usable product or are involved in construction, accounted for 47.0%. The growth in the service industry has picked up significantly in recent years, surpassing secondary industry in 2012.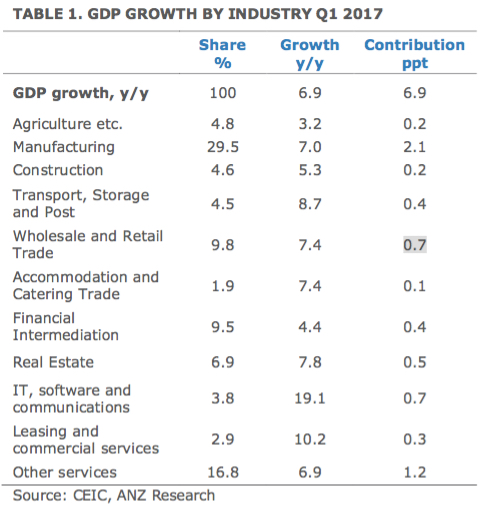 Globally, it has been a strong belief of policymakers, including China's, that a country can boost income growth through the increased provision of services. When China's per capita GDP reached the upper middle income bracket, around US$8,000 as defined by the World Bank, service sector growth accelerated.
The reality is that the service sector comprises a wide range of activities, whose growth is underpinned by diverse drivers. For example, the work of an IT manager working in a factory is classified as manufacturing output.
In addition, the outlook of China's service sector is sensitive to China's monetary situation, given the heavy weighting of financial and real estate services at a combined 29%. The growth trajectories of both these services are more volatile than that of other services, with financial deleveraging and property tightening wielding a large influence on their growth outlook in the near term.
Therefore, China's growth sustainability should not be measured or determined by the weighting of services in the GDP. Instead, productivity holds the key, according to the report. De-industrialization is not a solution for China to cope with external dependence and global uncertainty. Failure to boost service sector productivity will pose a drag on investment yield and weigh on the long-term outlook of real interest rates.