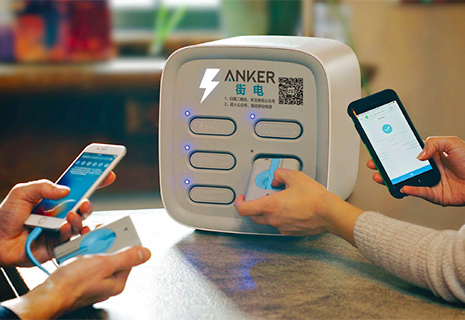 It's hard to predict which new products will take off and which will flop. The Segway was launched in 2001 to much media interest, but quickly became the subject of ridicule and fell into obscurity. Fifteen years later, the "hoverboard" – essentially a Segway without handlebars – somehow became one of the most sought-after Christmas gifts, with hundreds of factories in China churning out the two-wheeled trendsetter.
Over the last year in China a more conventional two-wheeled transport machine, the bicycle, has become the latest craze, thanks to the rise of the sharing economy. Perhaps communism is about everyone sharing everything but the most recent business idea – mobile phone chargers – is being subjected to a lot of scepticism.
"If shared phone chargers can succeed I will eat shit. Mark my words." Such was the bold statement from Wang Sicong, the son of Wanda Group's boss Wang Jianlin, in a weibo post in which he denigrated the prospects of the charger rental industry. Wang, of course, is sole heir to one of China's biggest property-to-media conglomerates.
While Wang isn't convinced other investors have poured into the fledgling market with about 35 start-ups raising Rmb1.2 billion ($175 million) for the industry since last month, CBN reports. Xiaodian, for example, has raised Rmb350 million from investors including internet giant Tencent. Its main rival Jiedian (dian means electricity) also received Rmb300 million from e-commerce firm Jumei and installed the New York-listed company's boss Chen Ou as its chairman.
What's the business model? In Jiedian's case, customers need to download an app which tells them where the nearest rental units are located. The unit is a foot-tall box with six slots, each housing a battery pack. When users find the unit they scan a QR code and get access to a charger. Usage is free for the first hour and then charged at Rmb1 per hour. When the user is finished, they can return the battery to any of the units with a free slot.
Jiedian's units are being distributed to restaurants, shopping malls and other fixed locations (having a stable power supply is a requirement). The company's new chairman Chen responded directly to Wang's posturing online by saying, "I hope your moodiness won't prevent Jiedian from being installed in Wanda buildings."
Xiaodian, the startup that has attracted the most investment so far, is also offering its service to restaurants but offers a slightly different product from its competitors. It provides chargers that sit on dining tables, rather than a portable solution. It is marketing itself more as a service to restaurants tired of being nagged by patrons to help charge their phones while they eat.
Another company, Laidian, has partnered with Ant Financial to waive deposit payments for customers who have decent Sesame Credit ratings.
Wang Sicong is not the only sceptic. One columnist on Huxiu highlighted two substantial problems facing the industry. Firstly, one of the sharing economy's guiding principles is "convenience", but shared mobile chargers are less convenient than owning one yourself because you have to go out of your way to retrieve and return them. The Huxiu writer argues that Chinese consumers are already accustomed to carrying their own battery packs, so renting a charger will only be a last-resort measure. Then there's the paradox of needing to use your (almost out of battery) mobile phone in order to find and rent the nearest charging units.
The second challenge is the potential for changes in technology. Wireless phone charging is already a reality and in April Apple patented a method of charging your phone via WiFi, which would do away with the need for rentable charging units altogether.
But for those investors who have put their cash into the new players, their hope is they will join China's list of 102 unicorns and that Wang will have to eat an unpleasant dinner.
(This article originally appeared on Week in China on May 19, 2017.)