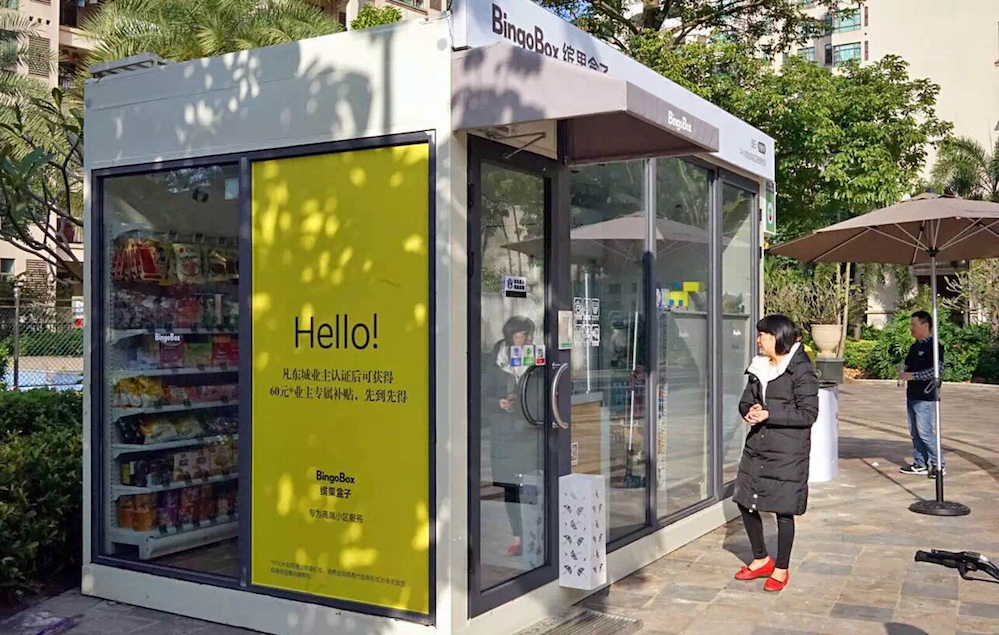 Venture capitalists are throwing money at China's cashier-free convenience stores. But will they actually make money, or learn once again that retail, even tech-driven retail, is a brutal business of low margins, low barriers to entry and high fixed costs?
Eight start-ups in the space have raised a total US$385 million this year. The investment premise seems simple: tap into an ongoing retail revolution in a nations of 1.3 billion potential shoppers with a track record of embracing new retail experiences. On top of that you save money by not having to hire many, or any staff.
But behind the investor enthusiasm, and willingness to burn cash, a close look at these brand new stores reveals a more troubling reality: making money in retail requires much more than technology gimmicks and slashing employee costs. The Achilles' heel for all these so-called new retail business models is that they do not seem to improve efficiency in retail supply chain management and operations. In fact, they may cost more.
What's New About Cashier-Free Stores
To be clear, China's cashier-free stores are very different from Amazon Go, the fully automated checkout-free stores launched by Amazon, something all of the Chinese start-ups tried to copy but found it too difficult.
Instead, the China's cashier-free stores fall into two types. The first looks like traditional convenience stores with row of products displayed like in a 7-Eleven, or with product images displayed on a computer screen. Shoppers scan a QR code or their faces to enter the store. They then scan the products they want and check out via mobile payment. In other cases, they clicking pictures of products and pay via mobile payment. The products are then dispensed like from a vending machine. Bingobox, Bianlifeng and Xiaomai belong to this category, with most placing box-like stores "in the wild", such as in parks or on the sidewalk.
The other type are essentially a vending machine, or shelves, placed in office buildings and powered by mobile payment and QR codes. The only difference between this type and a traditional vending machine is the addition of mobile payment enabled by easy scan of QR codes. Guoxiaomei and Citybox are examples of this type.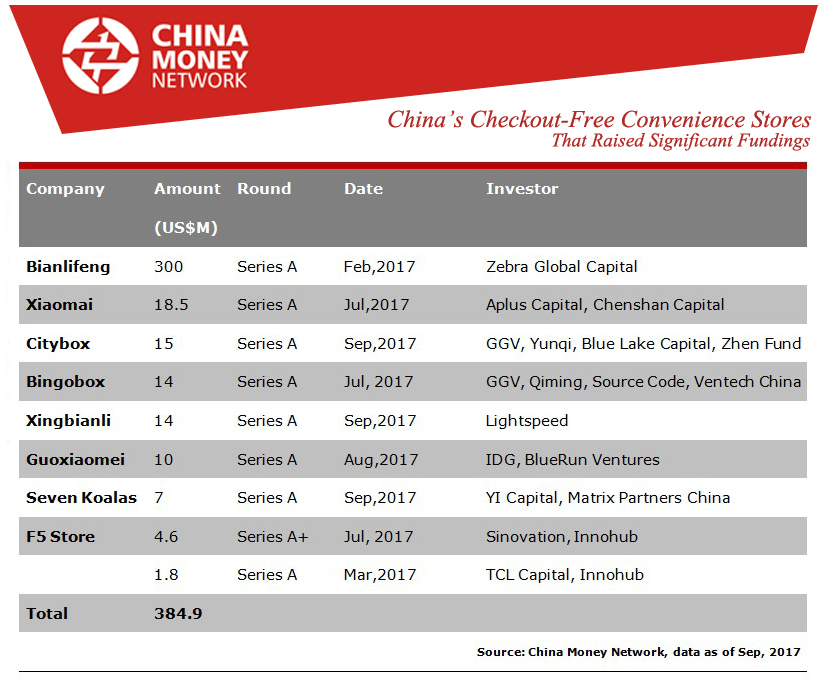 Costs vs. Revenues
For most of these start-ups, being cashier-less seems to be the main and only objective, because the concept is the buzz word du jour among venture investors in China. Many cashier-free stores claim that they can reduce the cost by 75% versus traditional stores, because they do not need to hire human employees or pay high commercial rental fees. A traditional shop in Shanghai or Beijing with three employees has to pay around RMB20,000 (US$2,900) in total for the employees' salaries and insurance per month, plus around RMB15,000 (US$2,279) to RMB20,000 (US$2,900) rental fees per month.
That has led to some optimistic, back-of-the-envelope calculations by founders about quick profitability. "It costs around RMB100,000 (US$14,000) to establish a new store. Currently, each store can record revenue of around RMB2,000 (US$290) per day, that's RMB60,000 (US$9,116) per month," Wang Mumu, founder of EasyGo, recently told local media. "The gross profit rate is around 35%, so we estimate that we can become profitable in eight months or one year."
But even without cashiers, costs for cashier-less stores are not as low as many think. Building these stores can cost up to RMB70,000 (US$10,681) more than a traditional shop, as the manufacturers need to pay RMB20,000 (US$2,900) in technology fee and RMB50,000 (US$7,597) in devices fee. For stores using RFID chip for product scans, they have to pay an additional RMB0.3 to RMB0.5 for each chip, which increases the cost by 3% to 10% for products priced at around several Yuan.
And the dirty little secret is that these cashier-less stores still need staff to frequently replenish the stores and maintain equipment, not to mention managing the supply chain and logistics of the inventory. Unlike traditional stores, this usually involves more than pulling products off a truck and onto a shelf.
"The cashier-free stores have high requirements for technologies and devices. As far as I know, every ten stores require four to five employees to maintain the systems," Song Tiecheng, a manager at Chinese convenience store Quanshi. "So actually, there are a lot of invisible costs."
And once the novelty factor wears off, the ability of checkout-free stores to secure customer loyalty and thus sustainable revenues is questionable. First time users are unlikely to return if technology glitches takes place while conducting self-service checkout, which is not infrequent. And while some tech-loving shoppers may prefer doing business with a machine, many other shoppers find stores without staff is frustrating, requiring them to figure out how to scan items one by one and conduct the check out process on their own. Supermarkets in the United States, for example, have for years tried to expand self-checkout lanes in their stores, only to find customers more willing to line up for a human checker.
More Efficient, Or Not?
Cashier-less or not, the key to survival for a retail business is whether it can achieve sustainable revenue and profits, especially after burning through their VC money. And despite their technology, and maybe because of it, cashier-less stores appear less efficient that traditional retailers.
The average revenue for a mom-and-pop store is around RMB2,000 (US$290) per day, RMB4,000 (US$607) per day for a traditional Chinese convenience store, and RMB7,000 (US$1,063) per day for international convenience store brands like 7-Eleven. The number for checkout-free stores is only RMB1,500 to RMB2,000, according to industry estimates.
7-Eleven has the highest average sales per unit area of around RMB78 per day per square meter. For cashier-free stores, it is around RMB75 average sales per day per square meter, even if taking all their revenue estimates at face value.
Cashier-less stores would need to perform "magic" in supply chain management and logistics in order to have a chance to outsmart existing traditional convenience stores in terms of efficiency. But that is unlikely, as franchise convenience store operators like 7-Eleven have vastly more scaled operations and minimized logistics costs.
That's why the new crop of checkout-free stores have made grand claims about opening tens of thousands of new stores in the next few years, because this is where the "magic" will happen. The logic is the same as in previous tech fads; be everywhere and the answers will be found.
But 7-Eleven, after 13 years in China, has opened less than 200 stores. Can cashier-less stores become ubiquitous like the colorful wheels of shared bikes? That's certainly the hope of many VCs. But as history has shown, the promise of technology has often fallen short of expectations in the face of market reality.