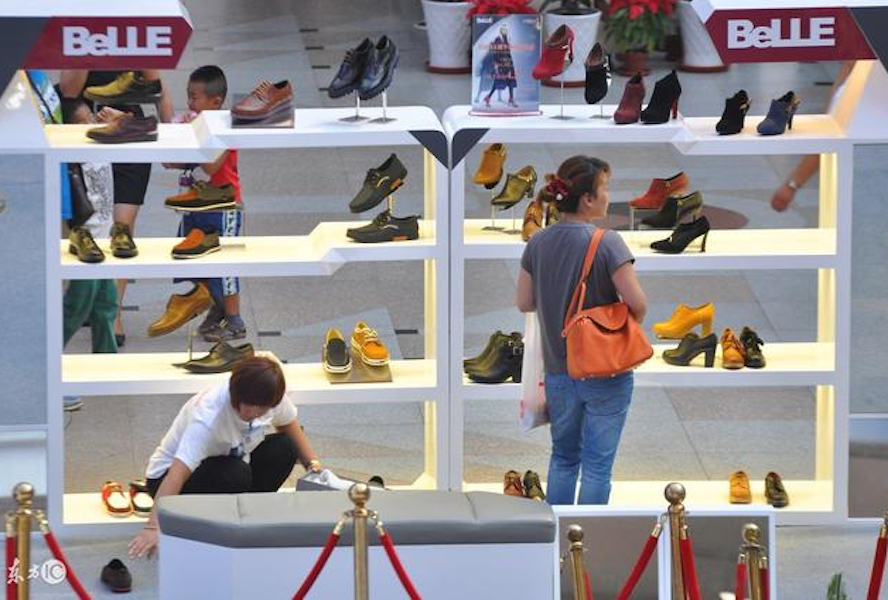 When China's largest footwear retailer Belle International was delisted from the Hong Kong Stock Exchange in July following a US$6.8 billion take-private deal, the news was greeted with melancholy. "The Official Fall Of The King Of Shoes", read one headline, catching the sentiment of the time.
But for Lei Zhang, head of US$30 billion-under-management Hillhouse Capital, who led that investor group along with equally sizeable local firm CDH, the media got it totally wrong.
The privatization was the first step in a corporate reboot that will see the revitalization and rebirth of a new retail giant in China. It was the end of Belle Version 1.0, and the beginning of Belle Version 2.0.
"What Belle can do, today's Internet companies can't do," Zhang said in a Belle internal meeting recently, according to a leaked memo.
Zhang, a Yale graduate and someone widely admired by peers for his investment insights and vision, believes Belle has figured out the key aspects of New Retail, a term popularized by Alibaba's Jack Ma and used to describe retail models combining online-and-offline sales and omnichannel distribution.
Belle has created a complete footwear industry chain, from upstream leather sourcing, to shoe manufacturing, downstream distribution and retail stores. Founded in 1991, the Shenzhen-headquartered Belle also operates dozens of brands across low-, mid-, and high-end segments. With 20,000 stores in China, all directly owned and managed, the company is perhaps the only retailer of its size without franchised outlets.
Above all, it has traffic. "Around six million customers walk into Belle's stores each day, that's six million daily active users. It would make Belle among the top Internet companies anywhere if ranked by DAUs," Zhang exclaims in the memo. What he doesn't mention is how cheaply Hillhouse and other investors were able to buy access to that precious traffic.
For example, Belle's 180 million "monthly active users" (6 million X 30 days = 180 million) compares to Ele.me's 34 million monthly active users and JD Finance's 5.8 million monthly active users. Food delivery app Ele.me is valued at US$6 billion and JD Finance, the online financial services arm of e-commerce firm JD.com Inc., is valued US$7.3 billion, according to China Money Network's China Unicorn Ranking. Belle, which also boast an array of tangible assets such as manufacturing plants, retail brands and inventory, was valued at US$6.8 billion in the privatization deal.
In addition, Belle recorded revenue of RMB41.7 billion (US$6.32 billion) and net profit of RMB2.4 billion (US$364 million) for the fiscal year ended February 28, 2017, numbers that Internet companies can only dream about, Zhang said.
But despite the strengths prized by Zhang, Belle has languished for years. Its net profit declined 18.1% year-on-year for the fiscal year ended February 28, 2017, a trend that the company has been unable to reverse as it struggled to cope with the rise of e-commerce and pickier younger consumers in China.
Zhang, whose Hillhouse owns 57.6% of Belle post privatization, while CDH Investments owns 11.9% with the rest held by management, has plans to revitalize the sleepy giant with new technology.
One plan is building customer-to-manufacturer factories, so customers can order personalized products and get quick delivery. Belle may also experiment with a fast-fashion supply chain to produce trendy new models catering to shifting tastes. Store staffers, who Zhang calls Belle's "User Interface", will be retrained to provide better user experience.
Hillhouse certainly has the technology know-how and foresight to guide Belle's tech upgrade. The Beijing-based investment firm was behind some of the largest Internet companies in China today, including Tencent, Baidu, JD.com and Mobike.
"We have looked at countless retailers but we found that even the strongest online retailers face a tough uphill battle when expanding offline," Zhang said. But will the reverse process be any easier? Zhang and Hillhouse will soon find out.