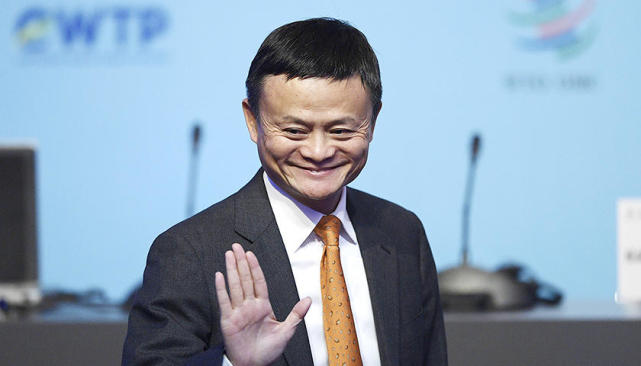 There was a bit of confusion regarding Chinese billionaire Jack Ma's plans to "step down" from Alibaba Group, the company he founded that is now one of the world's most valuation companies.
Is Jack Ma really "retiring", and what does the company's announcement mean? How should investors interpret today's news? Here are two excellent opinion pieces from top Chinese experts who know Alibaba and Ma well. They will help readers learn how to digest today's announcement.

Liu Run
Founder and chairman of Chinese advisory firm Runmi Consultancy
Former director of strategic cooperation at Microsoft Corporation
Firstly, the peaceful retirement of Ma is good to an Internet giant like Alibaba.
Because it proves that the Alibaba's professional managers system and management system are perfecting, which enabled the company to undertake various tasks even without the guidance of Ma. Likewise, when you think of Alibaba, you will think of names including Daniel Zhang Yong, Joseph Chung-Hsin Tsai, Zeng Ming, Peng Lei, and the list goes on. Bless to Ma, Alibaba did a good job in this.
However, Ma's stepping-down will not bring any practical changes to the company because he will continue dominating Alibaba.
Why so?
In fact, Ma has already "retired for two times". In November 2006, he handed over Alibaba's president position to David Wei Zhe. And then in May 2013 at a company event in eastern Chinese city of Hangzhou, Ma handed over the reins of the company to Lu Zhaoxi – previously executive vice president -reaffirming his decision announced four months ago to step down as chief executive officer.
In the second time, the 48-year-old Ma keeled on one knee, addressing 30,000 employees and clients at the event. "From tomorrow I will have a new life and living (instead of working) will be my job. I sincerely ask everyone to support Lu Zhaoxi like you have supported me and trust Lu like you have trusted me," he said.
Even so, Ma did not genuinely "retire".
The year of 2018 witnessed Ma's third "retirement", i.e. stepping down from the the chairman of the board. But this will neither be an actual retirement. I think his actual retirement will come in the fourth time when Jack Ma "retires".
How so?
We need to know about Alibaba's management structure to understand the situation. Unlike many other companies where the broad of directors is the top decision-making level, Alibaba has a peculiar management system called "the Alibaba Partnership".
Many people believe that Ma's stepping-down from the company's broad of directors means a "no-return" for the company's founder. But actually the Alibaba Partnership acts beyond the broad of directors, in which Jack Ma and Joseph Chung-Hsin Tsai still have the decisive right of control over the company.
Founded in 2010, the Alibaba Partnership's members are all core co-founders and people drawn from the senior management ranks of Alibaba's companies and affiliates. The number of members in the partnership have expanded from a dozen or so to 30 currently.
These people hold a considerable amount of sway over the company because they have the right to nominate, or in certain situations, appoint up to a simple majority of its board of directors. Thus, we can consider the Alibaba Partnership as "a broad" supervising "the broad of directors".
Considering Ma's three retirement attempts, Ma has stepped down from the president to CEO, and then to the chairman of the broad, and then to "a chairman" over "the chairman of the broad". He will never be considered as genuinely retired until he gave up his peculiar "chairman" position in the Alibaba Partnership.
Whatever the final result will be, the "continuous retirements" of Ma will remain as a worth-learning lesson to all internet start-ups in China. Because at the end of the day, a good company will always outlive its leaders — just like what Ma said: "I will build a company that can last for at least 102 years."
Ma's stepping-down is a reminder to all other companies, especially some Chinese start-ups that are built on a founder-centric system. A company should grow and expand based on a rational structure instead of individual capabilities. Otherwise, the company's stock price will dive once the individual gets trapped by any problems.

Qin Shuo
Deputy editor of Shanghai Media Group
Former chief editor of China Business News
From the prospect of a mid-and-long term, Jack Ma's stepping-down from the chairman of the board position is a decision with foresight. If Jack Ma genuinely announced his resignation today, it will have different influences on different stakeholders.
First of all, concerning the capital market, the stock price of Alibaba Group Holding Limited has dropped about 3% after New York Times claimed on September 7 that Jack Ma would step down from his position to pursue philanthropy in education. The 3% drop of Alibaba's stock price is a big deal to the US$420 billion worth Chinese e-commerce giant. The drop of Alibaba's stock price represents how the capital market reacts to a rumor of Ma's retirement.
Similarly, the capital market is expected to have some new changes after Ma unveiled the details of his succession plan early today. A bounce of Alibaba's stock price is possible.
Meanwhile, I don't think the upcoming retirement of Ma will have a significant impact on the operation of the company.
Alibaba is a company of vision. The company has a pretty strong reserve force, which ensures its general operation will remain in a steady and smooth pace. Even though the revenue growth may not be necessarily as prominent as before, the company can hardly blame on the resignation decision of an individual. Instead, it could be that China's internet bonus as a whole, has began to slump in the "second half of the game" where the growth could barely match with its previous achievements.
Moreover, from the prospect of a mid-and-long term, I think the stepping-down of Ma is a decision with foresight. And it could help Alibaba win over some bonus points.
There are numerous "have-to" successions in Chinese history, in which the person in power was forced to give up his or her dominant position and step down. In comparison, it is beneficiary to enterprises if they have a systematic method to pave down a concrete and well-prepared succession plan.
What happened to the country's residential real estate developer China Vanke Co is a good example. In June 2017, Wang Shi stepped down from the chairman position of the company he founded three decades ago, handing the baton to the company's president Yu Liang. This to some degree, brought a positive result to Vanke as a whole.
Even if Ma chose to step down from the company's chairman of the board today, he will still sit among the broad of directors, especially stay as the vital person between Alibaba's partners. With the knowledge that the Alibaba's partners — Jack Ma and the Taiwanese-Canadian billionaire businessman Joseph Chung-Hsin Tsai — are in fact the actual decision-making mechanism in the broad of directors, the two permanent partners will live long with the company.
Speaking from this aspect, Ma is still dominating the cultural system of Alibaba, which makes him "retire but never leave".

(Both of the opinion pieces above appeared on Wuxiaobo Channel)