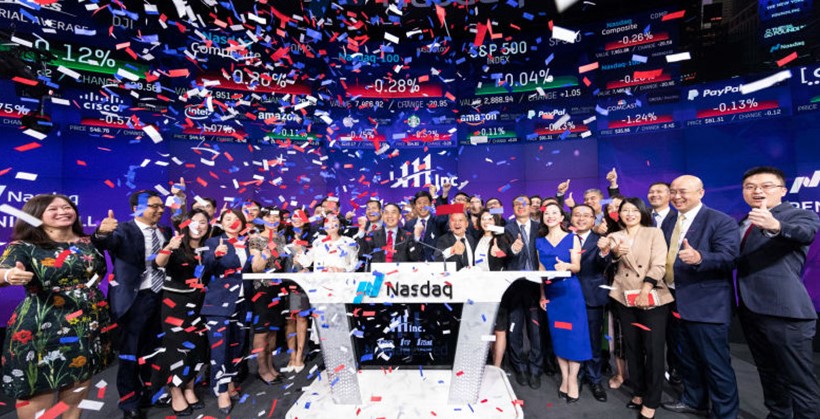 Chinese health-focused 111 Inc. said the company is on the same page with Chinese government to tackle the country's long-existing medical problems and help consolidate the pharmacy industry.
The company went public last week in the US, raising US$100.5 million by selling 7.7 million American Depository Shares (ADS) at US$14 apiece, lower end of its target price range of US$14 to US$16 per share.
The company's flotation came at a time when China's general health and wellness market is booming. The market size has been estimated to touch US$2.6 trillion by 2020, representing an annual growth rate of 12.1% from US$1.5 trillion in 2017.
The company will focus on growing businesses and bringing value to the shareholders instead of paying attention to the "one-day move" of the stock price, said Xu.
The market is extremely fragmented, with three largest chains in China taking up only 5% of the market in 2017, compared with 82% market share for the top three retail pharmacies in America, the company said in a statement.
"Today there are about 450,000 retail pharmacies in China and half of them are stand-alone stores. The problems those little pharmacies are dealing with are very realistic," said Xu.
Chinese small-scale pharmacies currently purchase from multiple layers of distributors, leaving them with costly prices and sub-standard quality.
The stand-alone pharmacies also need to pay for shipping boxes and multiple months of inventory. All these consumption narrows their profit margin.
"When they buy products [from distributors], they'll have a piece of paper to write down two to three hundred lines of what they want, and then they need to make phone calls. That entire process takes them two to three days every week. They have a dedicated person to do that on a daily basis," said Xu.
"And when the distributors send the products to them, they need to have a actual warehouse to store [these products]. It is a typical story in China that some pharmacies will have a sleeping bed in the back of their warehouses."
Chinese authorities have been updating the inefficient and outdated pharmacy industry. Over the last two years, Beijing has introduced more stringent drug quality regulations to weed out practices that has led to low drug quality and inefficiencies.
"I actually feel we're working with the government in a sense [to promote the industry's consolidation]," said Xu. He further said that the company would only work with the pharmacies who understand the value of internet and a partner like 111 Inc.
"We will add a lot of value to those stores so that when the consolidation happens, they are the ones who will survive, versus the ones who will go out of businesses," he added.
Founded in 2010, 111 Inc. sells medical and wellness products through online retail, wholesale and retail pharmacies. The company also provides value-added services such as online consultation services and e-prescription services.
The company has secured four financing rounds before floating the US IPO, with a total fundraising of US$272.6 million. Major investors in these financing rounds include private equity firm ClearVue Partners and venture capital firm Ivy Capital.
Xu sat down with China Money Network to share his insights on the pharmacy industry in China. Below is an edited Q&A.
Q: When we look at some other players in China's pharmacy market, like Alibaba or JD.com, they also have their own online products. How does 111 Inc. compete with them?
A: If we look at our business models, there are mainly two pieces: One is the online pharmacy and the second is offline pharmacy. I think on the online pharmacy side, obviously there are a lot of competitions.
The good news is that, first of all, we are the largest direct sales online pharmacy. We have been in this business for more than eight years and we're the pioneer in this area.
So we're very confident with our products and services, especially our network of online doctors, as well as our network of offline pharmacies who are a complement of our online pharmacy solution. So we can really provide our consumers with a concrete solution both online and offline. In this sense, I think our business model is much stronger and much more endurable versus all the other online platforms.
The reality is that, today, doing e-commerce in China means you have to spend a lot of money on sales and marketing. You may have to pay companies such as Baidu for the search terms. But this is not really the best way to acquire customers.
Q: What are the major channels that 111 Inc. has been using to attract consumers?
A: The ways we acquire customers are a little bit different from traditional e-commerce businesses because in health care market, the decision-making process is different. Consumers won't just look at your app and say, "Hey, this drug is amazing! I wanna take this drug." So in the health care space, the decision-making process is really influenced by, first of all, the hospital's doctors, and secondly, the drug companies promotion. So what we've been doing is going to the two areas.
First of all, on the drug companies side, because we already have the largest virtual pharmacy network, we have partnered with more than 100,000 retail pharmacies in China. By building that network, we actually build a very strong relationship with the pharmaceutical companies.
In return, they will help us to do a lot of consumer education. For a typical drug company, it actually has a network of doctors working for them. The doctors write prescriptions for the drug companies.
The first place is those little pharmacies out there in China and the second place is doctors offices where those doctors work with pharmaceutical companies. This is our strategy. It is to go to where the patients really are versus blindly making promotions online.
We work with specific pharmaceutical companies working on specific disease types. So, this type of drug companies actually have massive patients out there. The pain point for those guys is that they have difficulty to supply the drugs to those patients in the most efficient way.
Q: What do you mean "efficient"? What are the "inefficient" way you have ever seen?
A: Today there are about 450,000 retail pharmacies in China and half of them are stand-alone shores. So we are looking at an extremely fragmented market. The problems those little pharmacies are dealing with are very realistic. First of all, they buy from multiple layers of distributors, which means that they get very bad price.
And secondly, they probably don't have access to good drugs to begin with. And thirdly, when they buy drugs, they have to pay for shipping boxes. The lower-tier distributors will give them the multiple months of inventory.
We want to come in as an enabler to those stores and help them to run their business better. By employing our B2C platform we are able to, first of all, supply the drugs to them in a much better cost.
Secondly, as I mentioned we gather 100,000 pharmacy partners, we can gather all their demand to go to the pharmacy companies directly where we get the access to the best drugs. And last but not least, when they buy from us, they don't need to buy bulks anymore. They can buy small quantities so that they're working capital is released significantly.
Our mission is to come in to the state, not to try to consolidate every big guys. We wanna come in to help those little small business owners, those little pharmacies to run their companies better, which ultimately will go out to help those under-served areas and the patients better.
Q: Over the recent two years, Chinese government has been introducing stringent policies to consolidate the pharmacy industry in China. The government policy seems not to be directing at the same place as where the mission of your company is heading to?
A: Well, Chinese government has been trying to do that, or not government actually, the private enterprises have been trying to consolidate the industry for the last ten or fifteen years.
What we are looking at is the biggest pharmacy chain with a little over 5,000 stores that are regional players. So what I pointed to is that the consolidation is probably not that easy, firstly.
And secondly, when we come in, we are not trying to work with each and every individual stores out there at all. We actually are helping the government to do that consolidation because only the guys who are good enough, who understand the value of internet, who understand of value of a partner like us, only those little pharmacies will stand with us.
We will add value to those guys so that when the consolidation happens, they are the ones who will survive versus the ones who will go out of business.
In fact, we are helping the Chinese government to do consolidation by providing the best-quality drugs to those little pharmacies, and online hospital capability to extend to those little pharmacies. And I actually feel we are working with the government in a sense.