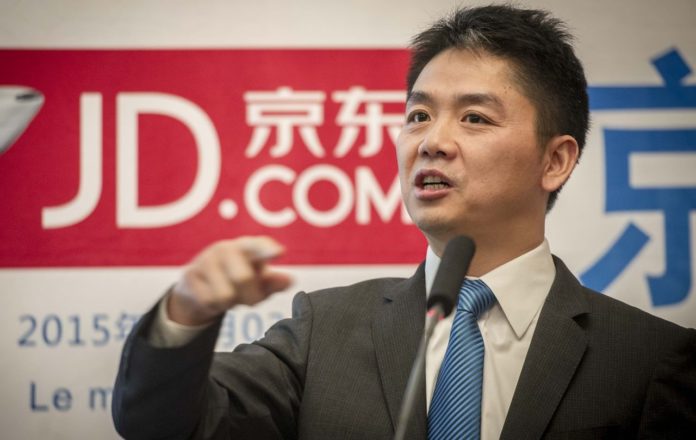 Chinese internet tycoon Richard Liu, the founder of the country's e-commerce giant JD.com, has leaped into the private equity field with a minority stake in a newly-registered Chinese private equity fund manager. 
Liu has taken over 20% stake in Jinghedu Equity Investment Management (JHD Investment) through a subsidiary completely-owned by Jiangsu Jingdong Bangneng Investment Management, a Chinese investment management service provider where Liu also has 45% holding.
Richard Liu, who has a net worth of US$12.7 billion and goes by Liu Qiangdong in China, has been laying out his investment plans with shareholdings in a group of investment firms.
He is the largest shareholder in Chinese investment firm Dongcheng Investment, with RMB50 million (US$7.2 million) investment in exchange of 50% stake in the company. His wife, Zhang Zetian, who is widely known as "sister milk tea" in China, serves as the chairman of Dongcheng Investment, according to the company's information available on Chinese business data and investigation platform Tianyancha.
Dongcheng Investment has 11 companies under its portfolio, covering various fields including education, assets management, medical treatment and artificial intelligence.
Meanwhile, the Chinese e-commerce billionaire's JD.com has been actively participating in equity investments in recent years.
According to Chinese research and investing information provider ITJuZi.com, JD.com has been involved in a total of 263 investments and acquisition deals as of August 31, with focus on a range of sectors including enterprise services, e-commerce platforms and hardware development.
Liu's investment code has been more indirect compared with his Chinese counterparts, who prefer to form their own investment vehicles rather than merely holding stakes. Alibaba Group's co-founder and executive chairman, Jack Ma, with a net worth of US$34 billion, had established a private equity firm YunFeng Capital in January 2010.
Yunfeng Capital specializes in early stage and industry consolidation. It had led a US$50 million in series C financing round in Chinese online corporate training service provider Yunxuetang Network Technology on October 23.
Another Chinese entrepreneur Lei Jun, founder of mobile phone maker Xiaomi Inc., with a net worth of US$11.8 billion, also established a venture capital firm Shunwei Capital Partners to tap into investment opportunities in the technology sector.
Established in March 2018, JHD Investment is a fashion industry investment platform. According to public information, the company was registered on October 18 as private equity fund manager with registered capital of RMB5 million (US$720,325).
According to Tianyancha, Chinese intimate wear maker Cosmo Lady (China) Holdings Company Limited has 60% stake in the company.
JHD Investment also has Fosun Group, Tencent, Wanda Group, Zhongrui Holdings and Chinese e-commerce website operator Vipshop among its indirect shareholders, according to the company's website.
Furthermore, Liu is under police investigation in Minneapolis for an alleged sexual misconduct that took place in on August.