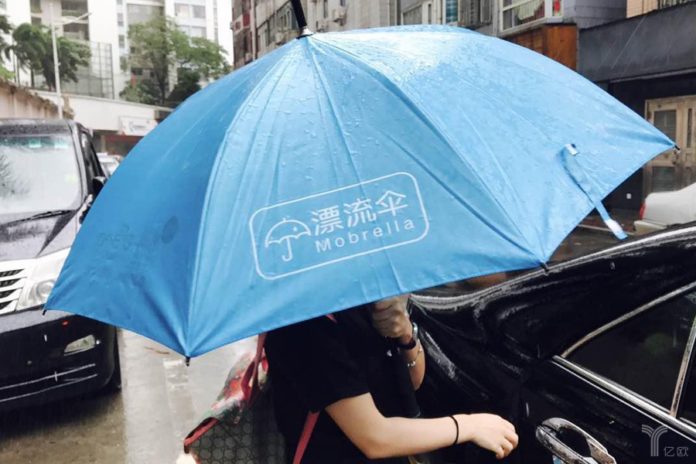 Mobrella, an umbrella-sharing start-up, has secured an investment worth millions of RMBs from Ant Financial Services Group, a financial subsidiary of Chinese e-commerce giant Alibaba Group.
The latest investment will boost the company's plan to expand its services into more cities in China as well as control the cost of its renting services, said Guman, founder and CEO of Mobrella.
Established in 2017, the Shenzhen-based company focuses on umbrella rental business which enables its users to borrow umbrellas for free and return it at any branch in the city.
To share umbrellas without paying a deposit, city residents are required to have their credit score issued by Ant Financial over 550. Citizens could rent umbrellas by scanning the QR code provided by the company to access three types of storage machine with a smart lock system designed by the company.
The umbrella-sharing firm is operating in ten cities in China, including Shenzhen, Guangzhou, Hangzhou, Shanghai and Haikou in Hainan province, as well as Singapore, according to its website.
Mobrella's straight handle umbrellas are mainly located in places with high trafficking, such as a city's central business district, markets, campus, bus station and subway station.
The one-year-old firm has completed four rounds of funding within one year. Its existing backers from the previous round include Gobi Partners, Dream Chaser Capital, DaoCin Capital and DT Capital Partners.
In 2015, Alibaba and Tencent were among the companies selected by the central bank of China to conduct credit rating on consumers, based on variable data such as users purchases, loan repayment record and app use frequency, collected on their platforms.
Ant Financial is investing in the umbrella rental business for solidifying its credit rating service Zhima Credit and its payment service Alipay.
Several umbrella-sharing start-ups have been launched in the country in the last few years, including Suzhou-based Usan, Shanghai-based Molisan and Ningbo-Based Freeer.
These shareable umbrella businesses have been facing challenges of stealing. In 2017, a Shenzhen-based umbrella sharing start-up had to shut down as people stole nearly 300,000 umbrellas within two weeks.