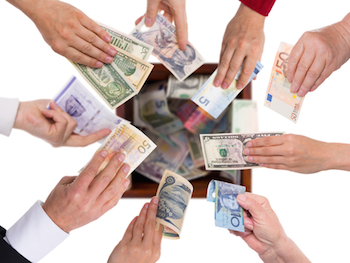 Hong Kong-based financial services firm China Everbright Limited, an affiliate of Chinese state-owned China Everbright Group, has inked a strategic partnership with a local government in eastern China's Jiangsu province to jointly launch a RMB2 billion (US$288.72 million) fund of funds (FOF), according to a statement released by China Everbright Limited yesterday.
The newly-launched fund has brought the combined assets of the company's four FOF to RMB17.1 billion (US$2.46 billion), said the statement. The company had set up its first FOF in late 2015.
China Everbright Limited will manage the new fund and its wholly-owned subsidiary will serve as a limited partner by pooling in RMB980 million (US$141.46 million) and invest RMB20 million (US$2.88 million) as a general partner. The local government of Liyang city in Jiangsu province has financed RMB1 billion (US$144.28 million) through its wholly-owned firm, which does not have an English name.
The new fund will help in upgrading and speeding up the industrial transformation in the city of Liyang by actively seeking for investment opportunities in emerging industries, including intelligent manufacturing, information technology, new energy and aerospace, according to the statement.
China Everbright Limited was founded in 1997 as an investment and asset management subsidiary of Chinese state-owned enterprise China Everbright Group. As of June 2018, the company has managed a total of 55 funds with its assets under management being HK$138.9 billion (US$17 billion), according to the company's website.
The company has recorded investments in more than 300 firms, covering a wide range of fields including real estate, pharmaceuticals, new energy, infrastructure, advanced technology, high-level manufacturing and financial technology.
In October, China Everbright Limited had announced the first closing of over RMB800 million (US$155.25 million) for its healthcare investment vehicle Everbright Medical & Healthcare Fund III.