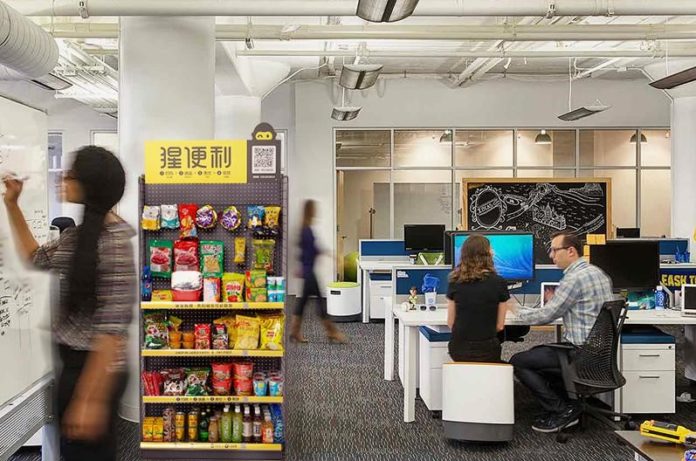 One month before Chinese Spring Festival in 2018, He Bing, a delivery man at Chinese cashier-free shelf provider Xingbianli, received a call from the company's human resource supervisor.
"You don't need to come to the office tomorrow. Xingbianli has been suffering from a loss so we need to cut staff," the supervisor told He, who just joined the company's division in China's second-tier city of Xuzhou two month ago. Twenty out of 26 staff were kicked out from the company's delivery department at that freezing winter night, He Bing recounted the event during an interview with Chinese media outlet Jiemian.com.
His experience is a reflection of how concept-based tech frenzies in China in recent years have sometimes turned out to be just blind enthusiasm. The rapid pace of development in China is shortening VC cycles too. Ideas go in and out of fashion in months, not years.
Take the example of the once-hot idea of smart retail shelves, which utilize mobile payment and facial recognition technology to allow consumers purchase snacks, drinks and fruits right in their offices. These smart retail shelves, in the form of refrigerators or just simply metal shelves, focused on providing a convenient and alternative shopping method for busy office workers.
In 2017, around RMB3 billion (US$435 million) were invested in around 50 start-ups providing this service, according to Chinese analytics firm TalkingData. Investors including Sequoia Capital China, IDG Capital, Matrix Partners, ZhenFund and Frees Fund have all invested in this sector.
But less than a year later, about half of the companies have shut down.
Rapid Downfall
Xingbianli is one of the most promising start-ups in the space, placing their smart retail shelves in over 10,000 offices within three months. But, its aggressive speed of expansion weighted on the company significantly. In addition, an unexpected phenomenon – office workers taking goods from the shelves without paying for it, otherwise known as stealing – led the company to suffer much higher losses.
The start-up, founded in June 2017 with backings from Sequoia Capital China, Ant Financial and Lightspeed China Partners, has decided to significantly cut down the number of shelves and shrink the number of cities it operates in. It is also redesigning its shelves to ensure consumers pay for what they take off from the shelves.
Another start-up Guoxiaomei, backed by IDG Capital and Vertex Ventures, also suffered similar fate. Hami Technology, founded in october 2017 and backed by Yunqi Partners and ZhenFund, is under a liquidity squeeze and paying staff partially with company shares.
The number of companies in the smart retail shelf sector shrunk by around 50% from 41 in September 2017 to 21 in June 2018, according to TalkingData.
Investors are realizing that "being smart" does not change the core competences required to success in what is essentially a retail business. It does not matter if mobile payment or facial recognition are utilized in the shopping process, smart retail shelves face the same challenges as all other retailers: supply chain management, inventory management, efficiency and scale.
As rapidly as the industry became an investor favorite, it took only months for that enthusiasm to cool. As the clock ticked in 2018, no significant VC investments were recorded as investors avoided the whole sector.
A Test Of Humanity?
When the idea of smart retail shelves initially appeared last year, it seemed like a novel approach to meet a unique consumer need.
Office workers in China often need to buy snakes, drinks and fruits during their long workdays. Previously, they had to take the elevator down and walk to a supermarket to buy a bag of chips.
Smart vending shelves would put the most-often purchased snacks and drinks on each office floor. There are two types of shelves: one open shelf that relies on buyers' conscience to ensure payment for goods bought. Another is practically a vending machine powered by mobile payment, radio-frequency identification (RFID), facial and products recognition. Users need to scan a QR code to open the door or will be issued an receipt to pay before taking the goods.
The key elements of the business are speed and scale. As the smart retail shelf frenzy took place during the bike sharing hype, it followed the same logic. One must place as many shelves as possible as the first company to do so. Because, as happened in bike sharing, the late-comers would find governments issuing bans for bike placements on the streets. One office floor obviously needs only one such shelf.
Xingbianli, for example, scaled up its shelves from zero to cover over 30,000 offices six months after its inception in June 2017. "Whoever becomes the first player to set shelves in about 300,000 offices will dominate the market with an absolute advantage," said Jiang Hua, co-founder of the Xingbianli, at an event in Beijing in December 2017.
Similarly, Guoxiaomei's founder Yan Limin planned to serve one million offices in 2018, which means placing shelves in an average of 2,800 offices every day.
Smart retail shelves were betting on the growth of the Chinese leisure food market. The sector recorded a compound annual growth rate (CAGR) of 7% from RMB320 billion (US$46.43 billion) in 2011 to RMB452 billion (US$65.59 billion) in 2016. It is expected to exceed RMB500 million (US$72.56 billion) in 2018, according to a report released by Chinese consulting website ibaogao.com.
But what the entrepreneurs and investors did not expect was how unpredictable human behaviors can be. One of the major problems faced by the start-ups was the unbearably high goods missing rate. Guoxiaomei reported a goods missing rate of 3% to 5%, according to online publication Sixth Tone. But a former employee told the publication in July that a more accurate number should be that 20% to 30% of goods stocked in the company's shelves were stolen.
Moreover, some delivery men were "forced" to "steal" as their salaries were calculated based on how many shelves they can restock. It created an ill-planned incentive for the delivery personnel to cheat in order to receive more commissions.
In a rush to expand quickly to become the biggest in the shortest amount of time, companies lost sight of what their ultimate objective is.
"They were rushing into the second- and third-tier cities before putting their businesses in the first-tier cities on the right track," said Chen.
Such rapid growth led to numerous management mishaps. The shelves often were not replenished in a timely manner. Supply chain management and logistics are a mess because of a lack of experience and resources.
Companies like Xingbianli and Guoxiaomei are adjusting their business models and hoping to reinvent themselves as viable businesses. As the Chinese VC market continues to cool amidst economic uncertainties, they will have to endure a winter much colder than usual.