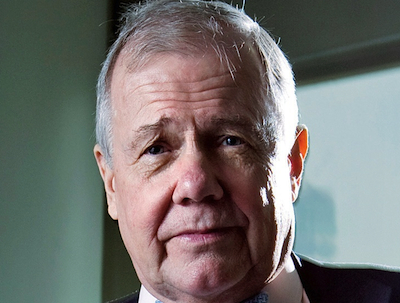 In this episode of China Money Podcast, returning guest and veteran investor Jim Rogers, chairman of Rogers Holdings, talked with our host Nina Xiang on his reading of China's third plenum meeting, why China should open its financial markets completely "this afternoon", and what Chinese stocks he has been buying lately.
Read an excerpt below, but be sure to listen to the full interview in audio or watch an abbreviated video version. Don't forget to subscribe to the podcast in the iTunes store.
Q: The just completed third plenum meeting provided a road-map for China's future reforms. It created this renewed sense of optimism about China's future. Do you share that feeling?
A: I was quite delighted to see what they said. The one overriding point is that the market is going to make the final decision. That is contrary to what is happening in the U.S., and that is why the world is moving to Asia.
Q: The policy initiatives may look near perfect on paper, but no doubt the most challenging part will be implementation. What do you see as the biggest risk in implementation?
A: In the past few years, the momentum (for reform) in China has slowed because of vested interests and their fear of losing power. The new leadership now says let's move on and just do it. But it won't happen with a snap of the finger.
Q: What would you like to see in China's financial reform?
A: They should make their currency, the RMB, convertible this afternoon. They started (currency reforms) in 2005 and have taken many small steps. But China is no longer a weak economy. It is the most successful country in the past thirty years. There is nothing to fear.
Q: Interest rate liberalization, floating the currency and opening up capital accounts, which one should come first?
A: I would think all of the above this afternoon. But they've been very slow and only taken small steps. Deng Xiaoping says you cross a stream by feeling one rock at a time. That's correct. But there comes a time when you get to the other side, and let's move ahead. China is on the other side now.
Q: How worried are you about capital outflows if the capital accounts are opened now?

A: Of course there will be capital outflows. The RMB may even go down for a while. But just do it and get it over with. There will be a lot of capital inflows as people like me want to put money into China.
Have you ever heard of people smuggling money into a country with capital controls? No. People in China are trying to get their money out. But there are also many people who want to rush into China. This is the point of a free and open market. Trust me, it's not the end of the world.
The Australians, Germans and Japanese used to worry about (opening up capital accounts). But somehow they all survived. Trillions of dollars flow in and out everyday in the foreign currency market. China will survive too.
Q: You have been bullish on the RMB for a long time, but the RMB only appreciated for roughly 12% since 2008. You can't say that it's a great performance as an investment?
A: That depends on what you compare with. There are many other currencies that were down. We presume one has earned interest as well even if it's just put into a CD (certificate of deposit). Don't forget that those interests get compounded.
But you are right, there are many other investments that could have made a lot more money. But the point is the currency has continued to appreciate and will continue to appreciate. It may be double or triple in the next 10 to 20 years.
Q: Are you buying Chinese company shares now?
A: Yes.
Q: Can you give us a couple of those names?
A: I've never bought Chinese domestic A shares in my life because it's always more expensive. But I've been buying H shares and overseas-listed Chinese companies for the first time in a while.
One company I bought was HollySys, a supplier of automation and control applications to China's subway and railway sectors. I owned it before and I've bought some more shares recently.
Another company is Fab Universal, a mobile digital entertainment provider. I also bought a Chinese investment firm and companies in the defense sector.
Q: There is a newly launched ETF tracking Chinese domestic stock market index, the CSI 300. Would you buy an ETF like this?
A: Yes, maybe I will.
About Jim Rogers:
Jim Rogers is the chairman of Rogers Holdings and a veteran international investor. He is an author with a number of best-selling books, including A Gift To My Children, Investment Biker and Adventure Capitalist. He received bachelor's degrees from Yale University and Oxford University. He currently lives in Singapore with his wife and two daughters.
(Correction: A previous version had an inaccurate headline "Jim Rogers: I'm Buying Chinese Stocks Including HollySys And Fab Universal")