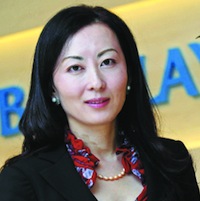 The author is Jian Chang, chief China economist at Barclays
Sentiment in China's property market has deteriorated rapidly amid daily news reports of stories about unsold homes, steep price cuts, troubled developers, and potentially massive real estate-related trust defaults.
We think tighter monetary financing conditions in the second half of 2013, overbuilding and increased developer leverage, have worsened the housing market's supply-demand picture. We expect the current property downturn to continue into 2015.
Our base case scenario remains for a gradual deflating of the property bubble over 2014 to 2015. We estimate that a 5 basis points decline in property investment growth could shave 50 basis points off China's GDP growth.
The earlier- and sharper-than-expected correction leads us to lower our 2015 China GDP growth forecast by 20 basis points to to 7.2%.
In our view, the Xi Jinping-led government will likely tolerate some further correction in the property market. Unless there is a more than 10% drop in prices nation-wide, there won't be any broad-based easing.
We think the government will also allow the use of "innovative relaxations" announced by local governments.
ut self-fulfilling expectations of falling house prices, financial difficulties among developers on the back of a highly leveraged economy with huge local government debt, and a fragile financial system with a large shadow banking sector, suggest the risks of a disorderly adjustment are real and rising.
We examine two downside risk scenarios. One, a 10% correction in property investment which could bring GDP growth down to 6.5%. Second, a hard landing scenario with growth falling below 5%, which could be triggered by a sell-off in the housing market.
It is also useful to keep in mind that, unlike the U.S. before the global financial crisis, China has a much less leveraged household sector. Also, unlike Asia's economies during the financial crisis of 1997-1998, China has little external debt. It has large foreign exchange reserves, and restrictions on capital flows.
Longer-term, China's housing market faces continued challenges as previously favourable factors turn negative. On a positive note, we think sustained property demand is likely to emerge in regions that will benefit from China's urbanisation and in the more competitive cities that prove attractive for migrants.

(The article has been edited for clarity)