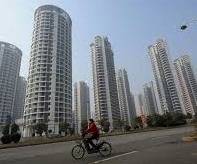 China's new policy initiative to ease eligibility controls for urban residency permits has wide implications, particularly on China's real estate market, pointing to stronger demand for real estate assets in lower-tier cities, according to a report by commercial real estate firm CBRE Group, Inc.
On August 1, China's State Council announced that it would promote urbanization by easing eligibility controls for urban residency permits and allowing more of the rural population to register as urban citizens. By making urban residency status more widely available, the government is hoping to promote labor migration from rural to urban regions, expand employment opportunities and offer social services to more citizens.
As a result, stronger demand for real estate assets will emerge over the longer term in lower-tier cities. The policy lowers entry barriers in small- and medium-sized cities with populations less than one million, but maintains entry barriers in large and super-large cities with populations exceeding one million.
"We expect that regional clusters will emerge as a magnet for investment and migration, for example in cities such as Wuhan, Chengdu, Xian and Changsha," comments Eddie Heng, head of CBRE Consulting in China. "Successful clusters will be the ones that strike a good balance between cost of living and economic opportunities, and hence will be able to offer a good quality of life."
China has approximately 300 cities with populations of less than one million and 86 cities with populations of more than one million, according to United Nations data.
Another consequence of the policy is that the number of rural land market initiatives will likely grow. Government authorities will likely pilot more initiatives, such as those launched in Anhui province in November 2013, to allow open markets for rural land. This is an important step toward increasing land rights coverage and land sales revenues for rural residents, as well as opening more opportunities for real estate development.
However, first- and second-tier cities will remain the preferred destination for migrants. Demand for residential and commercial real estate in China's main cities is expected to remain strong.
Low-value added and labor-intensive industries will continue to relocate inland from coastal cities. As government pressure on low-end manufacturing continues in coastal regions, relocation inland will speed up, supported by tax incentives, cheaper labor costs and more workers in lower-tier cities attracted by easier access to urban residency status. Re-zoning and re-utilization of industrial land and properties will become more popular in first- and second-tier cities.
Investment in social housing will increase. Residents without urban residency but holding a temporary residence permit will now be allowed to apply for social housing. China will continue to expand its affordable housing program to cater to newly-eligible residents, says the report.
Pockets of excess construction may emerge in the short-term. While the new policy will support long-term demand for property in lower tier cities, there may be a risk of burgeoning supply in the short term.