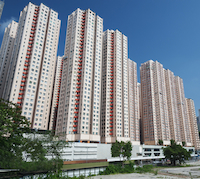 The author is Standard Chartered China's macro research team
China's housing market has been identified by some as the biggest risk to the global economy. There is unfortunately little independent data – apart from apartment sales and new project starts – to help us assess what is really going on, or what developers plan to do in terms of land purchases and price cuts.
Our quarterly survey of developers attempts to fill that gap. In June to July 2014, we spoke to 30 senior managers in six Chinese cities including Hangzhou, Lanzhou, Baoding, Foshan, Huangshi and Nanchong, and asked them 52 questions about what they were seeing then and what they expected in the near future.
Most of them are small, unlisted developers.
Our latest proprietary survey found that construction activity is still slowing. Developers face poor sales and rising financing costs.
The land market is also cooling. Cities are auctioning fewer parcels, and fewer developers are planning to add to their land banks.
Apartment sales are deteriorating, even with discounts being offered. Many of our surveyed developers see rising inventories in their cities.
Developers are offering moderate price discounts, but say they do not expect significant price cuts in the next six months.
Financing conditions for developers have been tight in recent months and appear to be getting worse. Defaults, however, are not yet common.
The developers we surveyed expect further policy loosening, especially easing of constraints on financing.
Our latest China Developers Sentiment Index (CDSI), an index based on our regular quarterly survey of 30 mainland developers, declined markedly.
Our measure of housing inventories suggests that without an increase in sales, inventories will continue to rise.
We believe our survey suggests that the worst times for China's real-estate sector are still ahead.
(The article has been edited for clarity)