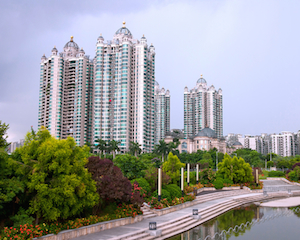 Chinese property developer China Vanke Co., Ltd.'s plans to team up with private equity firm The Carlyle Group and online marketplace Taobao will likely raise the home-builder's asset turnover and improve its liquidity, says Fitch Ratings.
Given the fierce competition in China's property market, Fitch expects that other developers might also undertake cross-sector tie-ups to stimulate home sales in the future.
Vanke says that it agreed to establish an "asset platform company" that will be 80% owned by Carlyle Asia Investment Advisors Limited, and 20% owned by Vanke.
The company plans to sell nine commercial properties to the joint venture, which intends to hold the properties until they are securitized in the future.
In addition, both Vanke and Carlyle also plan to set up a company to manage the leasing and operation of the commercial properties.
While the agreement is preliminary and not legally binding, the transaction, if it proceeds, will be positive for Vanke's operation and financial management, says Fitch Ratings.
First, the transaction is likely to release most of the capital tied up in the commercial properties, which would otherwise generate limited cash flows and slow down the home-builder's overall asset turnover.
Second, by cooperating with Carlyle, Vanke would be able to substantially lower its costs for experimenting with and exploring potential business models in commercial properties.
Third, Vanke will gain from the capital appreciation once the commercial properties are securitized or listed successfully.
Vanke recently also started to cooperate with Taobao to offer discounts to home buyers who also shop on the biggest online shopping website in China.
The discounts range from 5% to 10% per home in general, depending on the project. The company has also initiated and explored other sales channels by cooperating with different online platform operators, like Tencent Holdings Limited.
While the development of Vanke's online sales channels is still at an early stage and the channels are not used across the whole group, Fitch expects Vanke's savings on its selling, general and administrative expenses to partly make up for the 5% to 10% discounts.
Vanke's move to set up and explore alternative sales channels also reflects its strategy to prioritize asset turnover over margins.