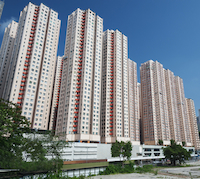 Prices of China's new commodity residential properties for 70 medium to large sized cities surveyed by the National Bureau of Statistics (NBS) declined by 1.15% month-on-month in August, down from a decline of 0.93% in July.
At the same time, Soufun's 100 city average new home price index edged up to -0.59% month-on-month in August compared to -0.81% in July.
The further acceleration in home price decline is probably due to more projects offering discounts and sluggish sales performance in August. Housing new starts and residential property fixed asset investment growth also edged down in August, says BofA Merrill Lynch Global Research in a report.
According to the NBS, the year-on-year decline of new home sales in floor space terms and value terms were 13.4% and 13.7% in August, compared to a decline of 17.9% and 17.9% respectively in July.
The rebound in home sales could be partly attributed to a lower base last year. However, with policies turning more supportive and improvements in mortgage conditions, there will be recovery in sales momentum going forward, especially during the upcoming peak season in September and October.
Investments in residential real estate declined to 6.9% year-on-year in August from 11.5% in July. Moreover, new home starts growth dropped to 0.1% year-on-year in August from 3.4% in July. Unsold residential inventory increased to 370 million square meters in August from 365 million meters in July.
BofA Merrill Lynch says it expects home sales to pick up in the second half of 2014 as local governments introduce more supportive measures and mortgage conditions ease.