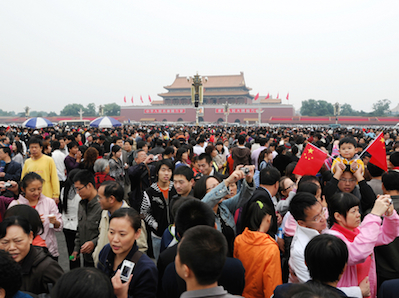 China's growth will slow further in 2015 to an annual expansion of 6.8%, as the ongoing property downturn continues to drag on construction, industrial production and related investments, says a research report by UBS AG.
The year of 2014 started bumpy but ended on a positive note for China. Serious concerns on slowing growth and financial risks faded as the government adopted policies to stabilize the economy and financial conditions.
But for 2015, one surprise might be rising deflationary pressure, as tepid domestic demand and falling commodity and energy prices are expected to bring consumer price index (CPI) inflation down to 1.5% while producer prices decline further.
This could spur China's central bank to cut benchmark lending rates by at least 50 basis points in 2015, and local government bond issuance will further help lower financing costs and alleviate debt service burden.
The decline in commodity and energy costs as well as reduction in borrowing costs should help improve corporate margins.
The People's Bank of China (PBoC) is expected to adopt an easing bias to keep monetary policy "appropriate," including using various liquidity facilities and bank reserve requirement ratio (RRR) cuts to offset drainage from forex outflows and keep interbank rates low.
A similarly tightly managed approach will likely be taken regarding the exchange rate. UBS expects that the RMB to depreciate only modestly against the U.S. dollar to around RMB6.35 per US$1 at the end of 2015.
The Chinese government will likely increase the pressure for faster reforms in 2015. The emphasis will be on cuts in administrative red-tape and service sector entry barriers, liberalization of utility and public service prices, and reforms in the areas of local government finance, pension and health care insurance, and capital markets.
Reforms on state-owned enterprise restructuring and capital account opening will likely to be more gradual.