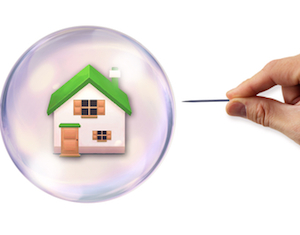 The stock and foreign exchange market volatility has driven capital into China's property sector. With the introduction of "innovative" financial products to help home buyers circumvent down payment requirements, are Chinese banks creating a subprime mortgage bubble?
The argument used to go like this: China won't have a subprime mortgage bubble like the U.S. because China has high down payment ratios and buyers routinely pay much higher amount of cash than required when purchasing properties.
But the statement may no longer be true, as many banks began providing down payment loans to home buyers after rising prices attracted buyers, and more buyers continued to drive prices skyward.
Even though the required down payment ratio for most first-time home buyers is 20%, banks have created wealth management products and consumer credit type instruments to home buyers, who need to only pay 10% or less to buy property in China's biggest cities.
This is not yet as bad as those 0% down and no background check mortgages during the U.S. subprime mortgage bubble, but it is starting to share some characteristics: alarming home price hikes, reckless credit growth and speculation.
There is very little information on how widespread the practice is, or how many down payment loans have been issued cumulatively.
China's new RMB loans hit a much stronger-than-expected RMB2.51 trillion in January, a large portion of which were mortgage loans, according to Chinese media reports.
But the fact that the Chinese regulators are concerned may be enough for investors to be alarmed.
Governments in Shanghai, Shenzhen and Beijing, where property prices have seen a dramatic upswing, are issuing new directives to banks to cool down price rises and contain speculation.
Regulators in Shenzhen, for example, are planning to ask banks to conduct stress tests to see how much of an impact a decline in housing prices will have on their asset quality.
Banks are asked to ensure that down payment are purely savings or capital owned by the home buyer. Any form of credit or loans are prohibited to be used for down payments.