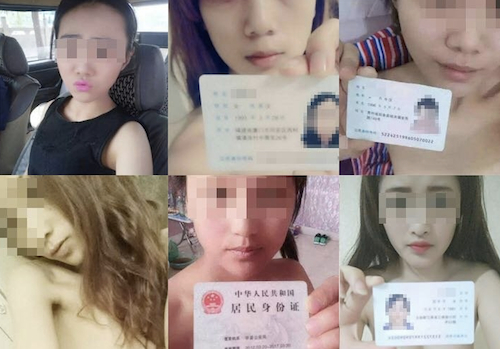 A new wave of Internet finance is raging across university campuses in China. More and more female students are borrowing money with nude photos or videos as collateral.
Any female students can apply for quick loans ranging RMB500 (US$76) to RMB50,000 (US$7,603) if she supplies all the documents, including nude photos or videos while holding her real ID card and her mobile phone number bundled to her ID number.
Loans are usually short term, from one month to a few months, with annualized interest rate of 100% to over 700%. Any default means the nude photos will be published online for all friends and family see.
The new phenomenon raised controversy and legality questions after naked pictures of some female students were posted online last week.
According to one media account, at least thousands of students have borrowed money this way, mostly via an online lending firm Jiedaibao backed by Chinese private equity firm JD Capital.
The usage of nude photos as loan collateral is not new. It was used by underground banks before. The mushrooming new P2P (peer-to-peer) lending platforms are making this type of borrowing – ironically – highly efficient. All the pictures, videos and documents can be transferred and loans received in minutes.
The damage is potentially greater as well. There are currently hundreds of nude photos and videos of female students on sale in different chat groups on Wechat. Many borrowers have experienced the shame and horror of seeing their nude photos spreading all over the Internet, while having nothing to do about it.
This "innovation" is unlikely to last long, as regulators move to crack down the activities amid the recent scandal and public outrage.
Or, perhaps it was meant to be a short-lived viral phenomenon. Many Chinese Internet companies have used similar marketing campaigns to reach instant fame (or notoriety).
In this case, the JD Capital-backed Jiedaibao may have succeeded in familiarizing the public with its brand, but on the wrong side of their intended effect.
(Photo credit: Tencent Technology)