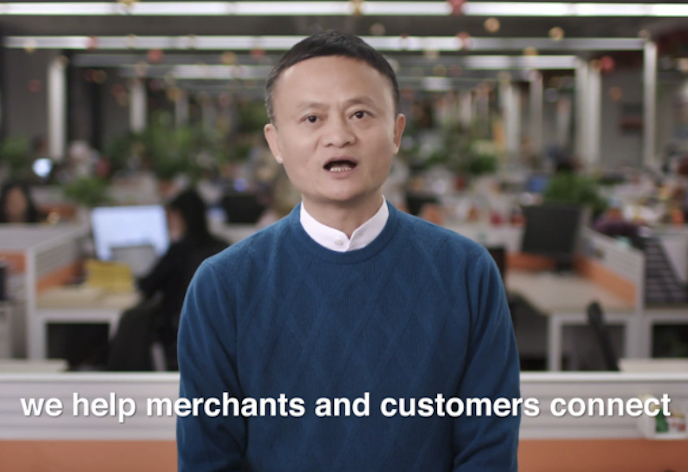 Chinese e-commerce giant Alibaba Group Holding Ltd. plans to host a two-day conference in Detroit on June 20 and 21 to help U.S. businesses sell to 443 million consumers in China. The step follows Alibaba founder and chairman Jack Ma's promise he made in January after meeting with President Trump to help one million U.S. small businesses enter the Chinese market.
China's middle-class population is projected to exceed 600 million by 2022, or nearly twice the size of the entire U.S. population. Last year, China surpassed the U.S. as the world's largest retail market, with spending topping US$4.84 trillion, Jack Ma wrote in a public letter published on the company's corporate site. By next year, China's online spending will be greater than the rest of the world combined.
Currently, Alibaba's e-commerce platform has 7,000 U.S. businesses listed, mostly large companies and big-name brands. Over the next five years, Alibaba hopes to increase that to more than one million, with the vast majority made up of small businesses that would create one million U.S. jobs.
Ma listed a few successful examples where U.S. small businesses have flourished after taping into the Chinese market. Peter Verbrugge, a third-generation cherry farmer from the Pacific Northwest, has successfully sold tons of cherries to Chinese consumers. A New York City boutique, Stadium Goods, has seen business take off by selling coveted collectible sneakers to sports fans across China. LuckyVitamin, a third-generation, family-owned business that started as a corner drugstore serving a small town just outside of Philadelphia, is now able to offer over 10,000 products to Chinese consumers.
Here is Jack Ma's open letter:
Dear U.S. small businesses, farmers and fellow entrepreneurs,

Nearly 20 years ago on a trip to the United States, I first witnessed the power of the internet and its ability to connect people around the world. That was my inspiration when, four years later, 18 passionate people got together in my apartment to found Alibaba, and we began to imagine a future where millions of people could use the internet to do business globally. Our vision was to level the playing field so that any individual – no matter how big or small – could use the power of a connected world to grow a business and succeed.

From that humble origin in 1999, Alibaba has become a worldwide leader in e-commerce. Two years ago, we made it our goal to help U.S. entrepreneurs and businesses sell their goods to the growing Chinese consumer class. Since then, we have helped thousands of American businesses do just that, and we believe this is only the beginning.

The Chinese market presents tremendous opportunities for U.S. small businesses and farmers to grow their businesses, and in turn, create more U.S. jobs. China's middle-class population is projected to exceed 600 million by 2022, or nearly twice the size of the entire U.S. population. Last year, China surpassed the U.S. as the world's largest retail market, with spending topping US$4.84 trillion. By next year, China's online spending will be greater than the rest of the world combined. At Alibaba, we want to help you take advantage of this appetite for consumption through our e-commerce marketplaces.

For those of you who are not familiar, Alibaba operates marketplaces that connect buyers and sellers. Think of us as a virtual mall with nearly half a billion shoppers buying from sellers that operate their own online storefronts. With most Chinese consumers today shopping from a cell phone, getting to our virtual mall is as easy as clicking on the mobile app that people carry in their pocket. We are already a gateway for thousands of global brands, retailers and companies to sell to Chinese consumers. And we want to expand that gateway – level the playing field – to make it easy for American entrepreneurs, small businesses and farmers alike to take advantage of the China opportunity.

On June 20-21, we will host an event in Detroit to share more about this opportunity and how we can work together to help American small businesses grow. The two-day event, Gateway '17, will fittingly take place in Detroit – home to some of America's greatest ingenuity and innovation.

Today, Alibaba works closely with many small and medium-sized businesses who have capitalized on the growing demand in China. Peter Verbrugge, a third-generation cherry farmer from the Pacific Northwest, is one of many examples. Through Alibaba, he has successfully sold tons of his delicious cherries to Chinese consumers. A New York City boutique, Stadium Goods, has seen business take off by selling coveted collectible sneakers to sports fans across China – their growth has enabled them to expand their team by more than 50 percent. LuckyVitamin, a third-generation, family-owned business that started as a corner drugstore serving a small town just outside of Philadelphia, is now able to offer over 10,000 products to Chinese consumers.

These are just a few of the many stories that inspire us to continue pursuing our mission of making it easy to do business anywhere. Every day we strive to help fellow entrepreneurs achieve their dreams. At Gateway '17, we want to show you how Alibaba can help make your dreams come true.

I hope to see you in Detroit in June.

Sincerely,

Jack Ma

Executive Chairman, Alibaba Group