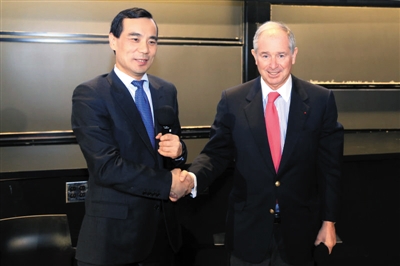 Chairman of Chinese insurance firm Anbang Insurance Group, Wu Xiaohui, who was the husband of the granddaughter of Deng Xiaoping, is rumored to have been detained by authorities in Beijing for illegal loans and potentially other allegations, according to reports circulating on Chinese social media networks since yesterday.
Chinese authorities have also halted all of the insurance company's overseas investment deals, according to the reports.
The investigation centers around loans worth around hundreds of billions of RMB that the Anbang chairman has allegedly obtained illegally. He may have also used the illegal loans to invest in the stock market, as well as to transfer assets overseas in a questionable manner.
The news came after Xiang Junbo, chairman of the China Insurance Regulatory Commission, was investigated for anti-graft earlier this month. Xiang supposedly gave details of Xiaohui's illegal activities to authorities that led to Wu's detainment.
The investigation of Xiang is one of a series of high-profile investigations in China's insurance sector, which has seen numerous cases where capital were used illegally for stock market speculation, among other illegal activities and corruption accusations.
Anbang was little known in China until it began a buying spree a few years back. It bought the Waldorf Astoria Hotel in New York for US$1.95 billion in 2014, and acquired stakes in several Chinese banks including China Minsheng Bank and China Merchants Bank. It was Minsheng's largest shareholder in 2015 after acquiring its shares aggressively over a five-month period.
The company was one of the leading suitors for the Starwood Hotels & Resorts portfolio, but backed out at the last minute. It was in advanced talks to invest in Kushner Company's 666 Fifth Avenue project, but the son-in-law of U.S. President Trump recently said his company had stopped negotiations with Anbang. Earlier this month, Anbang abandoned its plans to buy U.S. annuity and life insurer Fidelity & Guaranty Life for US$1.6 billion after it failed to secure all the necessary regulatory approvals.
Deng Xiaoping's grand daughter Zhuo Ran and Wu Xiaohui have divorced, according to reports last month. The Deng family has long regarded Wu Xiaohui as a "family traitor" and Zhuo Ran has cut off her connections with Anbang, says the reports.