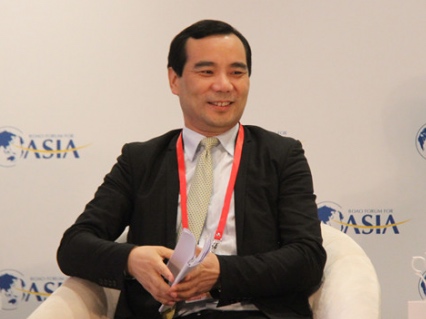 High-flying Chinese insurance firm Anbang Insurance Group has announced that Wu Xiaohui (pictured), its chairman and general manager, can no longer fulfill his duties for personal reasons, following numerous Chinese media reports that the executive has been detained by authorities as part of a legal investigation.
According to Chinese media reports last night, Wu was taken away by authorities on Friday for questioning in relation to illegal loans.
In a late-night response, Anbang issued an official statement at 2am this morning saying that the group has authorized other relevant executives to perform Wu's duties while he is unavailable. The group's operations remain normal, according to the terse statement.
Wu seemed to have been notified in advance of the pending detention as he held an emergency meeting last Wednesday announcing that Yao Dafeng, vice manager at Anbang, will be responsible for the company's daily operations.
The apparent detention follows a high-profile public relations campaign last month, as Wu, formerly married to the granddaughter of Chinese leader Deng Xiaoping, staged a high-level interview with a state-owned newspaper after earlier rumors spread that he has been detained.
His PR offensive seems to have had little impact on public sentiment. "No matter how many interviews he can do and how many times he proves that rumors are just rumors, Wu Xiaohui is finally in," commented an anonymous user on Chinese social media last night.
According to reports circulating last month, the investigation centers on loans worth hundreds of billions of RMB that the Anbang chairman had allegedly obtained illegally. He may have also used the illegal loans to invest in the stock market, as well as transferring assets overseas in a questionable manner, according to unsubstantiated reports.
Anbang was little known, even in China, until it launched a high-profile acquisition spree a few years back. It bought the Waldorf Astoria Hotel in New York for US$1.95 billion in 2014, and acquired stakes in several prominent Chinese banks, including China Minsheng Bank and China Merchants Bank. Anbang was Minsheng's largest shareholder in 2015 after acquiring shares aggressively over a five-month period.
Anbang's buying spree, however, has recently ground to a halt. The company was the leading suitors for the Starwood Hotels & Resorts portfolio, but backed out at the last minute. It was in advanced talks to invest in Kushner Company's 666 Fifth Avenue project, but owner Jared Kushner, son-in-law of U.S. President Trump, recently said his company had stopped negotiations with Anbang. Earlier this month, Anbang abandoned its plans to buy U.S. annuity and life insurer Fidelity & Guaranty Life for US$1.6 billion after it failed to secure necessary regulatory approvals.
Wu was divorced from Zhuo Ran, Deng Xiaoping's grand daughter, perhaps years ago, and the Deng family has long regarded Wu Xiaohui as a "family traitor". Zhuo Ran has cut off her connections with Anbang, according to earlier reports.
Wu previously established Liantong Leasing Group in 1996 and Traveller Automobile Group in 1998, before joining Anbang. The two companies later became shareholders of Anbang. In 2013, Wu assumed the post of Anbang's general manager and chairman.