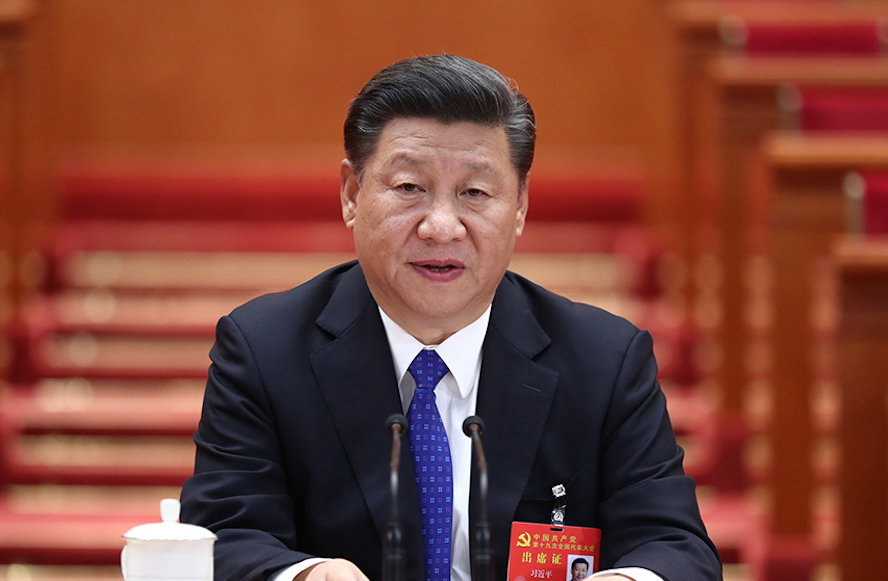 For the Chinese technology and venture capital community, Chinese President Xi Jinping's speech opening the 19th congress of the Chinese communist party was everything it hoped for. The key words "artificial intelligence", "big data" and "innovation" were highlighted and emphasized repeatedly in the otherwise laborious three-hour address.
The result could be that China's current exuberance for technology will continue for years to come, as local governments, private companies, entrepreneurs and venture capitalists are further energized to "disrupt" and "innovate."
The Chinese technology community responded enthusiastically to the speech. "This paragraph is said for innovative companies like JingChi Inc.," Wang Jin, formerly head of Baidu Inc's autonomous driving unit and founder of Chinese autonomous driving start-up JingChi, wrote in his Wechat account today. Wang was referring to a few sentences in Xi's address that said "China will strive to strengthen the establishment of innovation and its power in strategic technologies." JingChi has raised US$82 million in the past month or so from venture firms.
"From a follower to a leader, from innovations in a few sectors to innovations in the complete supply chain…the change in China will be the driving force for economic development and deeper social transformation," said Liu Ruopeng, co-founder of Shenzhen-based Kuang-Chi Group, a Chinese diversified technology conglomerate, in the company's Wechat account.
Turning China Into A Nation Of Innovators
Indeed, Xi's emphasis was on pushing China up the value chain in terms of technology and goods that can be exported. He pledged to make China a "country of innovators" and create global competitors in aerospace, cyberspace, clean energy, Internet and transportation.
And in a thinly veiled allusion to U.S. president Trump's withdrawal from the Paris Climate Accord, he said China would take a leading role in fighting global climate change, along with the technology that goes with it, such as electric cars and renewable energy.
To achieve this goal, Xi said China should strengthen fundamental research, provide more support for small and medium enterprises (SMEs) by protecting intellectual property. "Innovation is the primary force driving development and it is the strategic support for a modern economy," Xi announced.
State-Backed Great Leap Forward In Technology
Besides encouraging high-tech sector, President Xi also emphasizes government-backed industrial upgrades to push Chinese companies into the global high-end value chain.
"China should speed up manufacturing power, accelerate the development of advanced manufacturing industry, and promote the application of Internet, big data, artificial intelligence to real economy, and create new economic demands from high-end consumption, low-carbon economy, sharing economy and modern logistics," said Xi in his opening address.
While SME's were vital for innovation, internationally competitive companies were most likely to come from China's state-owned firms since they control the most critical industries and have the resources to compete with the international players, according to Li Jin, a policy watcher in China.
High-speed railway, ultra-high-voltage electricity, nuclear power and smart grid have grown to become the signature technologies of China, which wants to be leader of more industries. To go up on the global value-added chain, China also needs more efforts to reform its state-owned enterprises.
"This is consistent with the ambition laid out in China's 2025 Strategy to turn the country into a global powerhouse in technology and innovation." Said Aidan Yao, senior emerging Asia economist at AXA Investment Managers, in a research note.
"China is already a competitive player globally in areas of e-commerce, artificial intelligence and Big Data, but to enhance this lead, significant investment and resources from both the public and private sectors will be needed. Continued official supports in these areas can be expected, as China seeks to develop new growth engines to power through the middle-income trap," Yao wrote.
Up, Up and Up?
Xi's speech has certainly added significant fuel to the current technology bull market in China, which may turn out to be much longer and larger than anything we've seen in the past.
For the first time in modern Chinese history, Xi spoke in a tone of a leader of a developed, advanced and increasingly powerful nation. It was a clear shift away from past speeches that painted China as a developing nation that still needed to learn from the world to pull itself ahead.
This confidence appears natural as the Chinese tech sector is in the midst of perhaps history's largest tech boom. But therein lies the problem: how this bull market will end is almost unimaginable.
China now has 103 unicorns, or private companies worth US$1 billion or more, with total valuation of US$457 billion, the largest such group of highly valued companies anywhere and more than the U.S.
How will this "valuation bubble" end? Where will China's government-led innovation campaign lead the country to? Those are the questions that perhaps could not be easily answered.