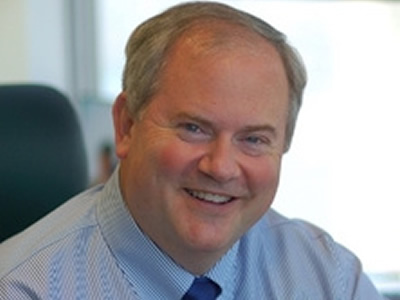 In this episode of China Money Podcast, Gary Rieschel, founder of Qiming Venture Partners, shares his thoughts on the Chinese economy, the technological evolutions of the Chinese Internet sector and why he is confident that Qiming will be well within the top quartile performers among China's venture capital firms.
Founded in 2006, Qiming Venture is one of the most successful venture capital firms in China, having invested in and successfully listed companies including Jiayuan, ChinaCache and Touchmedia. Qiming recently closed its second RMB fund, raising RMB700 million in merely four months. Gary Rieschel talked to China Money Network in Shanghai.
Listen to the full-interview in the audio podcast, watch the shortened video version, or read a transcript summary.
Q: Let's start with the macro economy. It looks certain that the Chinese economy will grow at the slowest pace in more than ten years. How has your businesses been impacted?
A: The Chinese economy this year will grow slower than in the past, but I don't think that's a great surprise. I think it's a natural evolution as China starts to go to (an economic model) more of a consumption driven, more higher valued-added products in the economy. There is some hesitancy by foreign investors, so you have seen a slight drop in foreign direct investment this year. But I think this is all relatively healthy as China starts to go through a transition.
I think what's happening in our business is that you have to be more selective. You are not going to be bailed out of your mistakes by the fact that the market is growing very quickly. In the past for Qiming, we've made approximately 70 investments during the last six and half years. We had less than 10% of the companies fail, which is extraordinarily low for the kind of investing that we do compared to what would have been in the U.S. or other markets.
So as our (venture capital) market matures, we expect more failures among early stage companies. In the U.S., somewhere from a third or half of the start-ups fail, but we have been nowhere close to that. This means we have to pick better CEOs, look for more complete management teams, and have a better idea of how technology will evolve. So for example, in healthcare and clean tech, we align ourselves more with government policy initiatives, such as the twelfth five-year plan as the leadership decides how they want the sector to develop.

Q: You founded Qiming Venture Partners in 2006. What sets you apart from other venture firms in China?
A: In the beginning, our premise of founding Qiming was to combine venture capital investing with operating expertise. Secondly, we are a flat organization. All of our employees who share the same title are paid exactly the same. Lastly, we look at everything from a sector lens. We don't have generalists who do a deal in healthcare today and a technology deal tomorrow.
Q: You've been in the IT/internet sector for a long time. Where do you see the best investment opportunities within China's IT/Internet sector?
A: The most attractive opportunities are clearly in mobile, and it's clearly the migration of all the services that you do on the Internet, on your PC, on your laptop or desktop, the migration of all those to mobile. People doing more electronic commerce transactions, people doing more monitoring of their life, whether it's keeping track of your steps or your calories, keeping track of your photos, it's more and more moving everything you would normally have had tethered to your desk, and having that with you wherever you want to be.
And I think also it's interesting here to see how privacy evolves, and issues around privacy. There is no Facebook in China unless you go through a VPN. But there are other companies that have tried, but I don't think anyone has achieved that yet to the extend of what Facebook has done in the U.S. People express themselves through Weibo on Sina, or Weixin and other products like that, but they haven't been willing, or they haven't trusted their entire life to those sites yet.
Q: Your first fund was launched in March of 2006, the next few years are critical time for those investments to exit. What's your Plan A and Plan B for exit?
A: That's a topic of much discussion inside Qiming. Fund I has had four IPOs, ChinaCache, Shijie Jiayuan, etc. Those companies we are fortunate enough to have invested relatively early. So our cost basis, even at today's lower valuations, are still quite good. So we made money on those investments.
Tigermed, which is the first company that just went public on the ChiNext exchange, that's an extraordinary return for Qiming. Unfortunately, for many of China's offshore companies, many of China's Internet companies, the number of companies that went public in the U.S., really didn't behave well. They missed their first quarter (earning projections), or there are allegations of fraud. So I think what has to happen is that slowly, you have to build back that trust, and you have to get back the confidence of investors in those businesses.
So we still expect to have a number of our Internet companies to be able to go public in the U.S. for Fund I, Fund II and Fund III. But we think the market will be more selective. The ChinNext market, particularly for our healthcare and clean tech portfolios, will be the most likely market to exit. We have seven companies now in the process of preparing to go public in China.
So the Plan B, well, at some point, the logical thing is to sell the company. You are starting to see the large, the four horsemen of the apocalypse in China, Baidu, Tencent, Alibaba and Sina, become more acquisitive. You will see more acquisitions in healthcare as foreign firms who want access to the China market, whether it's in medical devices or medical services, you will see firms starting to make more acquisitions for China entry.
The hardest M&A activity is a Chinese to Chinese company, because there is a great deal of pride for those CEOs. The negotiations on price, the negotiations on whether they could do it themselves, is always a very contentious one. But I think M&A will become a larger part of our exits over time.
Q: Is it possible for you to disclose your potential return rate?
A: I can't, but historically, if you look back at the last 25 years of venture capital, on average if you return two times your money, you would be in the top 25%. I'm confident that all of our funds will be well within that area.
Listen to the full-interview by downloading the free audio podcast.
NEWS REVIEW WEEK OF SEP 10-SEP 16, 2012:
– In China, reactions to the Fed's QE3 are divided. The positives include more liquidity into the market as QE3 will spark capital flows to emerging markets like China. This will in turn boost property prices, stimulate the stock market and help with bank lending. In addition, if QE3 achieves its objective of helping the U.S. economic recovery, it would mean good news for China's export industries.
– The negatives are added inflationary pressure from higher commodity prices resulted from more paper money. It also leaves the Chinese central bank with less room to navigate, further complicates the expectations of China's monetary policy movements this year. The longer-term concern is also that China's huge holdings of U.S. treasuries may be further devalued.
– Hong Kong Exchanges & Clearing and CME Group will launch offshore Yuan futures, providing investors and corporations another option to hedge Yuan-related currency risk. Previously, investors relied on Yuan forward contracts and other currency derivatives in Hong Kong to hedge risk. Yuan futures are considered a more standardized product and easier to trade, and it will further complete the offshore Yuan market's product offering and help the Yuan's internationalization effort.
About Gary Rieschel:
Gary Rieschel is founder of Qiming Venture Partners, a US$1 billion-under-management venture capital firm started in 2006. Previously, Rieschel was the founder or lead investor in SOFTBANK Venture Capital, Mobius Venture Capital, SAIF Partners (China) and Ignition Partners. Earlier in his career, Rieschel held senior executive positions in Cisco Systems, Sequent Computer Systems and Intel.