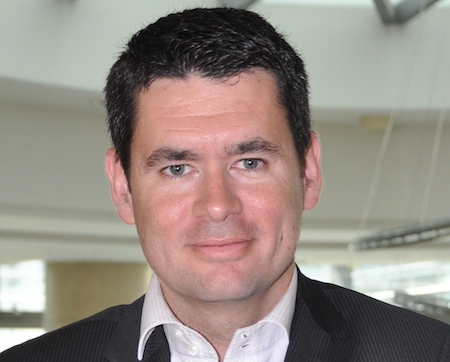 In this episode of China Money Podcast, guest André Loesekrug‐Pietri, founder of A Capital, explains why his fund's China-Europe cross-border strategy will thrive even in the current world economic malaise, how did he become attracted to the Chinese markets, and why his new fund was able to secure two star institutional investors.
Listen to the full interview in the audio podcast, watch an abbreviated video version, or read an excerpt.
Q: First, a brief introduction of A Capital?
A: We are a European growth capital fund focused on investing in European companies that have strong growth potentials in China. Once we make the decision to invest in (a European company), we bring a Chinese strategic co-investor that has the resources and expertise to make this European company succeed in China.
Q: You have both a Euro fund and a RMB fund. The Euro fund has a target size of €250 million. How much have you raised so far?
A: We have raised a significant amount of that. Our fund is relatively new, just a bit over a year old and we've done two deals so far. Several months ago, we had our first closing with two major investors, one from China and the other one from Europe.
Q: These are the Belgian Federal Holdings and China Investment Corporations?
A: Yes, both of them invested in our Luxemburg fund. Our fund is actually a regulated fund, even thought only funds with over €500 million are required to be regulated in Europe. We decided to be regulated by the Luxemburg Financial Authority because of the quality of our investors.
We have a second, RMB fund that we have set up in cooperation with the Beijing Municipal government, specifically, Beijing's Office of Financial Works. The fund is unique in that it is allowed to raise money in RMB in China and invest overseas. The two funds invest in complete parallel terms. The RMB fund is a tool for us to allow Chinese LPs to invest overseas through our vehicle.
Q: There are several funds with similar strategy to yours. Mandarin Capital has a China-Italy/China-Europe focus, whose founder was featured on our program previously; Cathy Capital has a China-France focus. What are some similarities and differences between you and them?
A: First, this is a new strategy. It's always good to have someone else with whom you can benchmark yourself. I'm both German and French. There are around 120 private equity funds in Germany, and maybe around 140 funds in France. If there are two or three funds doing cross-border deals, it's only healthy.
Secondly, our focus is the whole European continent. Our strategy is focused on one theme: urbanization, which is a trend that will continue to be very strong in the next twenty to thirty years in China. We invest in three sub-areas: 1, Retail and consumer brands. Our two done deals in Club Méditerranée and Bang & Olufsen are in this category. 2, Transportation and logistics. 3, Quality of life including food safety, environmental technology and healthcare.
Europe has the expertise and resources in all these areas to offer. Germany has automotive expertise. The Nordic countries and France have water treatment technologies. In France and Italy, there are solid consumer brands.
Lastly, once we have taken the decision to invest, we bring along a Chinese co-investor who has the industrial skills needed to create true value. We then work hard to make sure these synergies are realized during the lifetime of the investment.
Q: With Europe saddled with the Euro crisis and China's economy slowing, how will your ability to successfully implement your strategy be affected?
A: Our strategy is to invest in European companies that have strong potential to grow in China. It was a niche strategy in Europe until two or three years ago, because until then companies were able to grow well within Europe. Now, with poor growth prospective in Europe, to be successful in China is no longer a nice-to-have, but an absolute obligation.
Even if China is slowing down, it's all relative. Most of the areas we look at: consumption, transportation, environment, are still growing at 10 to 20 percent annually.
The companies we search for are those with great potentials in China, but haven't been able to achieve success in China. Bang & Olufsen, for example, did not focus on expanding in Asia and China until a new management team came in 18 months ago.
Q: Let's talk a bit about your own professional career. You worked at another European growth capital fund before founding A Capital. When did you initially become attracted to the Chinese markets?
A: It's a complete coincidence. I worked at Airbus before going into private equity in 2001, helping a European family office to diversify their investment portfolio. Since 2001, I started trekking around China. I started to know China from trips in Yunnan, Tibet and Xijiang, and felt the entrepreneur spirit. I heard of private equity funds being set up, and private companies that grew to become industry giants.
So I partnered with a friend to set up a growth capital fund with US$70 million to invest in clean tech and healthcare in China. One of the challenges we had was to find good local Chinese managers. At the end, we were able to find six Chinese managers, but I also found that my value – being a foreigner in China – was diminishing.
Around 2010, I realized that being a foreign investor in China, you needed to be ultra-specialized to justify, because there were so many great Chinese managers who were doing fantastic work. So our strength today at A Capital is that we provide something that others can't provide. It's very difficult for Chinese companies to invest in Germany or France. But we have the expertise and resources to help.
Q: As we mentioned, you were able to attract Belgian Federal Holdings and China Investment Corporations. That's a great feat for a new fund like yours. How did you do that?
A: These two LPs normally don't invest in first-time funds. I think the reason is our unique strategy of investing in Europe, but bringing a Chinese strategic co-investor. If you look at Chinese out-bound investments, very few are successful. But the two deals we have done are among those potential successes.
Q: You monitor cross-border deals in and out of China. What are some trends that you think will emerge in the next new years in the Chinese M&A scene?
A: We launched our own research on that, which we call the Dragon Index. In 2011, Europe was the number one destination for Chinese outbound investments. There were around US$68 billion Chinese outbound deals last year, half were green field projects. Out of the US$34 billion of M&A activity, a third went to Europe. Approximately US$6 billion went to North America, evenly split between the U.S. and Canada. Around US$9 billion went to Africa and so on.
Secondly, we see more and more private companies doing deals. The volume is still dominated by State-Owned Enterprises as they do all the big resource and energy deals. But in terms of the number of deals, private companies are taking more share. Lastly, about 70% of the deals during the second quarter of this year were minority deals.
Q: Your two deals so far have been both investing into public companies. You are a private equity firm. How do you justify that?
A: It's the same question that our LPs ask us. We are a private equity fund, and most of our deals will be investing in private companies. But when you start a new fund, you need to be cautious. So we did these two deals to minimize our risk. We wanted to do deals that are obvious and make our strategy immediately clear to investors. Club Méditerranée and Bang & Olufsen are global brands. Of course, now our entire team is focused on investing into private companies.
About André Loesekrug-Pietri:

André Loesekrug-Pietri is founder and managing partner of A Capital, a private equity firm focused on investing into European midcap companies with strong potential in China with Chinese co-investors. Previously, André cofounded CEL Partners, a European growth capital fund dedicated to China focused on clean tech and healthcare. He also developed Jaccar Capital Fund, a PE fund for Vietnam and China, and managed Burelle Participations until 2005.