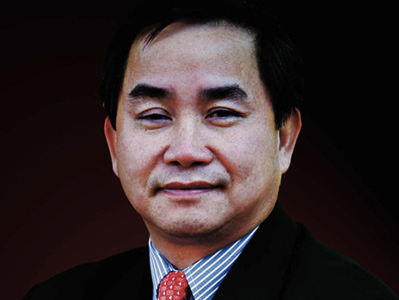 In this episode of China Money Podcast, guest Prof. Chen Zhiwu, professor of finance at Yale University, discusses why he is an overall pessimist when it comes to China's long-term economic prospects, why he is worried about the economic spillover from China and Japan's dispute over Diaoyu Island for 2013, and why he thinks inflation will run rampant in China for the next ten years.
Listen to the full interview in the audio podcast, watch an abbreviated video version, or read an excerpt.
Q: Economists are generally optimistic about China's growth this year — you included. What are some potential roadblocks that could surprise us all on the down side?
A: I think whatever domestic economic challenges there may be in 2013, the Chinese government will be able to use policy tools, or if necessary, accelerate infrastructure spending, to fight them off on a temporary basis. But whatever they do for the short-term benefit can create structural problems that will be difficult to overcome down the road.
For 2013, the geopolitical risk may surprise people, especially given the noise from Japan and China over the disputed islands. Such hot button geopolitical factors tend to be underestimated by financial market participants. So I'm personally concerned for its impact on the economy.
Q: Looking at longer term prospects, the idea of "New Normal," meaning an extended period of lower growth and higher unemployment, has been accepted in the U.S. Do you see that China will go into a "New Normal" of its own kind in the next ten years?
A: I think it's highly unlikely for there to be a smooth transition from the "Old Normal" for China, meaning high growth in excess of 8% or 9% a year, to a lower growth "New Normal." For China to keep growing at 6% or 7% a year for another 20 years, major reforms have to take place. But I don't think those reforms are realistic unless some crises take place to make China's entrenched interest groups to sacrifice what they have.
Q: What kind of crises do you envision?
A: First, an economic crisis. As long as temporary growth can be sustained, the government will continue such a path, even at the expense of long-term structural balances. When growth slows down eventually, corporate loans and local government loans will become a problem for the banks. But the banks' problems won't become a major national crisis as long as the fiscal accounts of the central and local governments are healthy. That's why it will take two or three years for the fiscal crisis to really surface, causing social disturbances and unemployment.
If the real estate market is not freed up more, local governments will face more fiscal challenges. But I don't think this year will be the year local governments will collapse. They can still play along for another one or two years before a crisis will emerge.
Q: From a foreign investor's perspective, where do you see the most attractive investment opportunities in terms of asset class and industries? The H-share market? Or is it time for bottom fishing the A-share market?
A: For the last 20 to 30 years, the best investment strategy for foreign investors has been to invest in foreign multinational companies that receive a large fraction of their revenue and profits from China. If you look at those companies' stocks, compared to the H-shares or the A-shares stocks, they have done much better. This strategy will continue to work going forward.
If you really have to invest in Chinese stocks, the A-share market will probably do better than overseas listed Chinese stocks. Prices in the A-share market has been depressed for a few years, even with an 8% to 10% rebound during the past months, valuations are still low.
Q: Foreign investors can only invest in the A-share market through the QFII (Qualified Foreign Institutional Investor) program, which has been significantly expanded lately and will continue to open up more. But for the internal workings of the Chinese stock market, what are some urgent reforms that you think should be implemented soon to improve its health?
A: I've written papers to make the point that the Chinese stock market is the test ground to see if China has developed a solid and modern institutional infrastructure. If you look at Chinese laws, the responsibilities and authorities of the Communist Party are never clearly stated anywhere. So when it comes down to the stock market, what role the Communist Party Committees (within state-owned enterprises) should play and what limit they should be subjected to are not stated in any corporate laws or securities laws.
Of course, everyone knows that the Communist Party Committees are the real center of power, especially in publicly listed state-owned enterprises. Not any board of directors, nor any executive teams. That's where you run into difficulty improving the stock market. So no matter who is the chairman of the China Securities Regulatory Commission, he or she can only do so much. The current chairman, Mr. Guo Shuqing, tried hard to force some of the bad companies to be delisted. But right away, he ran into difficulties as the local governments who have jurisdiction over those companies lobbied hard to have the CSRC to back off.
So whether the Chinese stock market can improve or not is no longer a stock market issue, no longer something economic or financial officials can decide. It takes us all the way back to the political and legal systems of China.
Q: Lastly, China's economy is about half the size of the U.S., but its M2 is about 1.5 times as big as the U.S. What are the implications of this outsized monetary supply for the economy?
A: Monetary supply in China has increased very dramatically compared to the U.S., or any other countries in the world. In 1980 at the beginning of the reform process, the M2 to GDP ratio in China was roughly 0.36. That means, for every dollar of GDP created in China, there is only US$0.36 extended money supplied. But today, the ratio is 1.90, meaning US$1.90 of extended monetary supply for every dollar of GDP. This is why inflation has been running high. Even though official inflation rate has been around 2% to 5%, for people living in China, the real inflation rate has been way higher than 5%.
The way to get out of this current situation is for the Central Bank of China to be more independent. Currently, it's not independent from the State Council or from political influence. But of course, I don't expect the Central Bank to be independent any time soon. So what it means is: inflation will be more of a challenge for the next ten years.
About Chen Zhiwu:

Chen Zhiwu is professor of finance at Yale University, and an expert on finance theory, securities valuation, emerging markets, and China's economy and capital markets. He is also a board director at Bank of Communications in China, and serves as chief adviser at the Permal Group.