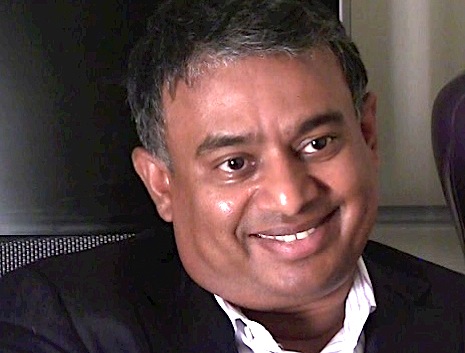 In this episode of China Money Podcast, guest Sam Gupta, CEO of Grand Trunk Capital, explains why he is bullish on the Indian economy and markets, why Indian banks will consolidate in the next two years, and the reason why he prefers to work with the management team.
Listen to the full interview in the audio podcast, watch an abbreviated video version, or read an excerpt.
Q: First give us a brief introduction of Grand Trunk Capital?
A: Grand Trunk Capital is a private investment partnership, (managing money) for institutions and family offices. We focus on special investments in India. Previously I managed a fairly large fund in partnership with Soros Management called QIF Management. QIF Management was at points in time the largest overseas investment fund in India.
The strategy (of Grand Trunk Capital) is to focus on five or ten best investment ideas across sectors and geographies within the Indian markets. We are not a trading fund. We tend to take longer term and focused positions in Indian companies where we think there is sufficient mispricing and where we see sufficient upside down the road. Our strategy is very search based, value driven and focused on catalysts.
Q: Can you talk about the performance of the (Grand Trunk Capital) fund?
A: The fund was up 42% in 2012. We had a very bullish view on the banking system in India, and started buying some Indian banks towards the middle of the summer. That worked really well for us. We also took opportunities in the media space because of the catalyst of regulatory changes. One of our largest investments, (United Spirits), was bought out by Diageo, the world's largest liquor maker, at a significant premium. That's an investment we got into in early 2012.
Q: Now you are raising more capital for Grand Trunk Capital. What do you think makes India more attractive?
A: What's interesting about India vis-à-vis Russia, Brazil and China is that India is primarily a domestic market. It has a young population. Most of the economic activities are about feeding and satisfying their needs. So when the world slows down, India is impacted much less than other emerging markets.
India also has a very diversified economy. Almost 50% of the Indian economy is services based. So it is a bit of a paradox that the Indian economy is both a more diversified economy and also a more basic economy.
Q: Normally, how big a stake do you take when investing in a stock?
A: We try to take less than 10% of a company, but we've taken more than that in some companies in the past.
Q: Are your investments passive, or do you try to influence the management of the company?
A: Once we take a minority position, we try to stand on the same side with the management. In India, management team tends to control half of any given company. So their well-being and wealth is tied up with the price of the stock. The legal system is also stacked in favor of the management, so as an investor, you can only do so much.
But we feel comfortable with most management teams in Indian companies, at least those managers we like. They generally are appreciative if we give them good advice.
Q: You also offer special situation investment opportunities to investors. Tell us more on that?
A: Sometimes we work with management in unlocking the value of their company. It might involve halving off a division, making an investment in a new project. Of course, we invest along with the management, which is probably the best price you can get to invest. So we give co-investment opportunities in these special deals for our core fund investors.
Q: Can you give us an example of a recent special situation opportunity that you have looked at?
A: We launched a fund in late 2012 to take arbitrage opportunities among Indian banks. Some Indian banks are trading at a massive discount to their larger peers. Some of them are good acquisition targets in the next two years. We foresee an industry consolidation among Indian banks. One can never be sure when or how that will happen, but the valuation differentiation right now is so extreme that valuation convergence is inevitable, and consolidation will be a natural outlet for that.
Q: What kind of exit channels are you considering?
A: This is one of the most important questions we consider when we get into an investment. The public markets are often the optimal strategy. Other times, it makes sense to consider an acquirer. The reason why we take only 10% of a company is for liquidity concerns. Getting out of a larger position is very tough in a market where liquidity is at a premium.
Q: What kind of risk control measures do you have in place?
A: We run our portfolios with very little leverage. We understand our position sizes and liquidity of our positions. We also focus on hedging our exposure with options, index futures, single stock futures, etc, which is tough and expensive to do in India.
Sometimes it makes sense to stay in cash. Right now, growth in India is fairly solid, and we expect it to outperform expectations and other markets in 2013. So we are very bullish.
About Sam Gupta:
Sam Gupta is CEO of Grand Trunk Capital Management, a Palo Alto, California-based alternative investment management fund specialized in investing in India. Gupta previously managed QIF Management in partnership with Soros Fund Management, which invested more than US$2.5 billion in India. Gupta was also the founder and portfolio manager of Passport India Fund, a private investment fund specializing in long-term investment in India, and was a managing director at Wasserstein Ventures and a senior associate at Encompass Ventures.