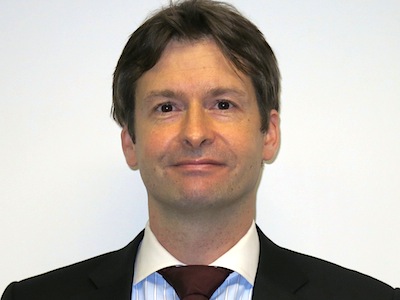 In this episode of China Money Podcast, head of non-listed real estate Asia in APG, one of the largest pension fund asset managers in the world with assets under management of approximately €325 billion, Daan van Aert, discusses with our host, Nina Xiang, APG's investments in China such as car parks and logistic warehouses, his views on the Chinese residential property market and if distressed properties in China present good opportunities for investors.
Listen to the full-interview in the audio podcast, watch the shortened video version or read an excerpt below.

Q: APG is one of the largest pension fund asset managers in the world with €325 billion under management. Give us some background on AGP's investments in Asia, and what kind of role does Asian real estate play in APG's overall strategy in Asia?
A: APG started an office in Hong Kong in 2007 with a mandate for private equity real estate and infrastructure investments. Shortly after, we expanded our team to include listed real estate equity and emerging market equity. Since we started, our portfolio in Asia has grown from €1 billion to €9 billion under management.
Of the €9 billion assets currently under management, €6 billion is in both listed (€4 billion) and private (€2 billion) real estate. In terms of geographical breakdown, about 70% to 75% of our total real estate portfolio is in developed markets such as Japan, Hong Kong and Australia. The rest is in emerging markets, and China takes about half of this portion.

Q: How much capital are you deploying every year into private real estate?
A: We don't have a target. What we do is to look at our already large existing portfolio and focus on strategies and the right partners to add value. If we can find interesting strategies and strong partners, then we will invest more money.
During the last few years, we have been investing considerable amount of money continuously. Our real estate portfolio has grown from €1 billion in 2007 to €6 billion, from both investment appreciation and new allocations. That gives you a sense of our growth.
Q: What is the average size of your investments and how many investments do you usually keep in your portfolio?
A: We serve very large institutional clients, therefore we won't look at transactions under US$75 million. In terms of the number of investments we have, we don't really have any preferences, as our global real estate portfolio is already very diversified.

Q: Among some major categories of real estate: residential, retail, office buildings, logistics, which segment(s) do you find the most attractive in China right now?
A: We think logistic warehouses are the most attractive sector. China's strong growth – not only in imports and exports, but also in domestic consumption – is leading to enormous amount of flow of goods. The need for quality logistic warehousing is gigantic. In addition, the amount of capital spending for developing logistic warehouses is less compared with office buildings and retail properties, for example.
The challenge is that it's difficult to buy land to develop logistic warehouses, as the land sales and tax revenues are less attractive to local governments. We have already invested in a logistic property in Shanghai, and we think there is still room to increase our investments in this category.
Q: You've invested in Australian logistics properties, Indian hotels and car parks in China. Are there any sectors that you would avoid in China now?
A: In general, we are less interested in the office sector because of its cyclical nature. In China, you usually cannot buy and hold a whole office building because lots of transactions are what we call "strata title sales," where the developers are selling the building floor by floor. This makes it harder to buy and manage a whole building, and creates difficulties later on when you want to sell.
We are interested in the residential housing market in China because we believe there is still ample demand for quality housing. The government's new tightening measures are also healthy for the market's long-term prospects.
Q: Are you finding lots of opportunities in the distressed property market in China now?
A: There are some distressed opportunities, but not on a large scale. Sometimes you see certain developers needing more capital, but not on a scale that we have found attractive opportunities.
Q: Can you share with us your investment decision-making process?
A: We first look at country dynamics, such as political environment, financial stability, growth prospects, inflation, etc. Then we examine the real estate industry dynamics, including the depth of the market, legal framework, government policy, regulatory environment, etc.
Afterward, we zoom in on the specific real estate opportunity. We look at strategy, partners, structures of the transaction, corporate governance, tax structures, etc.
We receive advice both internally on legal and tax issues, and externally on valuation, sustainability, control risks systems, and so on. So we have a very vigorous and thorough due diligence process.

Q: APG committed US$150 million for the first close of a fund with China Overseas Land & Investment and ICBC International Holdings last February. How is that investment developing?
A: We have started several projects in different cities, and they are going well.
To emphasize, we are strategic financial investors. We don't have teams based in China, though we have people with deep experience in the Chinese markets. So we need strong local partners like China Overseas Land & Investment and ICBC International to be on the ground to source the best projects. But of course, we are very engaged on the strategic direction of our investments, and work closely with our partners, whose interests are closely aligned with ours.

Q: What's your target return?
A: We look at each investment's risk profile and assess a target performance case by case. The target returns vary, from high single digits for core products to high double digits for very opportunistic strategies.
Q: Going forward, what's your outlook for APG's investments in Asia and China?
A: We definitely see our investments growing. We see growing demand for high quality real estate in the emerging markets, and we can fill the gap as a capital provider. Currently, 24% of our global real estate portfolio is in Asia. I certainly see that ratio growing over time.

Q: Can you share some of your investment mistakes and also the lessons you've learned?
A: Since the global finance crisis, we are more cautious about using leverage. We started to refocus on the real estate fundamentals, rather than using leverage to drive returns.
Now, our target globally is to have leverage ratios lower than 40% (loan-to-market value). At this stage, our leverage is around 30% globally and in Asia.
Q: One major challenge of investing in private real estate is illiquidity. What are you doing to mitigate that risk?

A: First of all, we are long-term investors. Secondly, if your investment portfolios are good, selling some stakes is doable right now. We see future growth in the secondary market in private funds, which is a global trend. But if you have very opportunistic strategies where you are developing projects and hoping to sell, it will be more difficult to sell as most of the value is generated at the end of the fund's life span.
About Daan van Aert:
Daan van Aert is head of non-listed real estate of APG Asset Management Asia, a subsidiary of APG in the Netherlands. APG is one of the largest pension asset managers in the world with assets under management of more than €325 billion. Van Aert is responsible for APG's €2 billion non-listed real estate investments in Asia Pacific.