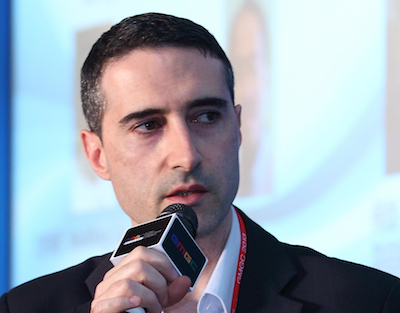 In this episode of China Money Podcast, guest Bruno Bensaid, co-founder of Shanghai-based financial advisory firm Shanghaivest, talks to our host Nina Xiang about the new trends he sees in China's outbound investments, what Chinese Internet companies are trying to achieve with their increasing overseas overtures, and where he finds the best angel investment opportunities in China right now.
Read an excerpt below, but be sure to listen to the full interview in audio above.
Don't forget to subscribe to the podcast in the iTunes store to automatically receive future podcasts.
Q: At Shanghaivest, what kind of deals have you been working on lately?
A: We have advised a cellphone OEM based in France and China on their sale to TCL Communications in one of our first deals. We also advised Beijing-based mobile app analytics firm App Annie on their first round of fundraising. We also worked with European cosmetic companies on their divestitures.
Lately, we've been working on fundraising for an e-commerce company in the baby product sector in China. We are also helping to sell a Shanghai-based consulting firm in the luxury product sector to Chinese and European investors.
Q: What type of new trends are you seeing in the cross-border investment environment between China and Europe?
A: We see more Chinese companies in the tech sector increasingly investing into Europe's technological know-how. A recent deal is Shenzhen-listed marketing services firm Blue Focus' purchase of London-based We Are Social. There will be more deals like this as Chinese companies are tapping into European creativity.
Q: Lately, Chinese Internet companies have also invested in overseas markets aggressively. Do they have the capabilities to succeed in markets outside of their roots?
A: Yes. I believe the Chinese companies are going to be very successful. The local Chinese market is getting very limited in terms of deal flow. For example, Qihoo 360 just invested US$25 million into a Brazilian antivirus firm PSafe, expanding into a relatively less saturated South American market.
Q: You are also involved in making angel investments into Chinese tech start-ups. Where do you see opportunities in this area?
A: The organization I'm involved in is called Angelvest with about 100 angel investors. We have made around 20 angel investments so far.
We see opportunities in companies where cross-border synergy is strong. For example, it makes sense for us to invest into a U.S. mobile game franchise company and help it to take its games to China. Chinese consumers are eager to try new things and enjoy a Chinese version of a popular Western game.
About Bruno Bensaid:
Bruno Bensaid is co-founder of Shanghai-based financial advisory firm Shanghaivest. Previously, he worked at French investment firm Ventech Capital, as well as working with several French venture capital firms to expand into China. He is also a member of China-based angel investment organization AngelVest.

(Correction: An earlier version had the headline "Capitalize On Angel Investments With China-Europe Synergies.")