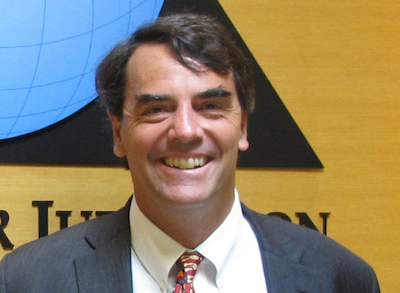 In this episode of China Money Podcast, guest Tim Draper, founder and managing director of Menlo Park, California-based venture capital firm Draper Fisher Jurvetson (DFJ), speaks with our host Nina Xiang about the history of DFJ's investment activities in China, where he is focused on funding the next big tech companies, his big misses in China, and his views on the next tech bubble that he thinks is coming right now.
Read an excerpt below, but be sure to listen to the full interview in audio or watch an abbreviated video version. Don't forget to subscribe to the podcast in the iTunes store.

Q: Let's start with the Macro. Investors, particularly foreign investors, have been concerned about an economic slowdown in China. Do you share that sentiment?
A: Even an economic slowdown in China means a growth rate much higher than most of the world. So I'm not concerned at all about a slight lowering of the Chinese growth rate. I actually think that the Chinese economy is one of the most promising in the world.

Q: DFJ is closing down its China and India offices. Why?
A: We found that we are better off working with affiliates in these countries, rather than (running) DFJ company owned (operations). We have DFJ Dragon, DFJ Compass and DFJ ePlanet in China.
We found that trying to make decisions on companies that far away was a very difficult process. We want more local control, so that the local partners can make decisions.
DFJ is still very active in China (through our affiliates). It's just that we've made a shift in strategy to make decision-making more local. This does not impact any of our global network (funds), including DFJ Dragon and DFJ Compass.
Q: DFJ first entered the Chinese market in 1999 with a partnership with ePlanet Capital, running a US$650 million fund. How did that fund get started?
A: I have always wanted to invest in China. In the beginning, we invested in things that seemed to have good government connections. Those didn't work out. Then we started to invest in young, driven entrepreneurs who wanted to make great things happen. Then we invested in Baidu, Focus Media, ePay, Fastweb, Skype, etc.
Q: This fund reportedly realized over 30% gross internal rate of return (IRR)?
A: We never disclose this information. But the investors are very happy. The IRR would depend on when the investor sold their Baidu (stocks). If they are still holding (those shares), they are doing really, really well.
Q: But DFJ ended the partnership, and started DFJ Dragon in 2006. Why did you move on with another partner?
A: We had different approaches to venture capital. ePlanet went on to raise their own fund, and we set up DFJ Dragon, DFJ China and DFJ Compass.
Q: DFJ Dragon's first fund was a US$200 million vehicle raised in 2006…
A: No, it's less than that.
Q: Less than US$200 million, and you invested in around 30 companies. What are some proud investments from that fund?
Q: YeePay looks very promising. Hudong is exciting too. It's a for-profit Wikipedia in China. Also, advertising network for mobile Donson is growing very quickly too.
What's really remarkable about that fund is that…here in Silicon Valley, if we invest in 30 companies, we would expect about half of them to go out of business. But DFJ Dragon only lost one, maybe two companies out of 30.
Q: Why do you think that is?
A: For one thing, the growth rate in China is providing great opportunities. If their business isn't quite working out, they might change direction a little bit and go after other opportunities.
Q: For those companies that didn't work out, what went wrong?
A: They tend to be either too early, the founders didn't get along, or they came up with their product and nobody wanted it.
So our business is very simple. If the founders are getting along, they keep at it no matter what, don't run out of money, and find a market of customers who they can delight, it's likely that they will succeed over time – but you never know how long it will take.
Q: In 2010, DFJ Dragon raised a second fund of US$20 million. Where do you see great opportunities in China's tech sector?
A: There are some really interesting opportunities that China is just starting to see. That's where the U.S. maybe started something but didn't capitalize on that technology. One is location-based service on cellphones to find people around you. This is more interesting in China than in the U.S. And, there will be Chinese characteristics that will change the technology.
(Go to the next page to watch Tim Draper discuss venture capital returns)