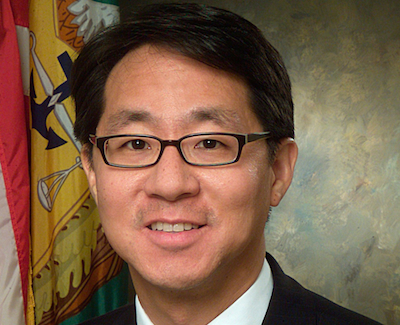 In this episode of China Money Podcast, guest Curtis S. Chin, former U.S. Ambassador to and member of the board of directors of the Asian Development Bank, talks with our host Nina Xiang in New York about the recent social unrest in Thailand and contrasts it with China; how should emerging economies in Asia deal with the little "BRIC"; and what should Chinese companies do to improve their corporate governance.
Read an excerpt below, but be sure to listen to the full interview in audio above.
Don't forget to subscribe to the podcast in the iTunes store to automatically receive future podcasts.
Q: You were based in Bangkok, Thailand, at the Asian Institute of Technology. Why do you think the kind of social unrest that's happening now in Thailand hasn't happened in China during the past 25 years?
A: Some would say there has indeed been social unrest in China these past 25 years. It's just not as reported as much as it should be. It certainly happened in 1989, though that might not be the role model for other countries on how to handle this type of issue.
What's interesting about countries in Asia is that there is no single one right way. No one can tell China or Thailand what's the best way forward. Every country moves forward in their own pace based on their own characteristics.
Q: What kind of odds would you put on a recurrence of 1989 in China?
A: No one can accurately predict, but if pressed, I'd say 10%. I don't see the Chinese government allowing that kind and size of gathering any time soon. What I do see happening is that the Chinese people continue to express concerns on corruption and the divide between the rich and the poor.
Thailand's Gini coefficient, which is a measure of income inequality, puts it at the top of the list of most unequal nations and regions in Asia. Hong Kong is also ranked at the top. So this divide between rich and poor also is the key issue facing China. Is the Chinese government getting a handle on the social inequalities?
Q: You have extensive experience in government relations and corporate governance. What do you think Chinese companies need to improve in these aspects, aside from strengthening their accounting practices?

A: People used to ask me who will be the next BRIC (Brazil, Russia, India and China)? I don't really worry about that. I'm more concerned about the little "BRIC," that is bureaucracy, regulation, interventions by governments, and corruption. These are the issues that are holding back the big BRIC. If emerging economies and Chinese companies want to continue to grow, they need to get a handle on these four issues.
One economic ranking that came out in the U.S. recently is the global index on economic freedom. The freest economy and the best business environment is Hong Kong. But Mainland China is down at somewhere around the 137th in the world. It doesn't mean that there are no investment opportunities in China. But there will be so many more great opportunities if China were to free its economy, which it is now doing slowly and at its own pace.
For Chinese companies, they could hire more real outside executive directors – not just in name – on their boards. If the owner or the CEO of the company always just pick their friends and relatives to be on the board, then what happens in the board meetings might be different from what's on paper when it comes to corporate governance.
About Curtis Chin:
Curtis S. Chin is a managing director with advisory firm RiverPeak Group, LLC., and most recently served as senior fellow and executive-in-residence at the Asian Institute of Technology.  He is also former U.S. Ambassador to the Asian Development Bank in Manila, Philippines, from 2007 to 2010 under President George W. Bush and President Obama.