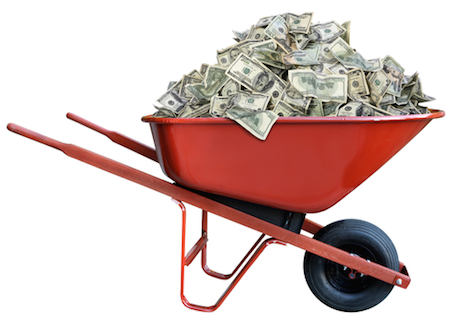 The good old days are gone for bulge bracket banks in Asia.
For the past ten years, its investment banking revenue in Asia Pacific ex Japan remained at roughly the same level, while its market share halved from 40% in 2006 to 21% year-to-date 2016, according to data released by Dealogic.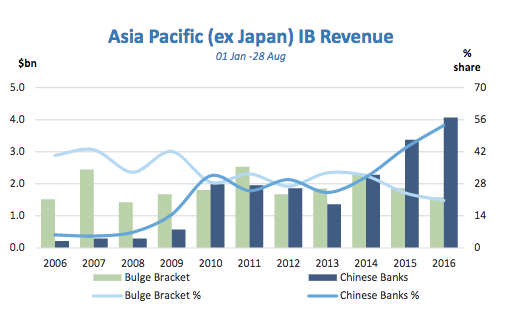 (This chart is from Dealogic)
As major Western investment banks stagnated, Chinese banks boomed. Its investment banking revenue reached US$4.1 billion year-to-date in 2016, up from less than a quarter of US$1 billion ten years ago. The whole region registered US$7.6 billion in investment banking revenue year-to-date.
Chinese bank's market share in the region expanded to 54% year-to-date, up from 6% in 2006.
The rise of Chinese banks in Asia Pacific's capital markets was driven by the increasing importance of Chinese companies' financing activities in the region.
In particularly, revenues from debt markets reached US$2.1 billion, or 51% of Asia Pacific ex Japan, for Chinese banks.
The numbers reached a record high and doubled compared to the same period last year, according to Dealogic.
CITIC Securities leads the Asia Pacific ex Japan investment banking revenue ranking year-to-date, with a 4.5% wallet share. China Securities and Credit Suisse complete the top three with 4.1% and 3.2%, respectively.