China outbound mergers and acquisition deal value reached an all-time high of US$225.4 billion in 2016, more than double the previous record of US$102 billion announced in 2015, according to newest data released by Dealogic today.
Europe was the top targeted region for Chinese acquirers in 2016 with US$99.9 billion worth of deals announced, triple the amount in 2015 of US$33.2 billion and the highest annual value on record.
The total value figure was boosted by China National Chemical Corp's US$46.9 billion offer for Swiss agribusiness Syngenta AG, the largest China cross-border deal on record and the biggest Switzerland targeted M&A deal on record.
North America was the second most popular region for Chinese acquirers last year with US$68.8 billion in announced deal value, again the highest total on record. North American deals focused on media and hospitality companies, such as Dalian Wanda's acquisition of Legendary Entertainment for US$3.5 billion, and Anbang Insurance's $6.5 billion purchase of Strategic Hotels And Resorts.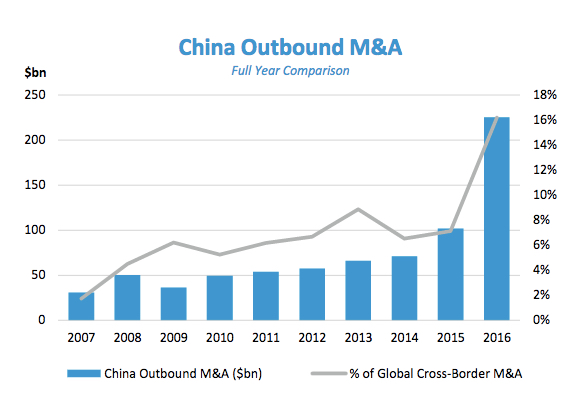 (Credit: Dealogic)
Outbound volume pushed all China cross-border M&A to a record high of US$257.4 billion, where China outbound M&A accounted for 88% of the total China cross-border M&A deal value.
Despite an increase in cross-border deal value, China domestic M&A dropped to US$447.2 billion in 2016, down 28% compared to the record year in 2015 with US$622.2 billion in aggregate deal value, but still the second biggest year on record, Dealogic said.
The numbers are slightly lower than those from Chinese research firm ChinaVenture. According to ChinaVenture's estimates, an aggregate M&A transaction value of US$540.6 billion were recorded in 2016 in China.
Nevertheless, Chinese investment banks recorded a record high revenue of US$8.8 billion in 2016, up 26% year-on-year. China ranked as the second biggest fee paying nation globally just behind the U.S., and accounted for a record high 11.9% share of the global fee pool.
CITIC Securities led the China investment banking revenue ranking, followed by China Securities and CICC. All top ten on the ranking are domestic Chinese institutions, while a few Western banks appeared on the top ten ranking for smaller categories.
Morgan Stanley and Deutsche Bank, for example, were ranked as the third and ninth on the equities capital markets book-runner ranking.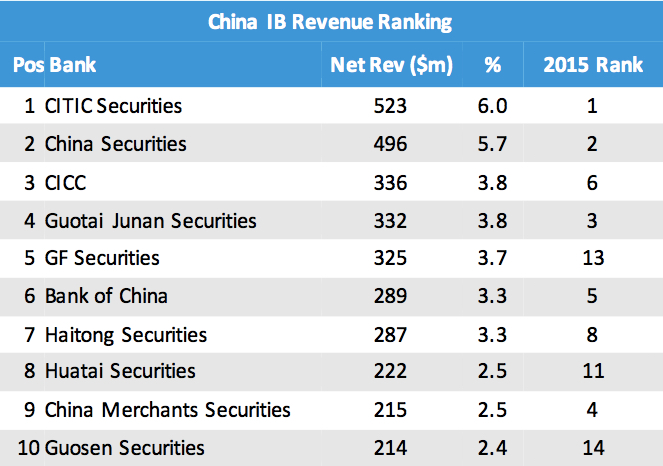 (Credit: Dealogic)