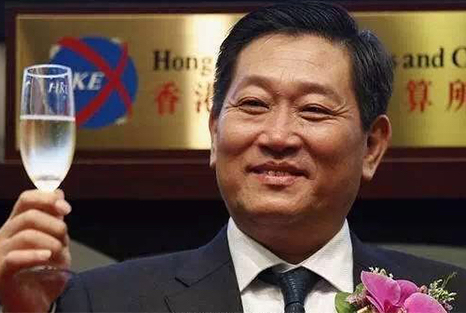 Bank of China, Ping An Bank, HSBC Bank, and China CITIC Bank International are among 23 banks on the hook for potentially significant losses as Hong Kong-listed Huishan Dairy Holdings Co. is likely to default on its loans after the company's share price dropped as much as 90% yesterday.
Over 70 of Huishan Dairy's financial debt holders, including 23 banks, a dozen financial leasing companies and P2P (peer-to-peer) lending platforms, as well as one asset management firm, have as much as RMB13 billion (US$1.89 billion) total debt outstanding to the company.
Huishan Dairy told debt holders a few days ago that the company would be unable to pay for interests coming due soon, and there is a high probability for the company to default on its debt at the end of March, according to Chinese media reports.
Bank of China's Macau branch has a US$50 million loan to Huishan Dairy that will be due in April 28. HSBC has a US$20 million loan that will come due in January 2018. In addition, a US$200 million syndicate loan consisting of lenders including HSBC, CITIC Bank, Hang Seng Bank, Bank of Shanghai and China Merchants Bank will be due in October 2018.
The fate of the lenders is now in the hands of the government of Liaoning province, where Huishan Dairy is based, and the company's chairman Yang Kai (pictured).
Liaoning government held meetings with Huishan Dairy's lenders two days ago to maintain financial and social stability, after Huishan Dairy told lenders it might not be able to meet obligations. The news of the meeting may have led to the free fall of the company's shares yesterday.
On the other hand, Yang Kai, chairman of Huishan Dairy, wants to raise RMB15 billion (US$2.18 billion) from strategic investors to help the company get over what he believes is a temporary cash crunch. But analysts say the chances of it finding investors at this stage is low.
Huishan Dairy, with its roots in 1951 and based in Shenyang city in Liaoning province in China's northeast, operates dairy farms, and produces dairy feed and dairy products. The company claims to operate 82 dairy farms and six modern dairy products facilities in China. It completed an initial public offering in Hong Kong in 2013, raising US$1.3 billion and was valued at HK$40 billion (US$5.15 billion) on its stock debut.
Muddy Waters, a research firm and short seller known for betting against publicly-listed Chinese companies on grounds of fraud, released a report in December 2016, stating: "We are short China Huishan Dairy Holdings because we believe it is worth close to Zero. We conclude Huishan is a fraud."
Huishan Dairy's shares barely budged with the release of Muddy Waters' report, as the company released a statement the next day providing a detailed repudiation of all the fraud accused by Muddy Waters. Then suddenly, the company's shares plummeted by as much as 90% to HK$0.275 per share yesterday from HK$2.80 a piece the day before, wiping out US$4.2 billion of market capitalization to make the company worth only HK$5.63 billion after shares halted trading at 1pm on March 24.
Chinese reports say a sudden sickness of chairman Yang Kai's wife led to the company's inability to pay back the loans, but it appears that the company had been operating under substantial financial stress for some time. "It often pays for interests at the verge of becoming overdue," Chinese media reports cited one bank professional.
Muddy Waters' accusations centered around fraudulent reporting of profits, capital expenditure fraud and illegal asset transfers, activities some argue are not uncommon among companies operating in China.
As investors watch in awe at the free fall of Huishan Dairy's shares, some are voicing different views. "China's dairy industry is dominated by state-owned monopolies. It's really tough for private enterprises to survive," one analyst who prefers to remain anonymous commented on social media.
"As a long-term consumer of Huishan's dairy products, I want to say its products are of good quality. I hope there would be a 'white knight' to save the company so that I can continue drinking their chocolate milk," another anonymous consumer posted on social media.
In the Muddy Waters report, the research firm said that "Even if Huishan's financials were not fraudulent, the company appears to be on the verge of default due to its excessive leverage."
"Taking Huishan's financials at face value, its credit metrics are horrible. The leverage is so substantial that in financial year 2016, Huishan's auditor appears to have stopped just short of issuing a 'going concern' qualification. Given that we conclude Huishan's reported profits are fraudulent, we have no confidence that Huishan can make it through the next year without defaulting."
If no strategic investor emerges in the coming weeks, Muddy Waters will again prove prescient.