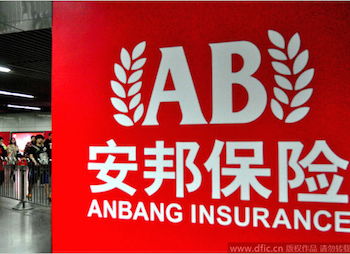 China's Anbang Insurance Group is to abandon its plans to buy U.S. annuity and life insurer Fidelity & Guaranty Life for US$1.6 billion after it failed to secure all the necessary regulatory approvals, according to media reports citing insiders.
This marks another failed takeover attempt in the U.S. by Beijing-based Anbang, following its abandoned attempt last year to acquire Starwood Hotels & Resorts Worldwide Inc. for $14 billion. Marriott International Inc. bought Starwood in the end.
For the Fidelity & Guaranty Life deal, Angang received clearance from the Committee on Foreign Investment in the United States (CFIUS), a U.S. government panel that scrutinizes deals for potential national security concerns, but it could not get past some U.S. state regulators, according to the reports.
From a signed merger agreement announced in November 2015, the deal has lasted a prolonged 17 months. Fidelity & Guaranty Life has also extended the deal agreement with Anbang multiple times in order to facilitate the deal's completion, but it appears that Anbang has stopped efforts to work toward meeting closing conditions.
Earlier this month, Xiang Junbo, head of the China Insurance Regulatory Commission, was put under investigation for suspected "serious disciplinary violations." Xiang relaxed regulations on insurances companies during his tenure, leading to some aggressive deal activities by some insurers.
It's unclear why Anbang is abandoning the deal at this time.
Fidelity & Guaranty Life said in February it would solicit other offers as part of its merger agreement extension with Anbang. It is continuing negotiations with other suitors, including Bermuda-based reinsurance company Athene Holding Ltd., according to the reports.
Established in 2004, Anbang attracted the world's attention when it bought the Waldorf Astoria Hotel in New York for US$1.95 billion in 2014. The insurer inked more than US$30 billion worth of deals during the past two and half years.