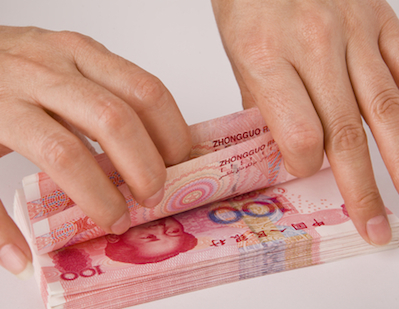 Foreign central banks held a total of RMB563.5 billion (US$81.1 billion) Yuan-denominated assets by the end of last year, up 13% year-on-year, indicating increasing willingness by foreign central banks to hold Yuan assets on their balance sheets.
"We are optimistic about the rising Yuan assets held by foreign central banks. This reflects the Yuan's formal inclusion in the SDR currency basket with the opening of China's financial market, and the increasing willingness of overseas institutions to accept yuan-denominated products and to hold yuan assets," said Wang Chunying, spokesperson for China's State Administration of Foreign Exchange (SAFE), during a press conference yesterday.
China is working toward achieving full RMB convertibility and make it a global reserve currency of choice before 2020. But the RMB's share of global central bank holdings is still tiny.
As of March 2015, 62.9% of global central bank reserves, or US$3.826 trillion, were in U.S. dollars. Euro reserves, worth US$1.351 trillion, represented 22.2% of the total. Japanese Yen took a 3.9% share with US$241.2 billion held by central banks, and US$116.2 billion worth of Canadian dollars were held by central banks.
RMB still has a long way to go to become a major reserve currency. With uncertain global economic outlook and economic headwinds China is facing at home, analysts have warned that the country may have to push back its objective to a later date.
Of the RMB563.5 billion Yuan assets held by foreign central banks, 92% are debt securities, with equities and investment funds making up 7.4%, according to SAFE data.
Foreign central banks hold Yuan-denominated bonds, particularly treasury bonds, reflecting foreign investors' long term confidence in China's economy and financial system, Wang said during the press conference.
The Yuan has become increasingly prominent in cross-border capital flows in recent years. It made up 4% of global foreign exchange trading last year, and 1.9% of global payments in February, according to official data.