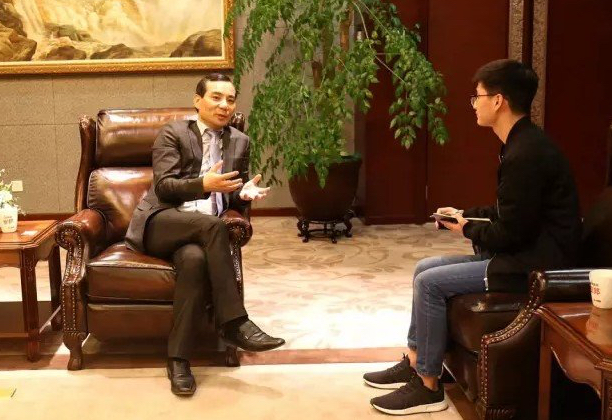 The mystery over the status of Wu Xiaohui, chairman of Chinese insurance firm Anbang Insurance Group, deepened today as the the New Beijing Daily, a state newspaper operated by the Beijing government's propaganda department, published an interview with the business leader.
The interview, conducted at Anbang's Beijing headquarters, was published this morning and appears to contradict widespread rumors circulating since yesterday that Wu had been detained by authorities in Beijing for illegal loans and other allegations.
The appearance of the Wu interview, which discussed Anbang's strategy to focus on healthcare and senior care in the future, further illustrates the difficulty faced by the Chinese public when trying to gain true facts about sensitive political figures and government investigations in general. Besides being a leading business figure, Wu is also the former husband of the granddaughter of former Chinese leader Deng Xiaoping.
"Wu Xiaohui's rumored problems have been widely anticipated, given the recent corruption charges against Xiang Junbo, the now deposed head of China's insurance regulatory agency," said Brock Silvers, managing director of Kaiyuan Capital, a Shanghai-based investment advisory firm. "But given Wu's benign interview today in a government-run newspaper, it seems unlikely that he or Anbang faces an immediate problem. For now, this looks more like a bump in the road rather than the end of the road for Wu Xiaohui."
According to the rumors, which began circulating just as the interview was taking place, Chinese authorities have halted all of the insurance company's overseas investment deals, according to the reports.
The rumored investigation centers around loans worth hundreds of billions of RMB that the Anbang chairman allegedly obtained illegally. He may have also used the illegal loans to invest in the stock market, as well as to transfer assets overseas in a questionable manner, according to the rumors.
The rumors emerged after Xiang Junbo, chairman of the China Insurance Regulatory Commission, was investigated in an anti-graft campaign earlier this month. The investigation of Xiang is one of a series of high-profile investigations in China's insurance sector, which has seen numerous cases where capital was used illegally for stock market speculation, among other illegal activities.
Deng Xiaoping's grand daughter Zhuo Ran and Wu Xiaohui have divorced, according to reports last month.