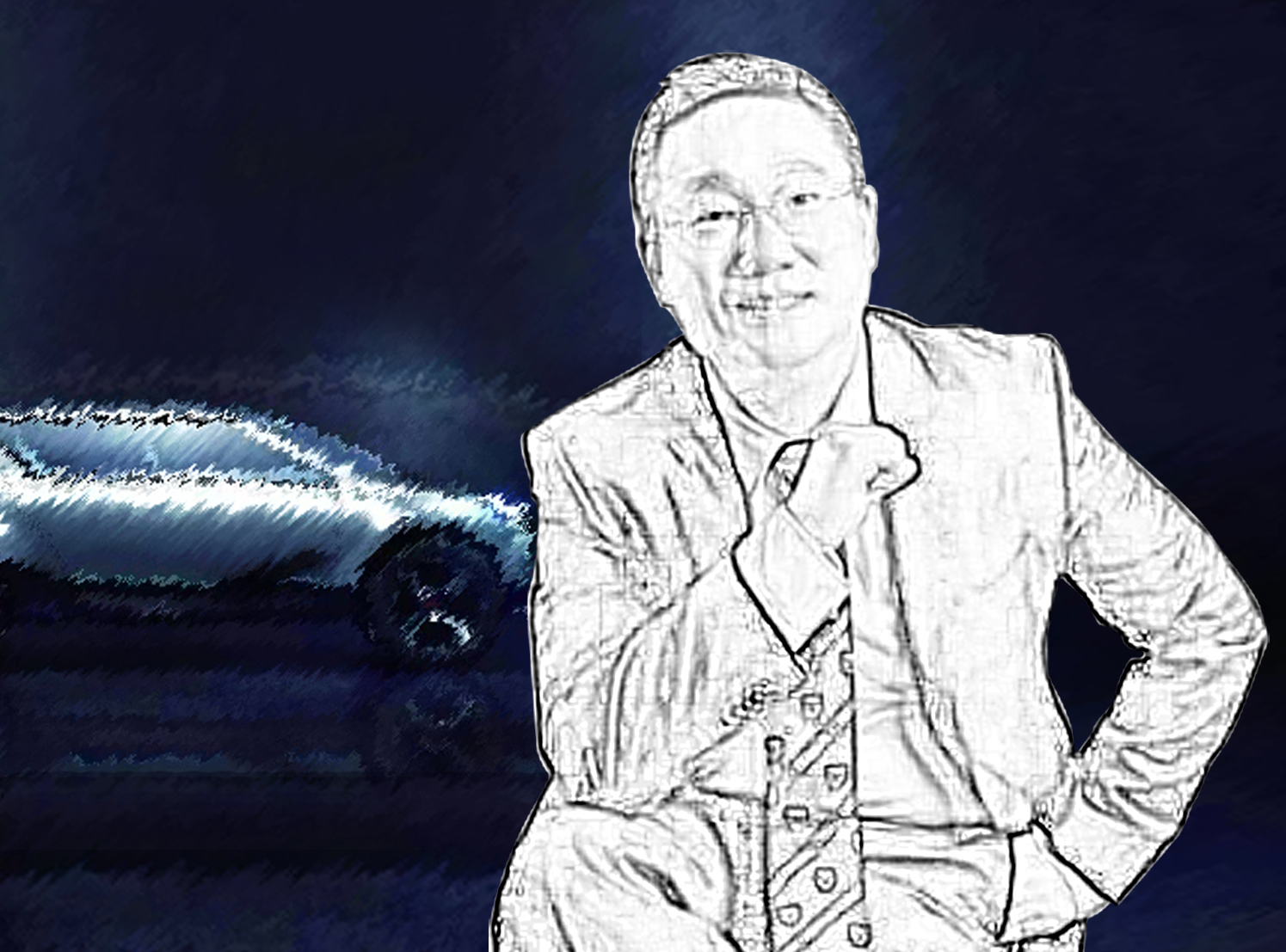 "I've never seen two Chinese guys comparing (car) engines (like people do in Europe)," says Freeman Shen, founder of Chinese electric vehicle start-up WM Motor Technology Co., Ltd. "China doesn't have a long driving culture…the car is more a tool for people to get from point A to B."
It's one reason his three-year-old company, with RMB10 billion (US$1.5 billion) in funding, is taking a different route than most of its rivals. Instead of simply producing a decent, mass market car, WM will offer its EV customers flexible ownership, essentially combining Tesla Motors and Uber in one company. It's an important selling point given that WM is targeting young Chinese consumers, who are famously quick to accept new things, but far less willing to purchase new cars.
For Shen, the former chairman of Volvo China and a 20-year automobile industry veteran, the future of China's car industry will be shaped by three words: electrification, connectivity and sharing. As such, his company is creating a 100% electric car that is connected 24/7 and will let owners choose if they want to share their cars.
"For example, a customer owns our car in Shanghai but he travels to Beijing a lot. With a Super ID (a membership service offered by WM), he can easily access another WM Motor vehicle while in Beijing and lease out his car in Shanghai," Shen told China Money Network at the company's headquarters in Shanghai.
The "new business model", as the soft-spoken Shen calls it, is full of unforeseen challenges. Jia Yueting, the disgraced and currently exiled ex-chief of LeEco, wanted to build something similar with that company's smart car unit LeSEE and car hauling platform Yidao. That plan was cut short by corporate financial crisis that is still unfolding.
And Tesla itself plans to launch a ride sharing system called "Tesla Network" as early as this years, allowing its car owners to share their vehicles, and creating immediate competition for WM.
"The challenge is how to make this dream (become) real…we are in a race to see (which company) can get to the market (first)," said Shen.
It is a race indeed. China, the world's largest car and EV market, already has three EV start-ups valued at US$1 billion, (NIO, WM Motor and BAIC BJEV, according to China Money Network's China Unicorn Ranking) with another one (Future Mobility Corporation) approaching unicorn valuation. The U.S., on the other hand, has none.
Competition between these well-funded Chinese EV start-ups is intense. NIO's ES8 model will hit the market in mid-December. Another Chinese EV start-up, CHJ Automotive (known as Chehejia in Chinese), completed a test production run two months ago at its new factory, which was built in only one year.
Shen says WM Motor's high-tech customer-to-manufacturer (C2M) factory in Wenzhou will be completed at the end of this year and small volume production will commence during the first quarter of 2018. Only then will we know if his digital car dream can become reality.
Read an interview Q&A below. Also

 subscribe

to China Money Podcast for free in the iTunes store, or

subscribe

to our weekly newsletter.
ON CHINA'S EV INDUSTRY:

Q: How would you describe the current transition toward electric vehicles by China and the global automobile industry?
A: As you know, China is already the largest car market in the world, and it also leads in electrification. The first reason China is going electric is because it relies on imports for about 60% of its oil, of which 80% is used by cars. From a national security respective, the Chinese government has to push very hard for electrification. Pollution is another reason.
The electric vehicle revolution has been going on for about five years. However, at first not many people took it seriously. But I believe now is the right time. Customers are already well educated, and electric cars are a good solution for daily use, and the supply chain is developing in the right direction.
Q: What do you think are the main directions of the Chinese auto industry?
A: In terms of technology, for sure it's electrification and connectivity, basically transitioning to smart cars. But at the same time, the business model has changed in China. You can see a lot of car sharing concepts, like short-term car sharing, car hailing and long-term car rental services.
Definitely, the new business model will lead to lower car ownership. I think most new Chinese customers are young. They are't loyal to certain bands. For them, access is more important than ownership. In many other markets, like Europe, people enjoy driving. In that case, they're more likely to own a car. But Chinese people don't have a long driving culture, they don't enjoy driving itself, they enjoy cars as a tool to bring them to the destination.
ON WM MOTOR:

Q: What kind of car company is WM Motor? How is it different from others?
A: We are trying to provide a different solution to mobility. We are not just selling cars. We provide mobility solutions to a certain segment of the market, which is the new generation, who are interested in new things, new brands and new business models.
Our customers are buying our services, like Super ID. With Super ID they can get multiple products or services from us. For example, a customer owns our car in Shanghai, and he travels to Beijing a lot. So with Super ID, he can easily get another WM Motor vehicle in Beijing. During his trip out of town, he can also lease his car to someone else.
So basically, we are providing services based on our own product. We are not just an online platform like Uber or Diding Chuxing. We are doing things in a vertical way. You can buy our products, and then you can have our services. Or you can buy the ID, and then have access to our products. Traditionally, you purchase vehicles from car dealerships, and then buy services from dealerships, insurance companies or banks, which are not linked to each other. But when you buy a car from us, we offer all the services, like insurance, maintenance and leasing.
Q: What are the key challenges?
A: The challenge is how to make the dreams real. There are lots of companies talking about dreams, and we are in a race to get to market and provide the services. I think we are one of the first teams having these dreams, and are very close to delivering our dreams to customers.
Q: You are building a customer-to-manufacturer (C2M) factory in Wenzhou with fixed capital investment of RMB6.7 billion. Can you give us more details about it?
A: That's interesting because people always ask me why we need to do that. I believe all the existing car manufacturers only care about production efficiency. From our perspective, that's not customer centric. Being customer centric means you need to think about how to improve consumption efficiency. To improve consumption efficiency, you want your customers to pursue what they need. You know, a typical customer will buy many things that they don't really want.
The reason we want to have our own factory is because there's no existing C2M factory in China. China has the capability to build a world-class factory in terms of automation, but I can't think of any digital factories, which is the basis of C2M. The Wenzhou factory is a digital factory, so when customers order vehicles from our websites, they can then check on their smartphone to find out where in the production process the car is and when we will delivery it.
Q: What's the current status of the factory?
A: I would say the factory is 90% done and will be finished by the end of this year. Next year, we will initiate small-volume production and then go to large volume.
Q: What technology is used in the factory?
A: I have heard many people say that Tesla's factory is so good, that is has 120 robots. Actually, 120 robots in China, from a factory perspective, is low automation. We have over 300 robots. But the most important part is digitalization. Basically, you have a number on every part, every piece of equipment, every order, so the customer can know where the product is located, and when the vehicle will be delivered.
Q: I've been told your factory's production time is 1/3 faster than Tesla's production time, or 21 days. How do you achieve that?
A: To really reduce production time, you need really strong supply chain management. You know, for a car, 70% of the value is done by suppliers. We have more than 500 suppliers, and you have to manage them with targeted quality, targeted delivery time, and targeted technology. From day one, I told our suppliers that it's a C2M factory, and we will enable our customers to buy products efficiently. Also, we require 100% of our suppliers, most of whom are global companies, to complete production in China.
ON WM MOTOR PRODUCTION:

Q: At what stage is WM Motor right now in terms of product development?
A: We have 20 prototypes running on the road right now. We have been testing them since the earlier this year, including high temperature tests, low temperature tests and durability tests.
We have completed the first vehicle on the first of our two production platforms. That car will roll off our assembly line in the first quarter of next year. We are working on the first car of our second platform, and will have more than 200 of those cars ready by the end of this year.
Q: What's the price of your first car?
A: The price of the first product will be RMB200,000 (US$30,000). I don't think a new brand can really survive with a price tag more than that because normally when Chinese families buy a vehicle worth over RMB300,000, they will definitely go to big names like Audi, Mercedes-Ben and BMW. However, for a new brand with good customer service, RMB200,000 is likely to have a chance.
We haven't set the price for Super ID yet, because the price will be different for different packages.
ON EV TECH:

Q: What software platform would you be using? And did you ever consider using Baidu's Apollo platform?
A: So basically, we have two kinds of systems. A vehicle control unit (VCU) system and an infotainment system. For the infotainment system, we are very open. We use Android because there are lots of apps. For the VCU, we focus on two types of safety, traditional car safety, and cyber security safety. Since our cars are 100% connected, we have been aggressively forming partnerships with companies in Silicon Valley, Shanghai and Beijing in terms of cyber security. We just announced a very important partnership with Qihoo 360, the strongest cyber security company in China.
For Baidu's Apollo, we have studied the open code, and we found it disappointing. The technology is not really advanced, and it's more like a marketing thing. Also, the platform is not ready and the core team just left.
Q: Since you are developing connected vehicles, how do you utilize data?
A: So, there're two types of data. One is data on the road, which will be helpful for machine learning, improving the autonomous driving. That data should be use properly, not at the individual level, but at the big data level, to improve the system.
The other type of data helps customers get better services. There are lot of this kind of data, for example insurance companies can understand your driving behavior to lower insurance fees, car finance companies can offer lower cost services. And when you sell cars, you can have better service if you have data about a car's condition. But privacy issues should be handled properly.
Q: At what level is the autonomous driving? And is the self-driving capability sourced from others?
A: In terms of self driving, it's going to be level 2. With a Volvo background, we are very strong in self driving. But from an engineering perspective, no one can do better than level 2 at this moment. Currently the market is influenced by Tesla. So from the marketing perspective, since Tesla talk about level 4 autonomous driving, everyone is talking about it.
For the technology, we partner with other companies, like Horizon Robot, which is the leading player for vision recognition in China.
ON FUNDRAISING:

Q: You just raised US$1 billion, could you disclose more details?
A: Actually, more than that, we have raised RMB10 billion (US$1.5 billion) in funding, all cash. But our investors in the series A round is one of the leading funds in China and they are not really interested in announcing the deal. All I can say is the firm is a totally private backed company.
Q: What's the company's valuation now?
A: Our current investors do not really like to disclose that information. But we are definitely a unicorn.
Q: What's your plans for future financing?
A: We are open, but we don't need any money right now because we already have two products.
Q: What's your outlook for revenue/profit?
A: We are going to get our first car on the market in 2018, and I believe, we can break even by 2020.
ON THE REGULATORY ENVIRONMENT:

Q; How important are Government's subsidies for EV purchases?
A: I always tell my engineers that we need to create a product that customers appreciate and are willing to pay for, not because of government subsidies. Because subsidies will drop, maybe to zero in 2020.
Q: What's the key to effective self-driving regulations?
A: It's important to decide who is going to take responsibility. Actually, it's more about ethical issues than legal issue. Car companies should not mislead drivers about what level of autonomy the car is at, whether they need to take control at any time or they can completely rely on it.
ON MADE-IN-CHINA:

Q: Normally, made in China means low quality. Do you think that is going to change for the better, and how to achieve that?
A: There are two perspectives, quality and perception, and I think, perception will come much later than quality. For quality, China now can produce any product, even cars, which may be the most complicated product. But there are not many cars exported to the U.S. and Europe, and I think that's the perception issue. You have to do things for years before people start to say, ok the product is good quality. I used to work for Geely. The reason why Geely acquired Volvo is because Geely realized if you started your company with a really low level of quality, it's really difficult to improve that. So you have to do the quality very well, and continue doing this on a long term basis. Only then will the level of respect improve.
OUTLOOK:
Q: Where do you see WM Motor in five years?
A: Of course we will be the leading electric car company in China. We will be profitable, and volume will reach 150,000 per year.
About Freeman Shen:

Freeman Shen is the founder and CEO of WM Motor. Before that, he was chairman and CEO of Chinese car maker Zhejiang Geely Holding Group from 2009 to 2014, while serving as chairman of Volvo China from 2010 to 2014. Earlier, he was CEO of Fiat Powertrain China and president of China for BorgWarner.


(China Money Network reporter Pan Yue also contributed to this article.)