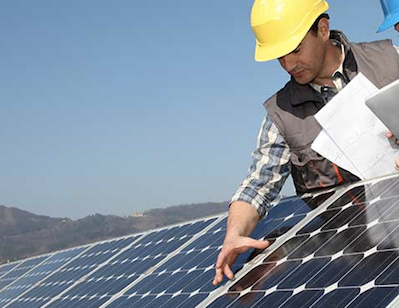 Chinese solar products manufacturer LONGi Green Energy Technology Co., Ltd. has announced plans to invest US$309 million to expand its solar cell and module production in India. The move came after Indian regulators are considering a proposal to place a 70% import duty on solar power manufacturers from China.
Facing high tariffs abroad, Chinese solar panel manufacturers are being forced to open factories locally. Last week, JinkoSolar Holding Co., Ltd., a New York Stock Exchange-listed Chinese solar firm announced the construction of an advanced solar manufacturing facility in the U.S., after Trump administration unveiled tariffs of up to 30% on imported solar panels.
China continued to be the largest exporter of solar modules and cells to India during the first nine months of 2017, accounting for US$2.9 billion of India's total solar imports, making up 88 percent of all imports. Malaysia was the second largest exporter to India during the 9M period of 2017, accounting for $221.73 million of India's imports and a 6.7 percent market share, according to Mercom Communications India.
LONGi will invest US$309 million, including about US$240 million in construction investment and roughly US$68 million in working capital, to double the capacity of its cell and module factory in Andhra Pradesh from 500MW to 1GW respectively.
"The expansion of our Andhra Pradesh factory is part of LONGi's global growth strategy. While global demand for solar modules continues to grow," said Wenxue Li, the president of LONGi Solar, "LONGi is making moderate capacity investments in select markets to hedge against the risks of trade protectionism, while remaining focused on the Chinese domestic market."
Construction on the expanded module factory is scheduled to be completed and production will commence by the end of August 2019, while the cell factory is set to start production in January 2020.