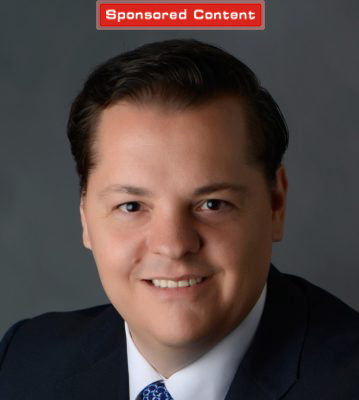 Naked Hub, the Shanghai-based co-working space market leader with operations across Asia Pacific, has appointed veteran corporate office solutions manager Michael Higgins (pictured) as its Head of Enterprise Solutions. His mission is to attract more large-scale corporate tenants to the co-working space's 46 locations across the region.
Higgins joins naked Hub as the Asian co-working brand prepares to open a third Hong Kong location in the city's up-and-coming Kwun Tong district of East Kowloon. After naked Hub's first two locations in Sheung Wan and Sai Ying Pun, the Kwun Tong location will occupy two floors covering 58,000 square feet (5,388 square meters) and enjoy exclusive use of the 3,200 square foot rooftop terrace for entertainment and events.
In January, naked Hub announced an agreement to acquire a 70% stake in Gravity, a premium co-working space in Australia, as the firm aims to open at least 200 locations across five Asian countries by 2020. naked Hub is trying to tap into the rapid growth of the global co-working space sector, which has witnessed annual growth rate of 66.2% from 2007 to 2017 in terms of the number of co-working spaces, according to Satista.
China Money Network caught up with Michael Higgins last week to hear his views on the co-working sector's potential to attract large corporations. Even though co-working spaces are more often associated with start-ups and small and medium-sized enterprises, big businesses have increasingly turned to co-working as an alternative office solution because of the flexibility and community it offers. For many co-working space operators, big corporations have been the fastest growth segment in recent years.
Higgins joined naked Hub in November 2017 after spending five and half years at Cushman & Wakefield as Director of global occupier services. Before that, he was at serviced and virtual office operator Servcorp and real estate services provider Savills.

Q: Why did you join naked Hub from Cushman & Wakefield?
A: From a real estate perspective, what naked Hub is doing is providing a new kind of workplace. It focuses not just on the physical space, but also on the community and the experience. I personally felt that was the future direction for the workplace.
My previous role was in a traditional corporate services firm focusing on corporate real estate strategy for clients. I got to work with the clients and understand a lot of their challenges around real estate in a corporate context. I saw that there was a lot of challenges to be dealt with, and what naked Hub is offering could really help solve some of those issues.

Q: People's perception is that big corporations don't need a lot of flexibility, as they make long-term capital plans and human resource plans?
A: That's correct to an extent. The commitment that a corporate makes is for perhaps five to six years. You need big capital investments to build and design office spaces. As good as their estimates can be, they have to make that estimation for the next three to six years.
But it's hard to predict for six years out. So, I think flexibility is something the corporate world always needs. It means companies don't need to make as big a commitment as normally required for large office space. They can also adjust as they grow or shrink their workforce depending on their needs.
Q: What kind of response have you received from potential clients you have spoken to?
A: We have had very strong inquiries from finance, professional services and other big conglomerates. I cannot share names now, but the feedback really shows that the value and the flexibility we offer are very welcomed.
Q: What is the percentage of big business tenants for naked Hub now in Hong Kong?
A: The exact numbers depend on how you define the terms. If you use a typical enterprise definition, which means companies with more than five hundred employees, we are probably at around 30% for our hubs in Hong Kong.
My role here is to accommodate the growing number of enterprises that have come to us wanting to find co-working space with us. We don't necessarily target a ratio, but I believe a lot of our growth comes from supporting this type of corporate demand. Personally, I see it could go as high as fifty percent or more.
Q: If you could choose between a start-up team of ten people versus over 100-people team from a big company, which type would you prefer as a tenant?
A: We have had these discussions internally. Obviously, we have focused a lot on experience. There's no point in bringing someone in if they're going to destroy the experience or dominate our culture. Ultimately, we want a tenant to add to the experience, not to detract from the experience of others. But I think it's a balancing act. We need to consider the mix of our tenants and how that fits the design of our space.
Q: In your opinion, how big is the co-working segment going to grow?
A: I think the growth will continue. More landlords will start to provide similar workspace. It may have different branding and it will be available to different sets of users. The number that's often quoted is that 30% of the office market will be flexible by 2030, and I genuinely feel that is a good estimate.
Currently, in more mature markets such as New York and London, I believe they're below ten percent. In Asia, it varies depending on the market between one percent to five percent of stock. So, there is still huge room to grow in the future.
Q: Compared to other co-working brands, what are the advantages of naked Hub?
A: I would say it is our background. We're a Shanghai-based company and our founders started out in the high-end hospitality business. They've been very successful in that area. So, one of our key differentiators is the focus on hospitality and services, which create a better experience for all our members.
The other is sustainability. Our founders have a very strong passion for sustainability in our design. That flows through everything we do. We try to use recycled materials and we focus on reducing waste. Lastly, our community building is perhaps the strongest as we offer wellness programs and lots of community events for our members.
Q: The mobile app of naked Hub is also another tool to connect hubbers and build a community. What is the thinking behind utilizing this tool to strengthen user experience?
A: The app that you see as a member is half of it. The other half is the back-end operating system. It's being built by our innovation team of fifty people in Shanghai.
The software, called CAAS (Community as a Serrvice), handles everything from access cards, billing, invoicing, new members and all of the back-end staff we need. That is in addition to all the front-end member interface functions. We've even had landlords approaching us, asking if they can use the software for their own operations. So, we are now white labeling it and making it available to third parties.