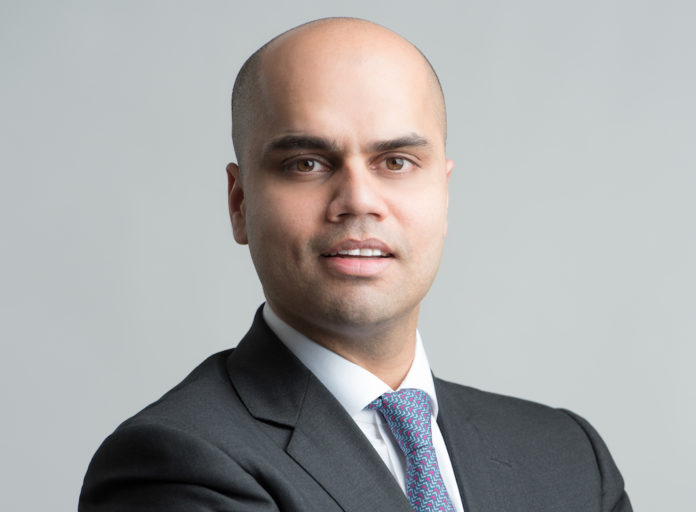 Sachin Doshi, founder of Hong Kong-based shared accommodation start-up Weave Co-Living, has an ambitious goal of providing modern and economical living space to 10,000 young professionals in gateway cities across Asia Pacific in five years.
"Lots of people were talking about attracting innovative young talents into cities, but not many were thinking about how these young people are going to live in these very expensive cities," said Sachin Doshi during an interview with China Money Network in November. "We would like to have 10,000 beds over the next five to seven years across Asia Pacific. If a typical property has 200 bedrooms, that's 50 properties."
Considering Weave Co-Living has only opened one location in Hong Kong so far, that objective sounds ambitious. But Doshi may have a better chance at reaching it than anyone else. He headed the private real estate unit at Dutch pension fund manager APG Asset Management in Hong Kong before starting Weave Co-Living in 2015. The startup has the money to finance such expansion plans, as it just secured US$181 million from an affiliate of Warburg Pincus last month.
Co-living may be a new term with an air of the fashionable shared economy and corresponds to the more mature concept of co-working, but this type of living arrangement has been in existence for much longer. In major metropolitan cities around the world, apartment buildings with large common areas and public facilities have flourished in recent years.
What makes Weave Co-Living different is its clear market positioning and strong community emphasis. Targeting millennial professionals, Weave Co-Living features generous common areas such as large public kitchen and living areas with sleek and modern designs. With private bedrooms starting at HK$7200 per month at its first location around the Prince Edward area in Hong Kong, Weave Co-Living carefully selects and builds a community of like-minded tenants to create a better living experience. Yoga classes, film screenings and networking events are organized to top off its offerings.
Weave Co-Living opened its first property with 160 beds in 2018 and is close to secure another property in Hung Hom. In the next five years, it aims to expand to as many as ten cities across Asia Pacific in gateway cities like Singapore, Seoul, Tokyo, Sydney, Melbourne, Shanghai, Shenzhen, Mumbai and Bangalore.
Read an interview Q&A below. Also subscribe to China Money Podcast for free in the iTunes store, or subscribe to our weekly newsletter.
Below is an edited version of the interview.
Q: What made you leave a comfortable investment job to start your own startup in the co-living sector?

A: During my years as an investor, I was traveling across Asia Pacific. Lots of people were talking about attracting innovative young talents into the cities, but not many people were thinking about how these young people are going to live in these very expensive cities. As many young people are into technology, there is also an increasing sense of alienation and desire for community.
Weave Co-living is designed and targeted towards millennials and young professionals. We provide not only living spaces but also a close community through our programs and events.
In Hong Kong, research shows that it takes a university graduate 27 years to buy a place to live. Therefore, co-living makes a lot of sense. If you look at co-working, the office market has been completely disrupted. But for living space, it continues to be what it used to be fifteen to thirty years ago. This is the place where disruption is just waiting to happen.
Q: What do you think is the potential market scale for co-living?
A: For co-living, it is still in its early stages. We are a one-and-half-year-old company, and clearly there is a long runway ahead of us. My view is overtime, there will be some sort of convergence between co-working and co-living. Because the targeted demographic of co-working and co-living are very similar.
In the U.K. and U.S., there are other co-living operators for significantly longer time than us. They already have more facilities and probably bigger communities. But in Asia, people are used to apartment living. It's not a new concept for someone in Singapore, Hong Kong or Tokyo. In a way, I believe the shift from traditional apartment living to co-living in Asia will be a lot smoother.
My view is that if co-living is a marathon, we are probably still running the first two hundred meters or even shorter. But if you take a step back, the main premise of this continues to be the need to share. The big social shift is that millennials and young people don't take ownership of a house as their life objective. They want to spend their money on experiences, enjoy life, and have flexibility.
Buying an apartment will often be the biggest purchase people make in their lives. It also means significant capital is locked into one single asset. Lots of young people today are saying they want to living in a fun, well-designed place, but don't want to be paying off a mortgage for the next thirty years. So there are real estate shifts and social shifts, all of which are driving co-working and co-living simultaneously.
Q: Does Weave Co-Living want to be an Asian co-living operator or a global company?

A: The long-term aspiration is always to be global, but we will focus on Asia Pacific for the foreseeable future. There are certain other markets where we have been doing research on. Our flexible business model and early signs are very encouraging.
Q: In China, we have seen some co-living companies compromise quality for the sake of rapid expansion. For example, Ziroom was accused to rent newly refurbished apartment with high level of toxins to tenants, causing death in extreme cases. How will you balance expansion and quality?

A: Firstly, I feel very sorry for some of the incidents that I also read about in China. We would never compromise on the safety and security of our residents. The way we design our buildings and the process we go through is very rigorous. At the end of the day, this is a place for people to live. And it is our responsibility to make sure it's as safe as possible.
In addition, we actually own the assets that are being used as co-living facilities. What that means is when we acquire an asset, we go through extensive refurbishment. That has to go through strict review and be approved by regulators in Hong Kong. Before we can open anything, the apartments have been vetted by multiple agencies in Hong Kong.
We want to grow responsibly, which is something we will continue to focus on as a company. We spend a lot of time on design, conceptualization, and product development to make sure we make the right product at the right location.
Q: If you own the properties, it means the business model can be quite capital intensive. That will further slow down the pace of expansion?

A: When I look at market leadership, it's not simply about the number of properties that one company manages. I think it is about the quality of what you own, what you operate and how you operate the assets.
With an asset heavy businesses, the pace of bringing properties to the market is going to be slower. It also allows us to better control the quality. We might grow a little bit slower than an asset light business, but I think the quality of our growth will probably to a lot better too. Once we build our brand and demonstrate the quality of our products, we might selectively go into an asset light business, but the main part of our business is always going to be ownership-based.
Q: What's your expansion strategy then?

A: Our expansion plan is to grow across Asia Pacific, but the focus will be Hong Kong for the next eighteen months. We have just secured another asset in Hong Kong in Hung Hom, which is undergoing very rapid infrastructure development with the Shatin to Central metro link. We are very close to acquire a couple of other properties, including one on Hong Kong island and another close to the high speed railway station. Therefore, our immediate plan is to focus on Hong Kong and on infrastructure-driven locations that are convenient to people that work in Central, Admiralty or Kowloon.
Q: In the next eighteenth months, how many locations do you expect to have?
A: It's hard to predict, but my view is that in the next eighteen months, we should be close to two thousand beds in six to eight properties in Hong Kong.
Q: What about outside of Hong Kong?

A: After Hong Kong, we will go into a handful of gateway cities in Asia. We have done some research on other gateway cities such as Singapore, Seoul, Sydney and Melbourne. But we will not grow for the sake of growth. We have to make sure the environment is conductive to the product.
Q: You didn't mention mainland China?

A: It's not an immediate focus for us right now, but we do have aspirations to go into mainland China as well. Again, it has to be backed by the right team, and the market needs to have the ability to scale.
One has to be mindful not biting more than one can chew. We will be mindful at how and when we grow into that market, perhaps it's through an acquisition of a platform or setting up a joint venture with another platform.
It's very hard to be in multiple markets at the same time in China. Going into China could mean going into so many different markets each with their own dynamics. In addition, the distance among cities is very far and each city has its own dominant players already. So we will be very selective.
Q: Where do you see the company in five years' time?

A: In five years, we would like to be in eight to ten gateway cities in Asia Pacific, including Hong Kong, Singapore, Seoul, Tokyo, Sydney, Melbourne, Shanghai, Shenzhen, maybe Mumbai and Bangalore. We would like to have 10,000 beds. If a typical property is 200 bedrooms, that's 50 properties.
Q: Since you believe that there will be a convergence of co-working and co-living. Does it mean you might start co-working facilities?

A: Never say never, but it's not the plan right now and our focus is co-living. What I really mean is that it's still very early stage in the industry and it's hard to predict how these two spaces will evolve. Maybe co-living catches up or co-working and co-living start to converge, but the possibilities are endless.
Q: What is the percentage of the overall living space market that will be shared in the future?

A: Let's look at cities like New York or Tokyo, a significant amount of people are living in institutional rental accommodation already. The concept of co-living is not so radical or so new. What is different about co-living is the size of the private bedroom is smaller and the common area is extensive.
I'm very surprised that many gateway cities in Asia don't have institutional rental accommodation market thus far. Part of that is because of the culture of strong desires to own homes. The millennial home ownership in Asia Pacific is 11%, which is already lower that the global average of 15%. In Hong Kong, the ratio is 5%. But young people are living somewhere. How to create a product suitable for them is where co-living comes in.