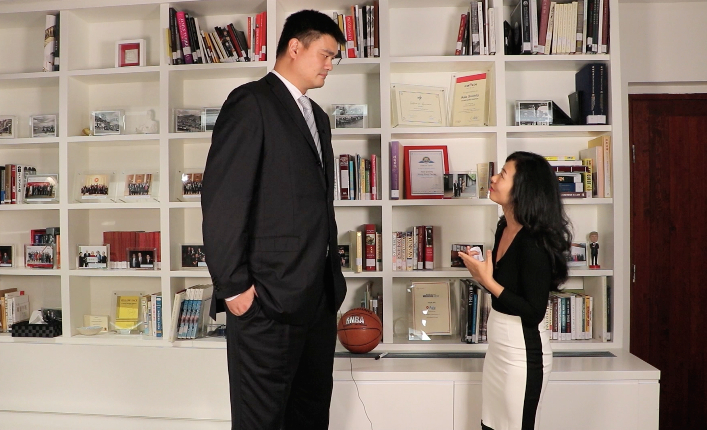 In this episode of China Money Podcast, founder of charitable organization the Yao Ming Foundation, Yao Ming, speaks to our host Nina Xiang on philanthropy and what wealthy Chinese entrepreneurs should do to get more involved.
Yao Ming was invited by Asia Society Hong Kong Center to attend "The World's Greatest Challenge: Fear of Difference and How We Can Solve It" in Hong Kong. He spoke to China Money Network before the event.
Please read a Q&A of the interview, and don't forget to subscribe to China Money Podcast for free in the iTunes store, or subscribe to China Money Network weekly newsletters. You can also subscribe to China Money Podcast's Youtube channel or Youku channel.

Q: Since your retirement five years ago, you have been committed to philanthropy, including founding the Yao Ming Foundation and assuming the role of Special Olympics Global Ambassador. What drives your enthusiasm for philanthropy?
A: I suppose it's not just me who have this enthusiasm. A strong sense of social responsibility is at the root of the Chinese culture, from emphasizing the merit of doing good deeds to loving the young and the old.
Of course, our society nowadays has recognized the power of philanthropy. Everyone should make his own contribution to make our future a better one for the next generation.
Q: How do you evaluate the current condition of wealthy Chinese entrepreneurs' charitable efforts?
A: I think first we are in a good start. There were some imperfections in the past due to our inexperience. But what's more important is how to correct these issues to make it more successful and better in the future.
But we should not take a cynical view of the wealthy and what they are doing to help others who are in need.

Q: As the Special Olympics Global Ambassador, you have participated in many activities and take part in all kinds of activities with kids with special needs. What have you gained from this experience?
A: Every time when I see the smile on those Special Olympics athletes and the smile of their families, I feel very fulfilled and grateful. Those smiles are the most pure and the brightest in the world.

Q: For successful Chinese entrepreneurs, if they want to do more charity work, where do you suggest they should to start?
A: I believe there are so many ways they can involved. Because of the varieties of our society, everyone has his own unique ideas. It should not be just giving money, or helping the old and the young.
Everyone should fully release his thoughts and be able to do what they aspire to achieve. But what's important is to try to spend as much time as possible to participate in the management of charitable efforts, instead of just donating money or writing a check. Of course, that is also a great part of charity, but people should try to do more.
Q: Recently, Mark Zuckerberg, the founder of Facebook, donated an enormous part of his wealth to established a charity organization in the form of a LLC company. Do you think that for Chinese entrepreneurs, what can they learn from it?
A: It is a great and innovative act. For we, I deeply respect what he did. He donated 99% of his wealth, not just a portion.
From his letter, you can see what he aspires. What he wants is a better world for his daughter and her generation. His motivation is still to push for greater progress of the society.
I'm truly moved by what he did. His innovative ideas also gave us something to think about. But we should also realize that the management of charitable organizations in China is not as sophisticated as in the U.S. We still have a long way to learn from others to do a better job.
About Yao Ming:
Yao Ming is a retired professional basketball player, having played for the Shanghai Sharks of the Chinese Basketball Association (CBA) and the Houston Rockets of the National Basketball Association (NBA). He is also the founder of the Yao Ming Foundation, a charitable organization helping China's children in need.