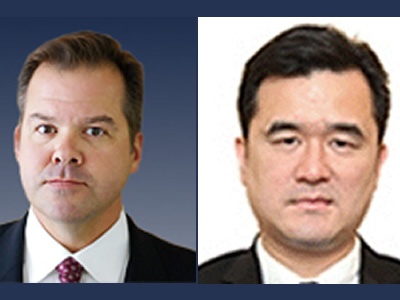 In this episode of China Money Podcast, listen to Kevin Carter, co-founder and CEO of California-based Baochuan Capital Management, and Kenny Li, CEO of Shanghai-based KKM Capital discuss the pros and cons of international hedge funds investing in China's A-share market through the QFII program; and how international hedge funds can raise money from China's wealthy individuals and giant institutional investors.
The comments are made at a joint event held by the Hedge Fund Association and Bloomberg on Jan 5, 2013, in Shanghai.
Listen to the full interview in the audio podcast, subscribe to our podcast in iTunes, or read an excerpt.
Kevin Carter on investing in Chinese equities outside of the QFII program:
I spend a lot of time with some of the largest QFII holders in the world, most of which are long-term US institutional investors. Whether they are actively trading or not, they are not moving in or out of the QFII system. The Bill and Melinda Gates Foundation said to me that they can take the money out, but if they try to, they are worried about the political ramifications.
If you look at the market capitalization of all Chinese equities, you can probably divide it as 60% A-share and 40% Hong Kong and New York-listed. So you can invest in almost half of the Chinese stock market without getting QFII quota, (which is what we do). Some U.S. investors don't understand this.
I spoke with a number of U.S. university endowments that wanted to have QFII (quotas). I asked them if they have invested in any Chinese stocks in Hong Kong or New York. They said: No. When asked why, they replied with a blank face: We are not sure. A-share sounded more "Chinese." I pointed out to them that big Chinese names like China Mobile and Tencent are not available in the A-share market.
Of course, the argument for investing directly in the A-share market is that there are great consumer names that are unavailable elsewhere, such as Guizhou Maotai or Wuliangye. But the risks are that the A-share market is a more speculative and manipulative market.

Kevin Carter on the high cost of short selling Chinese stocks:
Though stocks for short selling will become more available in the future, it's still very expensive. Cost of borrowing Chinese stocks to short can often be 8% to 10%. As a person who spent most of my career in shorting, I can say that it is a tough business. The most you can make is 100% if a stock price goes from US$10 to 0. But if it goes against you, unlike a long position where your exposure gets smaller, your exposure gets bigger. So when A-share market becomes easier to short, investors should be very careful because it is a fast way to lose money.

Kenny Li on how to raise money inside and outside the QDLP (Qualified Domestic Limited Partners) program:
One way is to raise capital for existing offshore funds. We work with Chinese mutual funds and asset management firms to raise funds via QDLP, then channel it to existing offshore funds. Another way is to have an onshore presence for the long term. In 2012, Winton Capital Asia (the Hong Kong subsidiary of the world's largest CTA fund) partnered with Chinese fund management company, Fortune SG, to launch the first CTA in China. In this partnership, Winton is basically providing the research and advice for managing local products, such as local stock index futures and local bullion market. This is a smart and small step toward capturing the domestic market.
I came across a business owner in Wenzhou who told me that he has 30 million RMB being invested in a private account. He doesn't have any management office set up or have any regulatory oversight. He basically transferred his money to his friend's account and hopes for a return.
So we at KKM Capital not only try to partner Chinese mutual funds and asset management firms with our hedge fund partners, we also try to convince high net worth individuals like him to explore the products being offered through these partnerships. A recent report says that the privately unregulated funds being managed in China was roughly 1 trillion Yuan as of 2010. So the fundraising potentials are huge.
Featured Guests Today:

Kevin Carter is co-founder and CEO of Baochuan Capital Management, a California-based investment firm focused on emerging markets, especially China. Its CIO is Dr. Burton G. Malkiel, the author of A Random Walk Down Wall Street. Prior to Baochuan, Carter founded two financial firms acquired by NATIXIS Asset Management and E*TRADE Group.

Kenny Li is CEO of KKM Capital, a Shanghai-based investment firm focused on bridging international hedge funds with Chinese investment firms. Previously, Li was at the fixed income division at Barclays Capital, Credit Suisse First Boston and JP Morgan Chase.