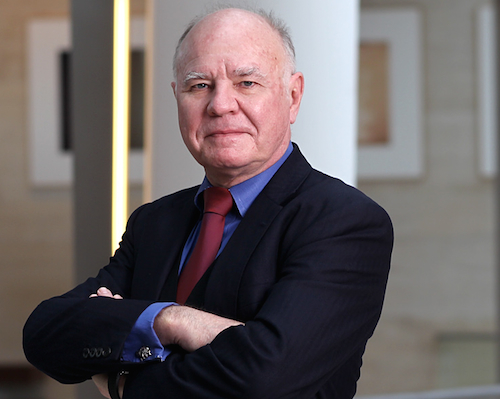 In this episode of China Money Podcast, guest Dr. Marc Faber, renowned investor and publisher of The Gloom, Boom & Doom Report, speaks with our host Nina Xiang.
Dr. Faber shares his thoughts on why China's economic problems are solvable, explains the reasons behind his belief that China is likely to keep its currency stable, and rebukes the argument that capital may be flying out of China for a lack of confidence in the world's second largest economy.
Read an excerpt or watch an abbreviated video version of the interview. Be sure to listen to the full interview in the audio podcast. Don't forget to subscribe to China Money Podcast for free in the iTunes store.
Q: We are in your spectacular house in Chiang Mai, Thailand. The walls are covered with pictures from China's Maoist era and the Cultural Revolution. From where you stand, how is the Chinese economy doing?
A: In order to understand China, you have to go back in history. After the revolution and the opening up, the growth during the 1990s up until now has been mind-boggling. In 1980, China consumed 2% of the world's industrial commodities. By 2000, it was 12%, and now it is 47%.
Now the growth in China is obviously slowing down. But if you look at the U.S., there were 19 recessions during the 19th century, then the Civil War, World War I, the Great Depression, World War II, the Korean War, the Vietnam War, and the country continued to grow.
So, I wouldn't be too worried about the problems in China for the near term. I think it's solvable. Hopefully, it is painful because the society needs some pain from time to time, then the economy takes off again.
Q: Where do you think the pain will be specifically?
A: Obviously, in the property market. There are a lot of property developments that will not have positive returns. There is also over-capacity in some basic industries, steel and other basic materials. That's where pain will be.
Q: What is the biggest risk the economy faces?
A: The biggest risk is that credit has grown far more than economic activities. The debt-to-GDP ratio has increased dramatically. Essentially, China is borrowing economic growth from the future. Once the debt reaches a level where it's difficult to maintain the pace of growth, the economy automatically slows down.
But what is frequently missing in the discussion of credit is what is credit used for. If you look at Korea and Japan in the 1950s to 1970s, credit was used for capital spending, infrastructure, plants, education, research and development. That credit generates cash flow, which can repay the debt.
The worst credit is what the U.S. has, which is consumer credit. People borrow to buy a car or a washing machine. That does not generate income and becomes burdensome to the household.
Some people argue that China has overbuilt roads, tunnels, bridges and trains. But I don't see it that way. In the U.S. during the 19th century, the country constructed lots of canals and railroads. All the canal companies, including the Erie Canal, went bankrupt. About 95% of the railroads had to be refinanced or went bankrupt. But the network facilitated the country's trade and commerce significantly. So China is doing the right thing.
Q: Sounds like you are not too worried about China's elevated debt level?
A: We live in a world with excessive liquidity created by money printing of central banks. That liquidity flows into real estate, stocks, bonds, art and commodities from one place in the world to another.
Relative to the U.S., China's stock market has become inexpensive. So, we had recently this huge bull market in Chinese stocks with colossal speculation. It doesn't mean that the whole thing will collapse and make new lows. But after this burst of volume, we could easily see a significant correction.
I bought China Life Insurance at HK$21, and now it's close to HK$40. It almost doubled in less than six months. I think it can easily drop 20% to 30%.
Q: The U.S. stock market indexes have way surpassed the last peak reached in 2007, but the Chinese stock market is still much lower compared to its 2007 peak. Do you think the current bull market has more room to run?
A: Some of my friends believe that the market lows established between June to November 2014 are major generational lows, and the next leg of a bull market is building. I think it's possible.
But we have had a huge run-up, and usually you get a correction after such a huge run-up. If I were an individual investor, I would be careful about putting all my money into Chinese stocks now.
Q: If you were to buy Chinese stocks, which sectors do you like?
A: Everybody is so negative about the banks. Yes, I think the banks have some problems, but equally, it's a sector that has been neglected. Also, I wrote in my report about Macau gaming stocks. I don't think there is a rush to buy them, but after having declined by up to 50%, Macau gaming stocks are probably in a bearish range.
I'm sure there will be some good value in Chinese property companies. I prefer to play the Chinese property market through Hong Kong or Singapore companies that have developments in China.
Q: For these stocks, you would wait for a correction before buying them?
A: Yes, I would rather wait for a correction. But the problem has been that there is no correction if something begins to move. It just went one way because of the colossal liquidity in the world, such as the Yen weakness, Euro weakness, and oil.
One of the mandates of central banks is price stability. But what they have created is colossal price instability with big moves in markets, which has a negative impact on business.
Q: Are we in the middle of a bubble of the century?