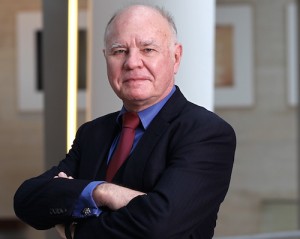 In this episode of China Money Podcast, returning guest Dr. Marc Faber, renowned investor and publisher of The Gloom, Boom & Doom Report, speaks with our host Nina Xiang.
Dr. Faber played a game of Long & Short, where he spelled out his view on central banks, currencies and commodities, among other items. Then, he gave probabilities on a number of possible world events and explained his reasoning.
Don't forget to subscribe to China Money Podcast for free in the iTunes store, or subscribe to China Money Network weekly newsletters.
You can also subscribe to China Money Podcast's Youtube channel or Youku channel.
Here are Marc Faber's long and short bets, in the time frame of the next one to two years.
The Federal Reserve: Short
The European Central bank: Short
The People's bank of China: Short
USD: Short
Euro: Short
RMB: Short
Japanese Yuan: Short
Thai Baht: Long
Gold: Long
Oil: Long
Steel: Short
Natural Gas: Long
Soybeans: Long
Windmills: Short
Solar power: Short
New York Property: Short
Silicon Valley Property: Short
London Property: Short
Beijing Property: Short
Hong Kong Property: Long
Shopping malls in China: Long
Facebook: Short
Apple: Short
Tesla: Short
Uber: Short
Amazon: Short
Tencent: Long
Alibaba: Long
S&P500 Index: Short
The Hang Seng Index: Long
The Shanghai Composite Index: Long
Hedge funds: Depends
Planet Earth's Environment: Short
Containing climate change: Short
World peace: Short
Terrorist attacks: Long
Social unrest: Long
Donald Trump: Long
Hillary Clinton: Short
US-China relations: Depends
In a game of probability, Dr. Faber made guesses about how likely a number of world events would occur.
The U.S. will go into a recession by 2020
A: 100% probability. We are in a lengthy expansion already, far above the average expansion in the 20th century. We have a lot of imbalances, in my view a recession is inevitable. But unlike central banks, I do not regard a recession as negative. It's like the human body, an economy also needs a resting period occasionally to adjust. A recession is not something that has to be avoided at all costs.
The European Union will break up by 2020
A: 80%. Economically, the EU would probably will break up. But it's also a political issue as there may be lot of political obstacles to complete a split from the EU. Some countries like Austria or France would like to split from the EU, but if they could do it in practice is not entirely clear to me.
Gold price will hit 5000 per ounce by 2020
A: 60%. But I hate to put in a price, as my projection is that gold price will go up against the loss of the purchasing power of paper money.
The RMB will depreciate 10% from current level against U.S. dollar before 2017
A: 20%. Unlike other people, I'm not that bullish about the U.S. dollar. I don't see anything much great about the U.S. economy. On the contrary, China is still a competitive country even if wages have gone up substantially. I don't see the necessity for China to devalue.
World War III before 2025
A: Under Hillary Clinton, 80%. Under Donald Trump, 20%.
The neocons led by the Bush family are pro-Hillary, because they made a deal with her, in which she does her social agenda in the U.S. while the neocons take over foreign policy. As such, the people in Asia are more likely to become harsher towards China.
In Ukraine, for example, if Hillary's administration starts a conflict there, the Chinese will react because China now has the power. Nowadays, an aircraft carrier is a sitting duck ready to be shot down.
A Mars colony before 2050
A: Even if people can live on Mars, I don't think there will be an economy any time soon.
About Marc Faber:
Marc Faber is the editor and publisher of The Gloom, Boom & Doom Report. Born in Zurich, Switzerland, he studied Economics at the University of Zurich and obtained a PhD in economics magna cum laude at the age of 24. From 1978 to 1990, he was the managing director of Drexel Burnham Lambert. In 1990, he established Marc Faber Limited, an investment advisor and fund manager, and has lived in Chiang Mai, Thailand.