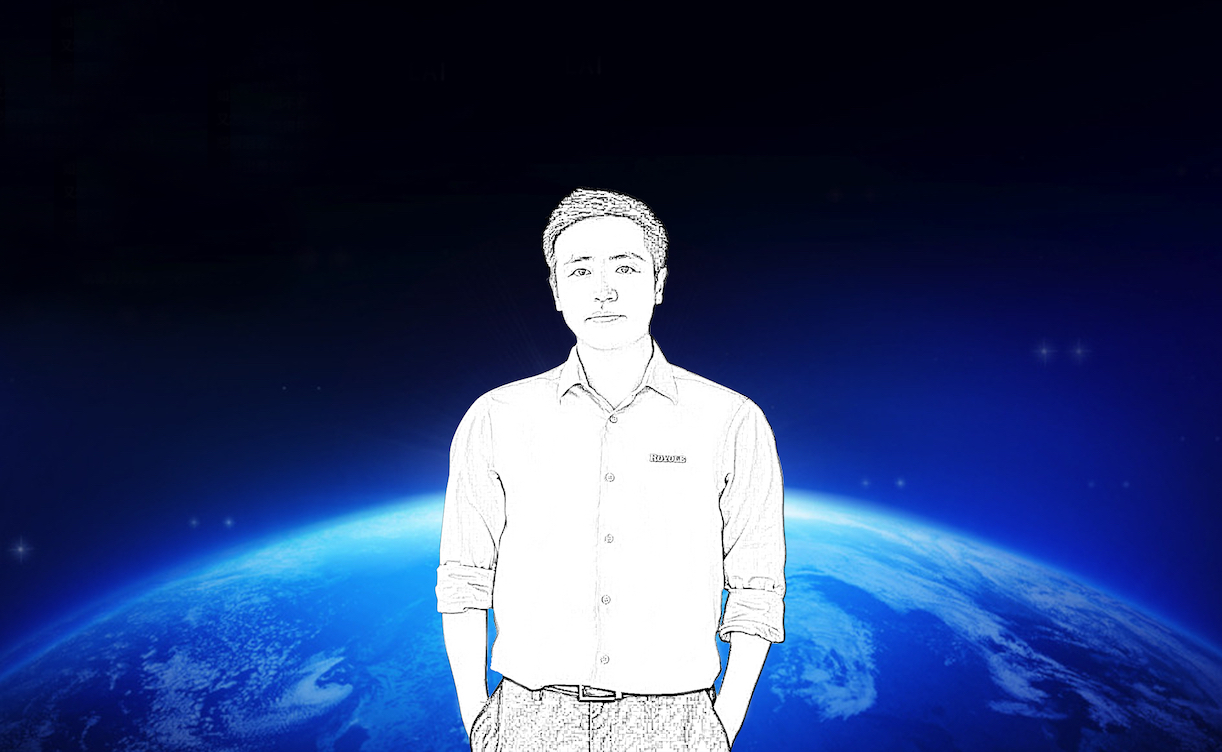 Millions of ambitious young people wake each morning wanting to "change the world," but few have as ambitious a goal as Bill Liu, founder of Chinese flexible display company Royole Corporation. If Thomas Friedman argued that "the world is flat," then Bill Liu's mission is to bend, curve and roll up that world.
Liu founded Royole in 2012 after gaining a Ph.D in electrical engineering from Stanford University at age 26. Five years later, the company provides flexible display solutions to various industries and has launched several consumer products, including a smartphone that can be rolled into a bracelet, the first of its type readily available to consumers.
"Flexible display electronics are a very new way for people to interact with consumer and electronics information," Liu, now 34, told China Money Network during an exclusive interview at the company's headquarters in Shenzhen. "I believe flexible displays could be everywhere in the future, because it is convenient, easy to use, and provides more robust design possibilities."
Royole is venturing into a new market with high potential. If any type of digital display, from computers, to phones and TVs, can be bent or rolled up, then everything from wristwatches to car dashboards can be completely re-imagined.
Watch China Money TV's Visit To Royole's Shenzhen Headquarters:

This alternate, flexible future is also exciting tech giants like Samsung and LG. Both are mass producing flexible displays for use on their mobile phones, the Galaxy S7 Edge and the LG G Flex 2. Apple, reportedly, may be buying around 100 million flexible panels for its future iPhones.
"Flexible display is a huge business opportunity enabling industries worth hundreds of billions of dollars," said a tech venture investor who preferred to remain anonymous. "Its applications in wearable devices, healthcare, Internet-of-Things (IoT) and fashion are exciting. Think about the possibilities if smartphones can wrap around your wrist and brands can display ads on your T-shirt."
That potential has made Royole a magnet for venture investors, and as a result it is currently the world's most valuable tech start-up focused exclusively on this frontier industry. The company has raised over RMB2 billion, or nearly US$300 million, in five financing rounds since 2012, with its latest valuation at a hefty US$3 billion. The company already has over 700 intellectual properties under its name in the field of flexible displays.
Royole's challenge, however, will be to turn ideas into breakthrough products, then into a scaleable and profitable businesses. It remains to be seen whether Royole's products can win over consumers. The company has one showroom in Beijing – with another opening in Shenzhen in October – where consumers can view its rollable mobile phone, called the FlexPhone, as well as a transparent keyboard that can be rolled into a pen-size container, and a foldable 3D virtual mobile theater in the form of a headset. Some of the products, such as the headset, are also sold online.
Liu would not disclose details on how sales are trending, but he said people are looking forward to new technologies and products, and he is confident his company is building momentum.
Royole's business-to-business segment also faces major hurdles, one of which is the protection of its IP. Liu explained during a TV show last month that Royole decided to build its own factory partly to meet growing demand, and partly over difficulty in finding a manufacturing partner with proper business terms to secure solid protection of its IP.
The B2B business also depends on its clients' ability to apply the new technology into their own products. The company has signed strategic partnership agreements with Chinese sports goods retailer Li Ning Co., Ltd., Shenzhen Bus Group, China Southern Airlines, and the Shenzhen subsidiary of China Mobile, to explore how flexible displays could be utilized to create new products.
But the research and development required to put new flexible displays into aerospace and automobile industries, for example, could take years. As such, Royole will need to raise a lot more capital to support the R&D and scalability of its products.
The spirited entrepreneur, however, is not daunted. Since first conceiving the idea while lying on a plush lawn at Stanford, he has built one of the world's fastest-growing tech unicorns, with almost 1,000 employees.
The company's new Shenzhen factory, costing US$1.7 billion to build, will be fully operational in the third quarter of this year and will have an annual production capacity of over 50 million flexible displays, making it one of the largest flexible display manufacturing facilities in the world.
"Our mission is to use our own technology innovation to improve the way people interact with the world," Liu said. "What we need to do is just keep innovating, keep developing great products for the consumers, and solve the problem for the industry."
You can listen to our conversation above or read a Q&A below. Don't forget to subscribe to China Money Podcast for free in the iTunes store, or subscribe to China Money Network weekly newsletters. You can also subscribe to China Money Podcast's Youtube channel or Youku channel.
Q: Royole's main product is the rollable screen. Do you think rollable screens will be as revolutionary as touch screens?
A: We believe flexible electronics have a huge potential in many applications, for example, in smartphones, pads, TV, cars, sports and fashion. The flexible display can also be very beneficial for people to get better interaction with electronics, home appliances and practically everything.
We believe the future of information technologies will be in three areas: human machine interface, artificial intelligence and Internet of Things (IoT). Voice recognition, face recognition, touchscreen displays control, they're all very important for human interface. But flexible electronics and flexible sensors are very new ways for people to interact with the consumer information and electronics information.
I believe that flexible displays could be everywhere in the future, because it is convenient, easy to use, and provides more robust design possibilities for consumer electronics designers.
Q: Do you think rollable displays and sensors are transitional products, while the ultimate future of man-machine interface will be something else?
A: I think in one way, people need the touch and feel to interact with electronics information, and that's why the traditional smartphone is so popular today. 3D holography, or air projection, is another way for people to interact with information. Both technologies will find their own respective applications and provide different user experiences. I think they will co-exist in the future.
Q: Major electronics manufacturers, such as LG and Samsung, are launching their own flexible display products. Where do you put yourself in terms of technology sophistication?
A: It's an interesting story for start-ups, right? That big traditional players are getting into the same industry. I think for start-ups like us, what we can do is find the right technology and right patents, and then use the specific technology to grow our own products. Of course, You will face a lot of competitors, but the competition can expedite innovation, and that's how the world progress.
Also, we do a lot of things that are totally different from what we see in the market. For example, we have the FlexPhone, the 3D virtual mobile theater Royole Moon, which has a very unique design, combining a noise-cancelling headphone with high resolution display into a single device. We also have the smart lamp and flexible display car dashboard.
Q: Are you seeing early signs that the market and the consumers are going to embrace these products?
A: Well, I can give you one example. We first attended the Consumer Electronics Show (CES) in 2016, and we received a lot of attention from different industries and companies for our products. We went back to CES earlier this year with an even bigger booth, and it was totally crowded everyday. People are looking forward to new technologies, new products, so we're confident that we are building momentum in this area.
Q: Which product do you think is going to provide the sales breakthrough for the company to support the US$3 billion valuation?
A: We are more like a technology platform. We have flexible display technologies and provide tech solutions to different industry clients. In the meantime, we also have the business to sell consumer products, like this 3D virtual mobile theater. So currently we have both business-to-business and business-to-customer (units) to support the company's growth.
Q: What are some other exciting products in your pipeline?
A: There are a lot of things we could do for the flexible electronics sector, including consumer electronics, sports and fashion, architecture design, smart home appliance, and flight applications.
How people carry electronics today has already changed. Hardware is not only hardware, you need to combine software, hardware, Internet and other things into it at the same time. So for us, we have the software team, the hardware team, and the Internet application team. We also have our own manufacturing facility. We believe this will provide an infrastructure to a whole new industry.
Q: The profit margin in manufacturing is typically very low. For Royole, what do you think your margin would be if the company becomes profitable?
A: The manufacturing industry is not easy, but it doesn't mean that you don't have the margin to stay in business. If you have the right intellectual property, the core technology and innovation, I think you can always find a margin to survive and thrive.
About Bill Liu:

Bill Liu is the founder and CEO of Royole Corp. Before founding Royole in 2012, he worked on the R&D team at IBM. He holds a Ph.D. degree in electrical engineering from Stanford University, and a M.S and Bachelor's degree from Tsinghua University.